Quinoa tabbouli (alternately spelled tabbouleh) is a recipe that seems to be gaining over its more traditional counterpart, made with bulgur. Both ways are good, though I prefer it with quinoa, which is higher in protein, and gluten-free as well. That being said, whole-grain couscous works, too! A Middle Eastern classic and one of my favorite salads, this is delicious served with hummus and fresh pita bread, a variety of olives, and rice-stuffed grape leaves.
Serves: 6 to 8
1 cup uncooked quinoa, bulgur, or whole grain couscous
3 medium firm, ripe tomatoes, diced
½ cup finely chopped fresh parsley
2 to 3 scallions, finely chopped
Several fresh mint leaves, to taste, thinly sliced, optional
3 tablespoons extra-virgin olive oil
Juice of 1 large lemon
Salt and freshly ground pepper to taste
If you use quinoa or bulgur, combine the grain with 2 cups water in a small saucepan. Bring to a gentle boil, then lower the heat, cover, and simmer until the water is absorbed, about 15 minutes. If you'd like a more tender grain, add ½ cup additional water and continue to simmer until the water is absorbed. Fluff with a fork and allow to cool to room temperature.
If  you use couscous, simply combine the uncooked grain with 2 cups boiling water in a heatproof container. Cover and let stand for about 10 minutes, or until the water is absorbed, then fluff with a fork.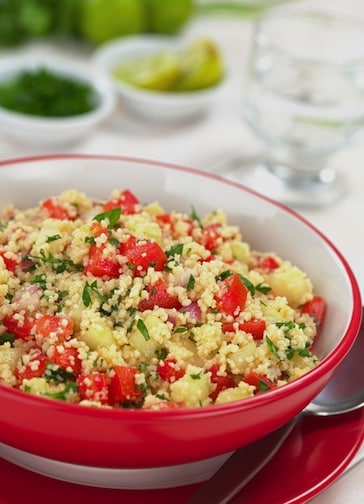 Whichever grain you have used, transfer it to a serving container and allow to cool to room temperature. Add the remaining ingredients and mix well. Cover and let stand for an hour or so before serving if time allows.
Variations:
- If not serving hummus with this, add  a 15- to 16-ounce can chickpeas (drained and rinsed) to make this a more substantial salad.
- Likewise, if not serving a variety of olives as suggested in the headnote, you can add about  ⅓ cup sliced pitted black olives (such as Kalamata) to this salad.
- Add about ¼ cup minced red onion if you don't mind the flavor of raw onions.
Here are more: