Roasting vegetables in a hot oven brings their natural sugars to the surface while maintaining nutrients. For those who aren't keen on steamed or raw veggies in the winter, you may find that roasting might spark some interest. I've found 425 degrees F. to be the ideal temperature for my oven, but 400 degrees F. works as well. If I have anything else in the oven at either of those temperatures, I try to toss in some vegetables to roast at the same time. Once vegetables are roasted, they're good warm or at room temperature. Leftover roasted vegetables can be used to make wraps or to top pizza.
Try the following vegetables individually or, when baking time is compatible, in combinations, using the following steps. Of course, you can try other vegetables that aren't listed here. The idea always is to prep them into somewhat larger-than-bite-sized pieces and keep an eye on them as they are roasting, as true oven temperatures vary. You want to roast vegetables until their surfaces start to brown, and they're easily pierced but not overdone.
1. Toss each quantity of vegetables given with a tablespoon or two of olive oil, just enough to coat the surfaces lightly.
2. Add dried seasonings — this is optional. If you wish, season gently with your favorite seasoning blends; or if going with a single herb, dried thyme, basil, oregano, or tarragon are good seasonings for roasted veggies.
3. Scatter onto a lightly oiled roasting pan or baking sheet in a single layer.
4. Bake at 400 to 425 degrees F. for the times specified, stirring every 10 minutes until slightly crisp and touched with brown on the outside and tender on the inside.

5. Add any fresh herbs once the veggies are done — a little minced fresh parsley, oregano, thyme, or rosemary are nice embellishments.
6. Finally, season gently with salt and pepper, or just pass them around.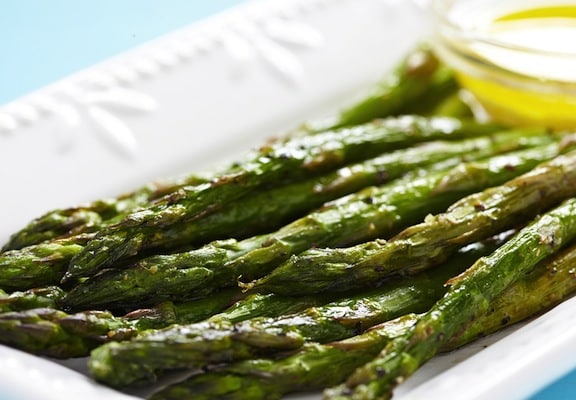 Asparagus: Use 12 to 16 ounces slender or medium-thick asparagus. Trim away about ½ inch from the bottoms. Roast for 10 minutes, or until just tender when pierced with a fork.
Beets: This is a good vegetable to roast individually, unless you don't mind vermillion-stained vegetables. Beets are actually quite good roasted with baby carrots. To minimize mess, peel beets over the trash or compost container, and slice on a cutting board covered with wax paper. Place the sliced raw beets (allow 1 medium beet per serving) in a foil-lined baking dish and drizzle with a bit of olive oil. Roast 20 to 30 minutes or until tender to your liking.

Broccoli: Cut broccoli stalks into fairly large bite-sized pieces and florets. Roast for 20 to 25 minutes.
Carrots or baby carrots: Peel carrots and cut them into medium-thick sticks, about 3 inches long. Baby carrots can be roasted just as they are, making them the simplest veggie that can be tossed into the oven. Embellish them with a little maple syrup and cinnamon for a sweeter treat. Roast for 20 to 25 minutes.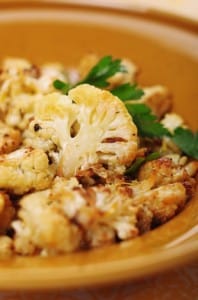 Cauliflower: Cut one medium or large cauliflower into bite-sized florets and pieces. Roast for 20 to 30 minutes.
Green beans: Trim the green beans and roast them whole. Roast for 15 to 20 minutes. Toss with a bit of soy sauce, sesame seeds, and grated ginger for a special effect.
Mushrooms: Clean and stem mushrooms. If small or medium-sized, leave the caps whole. If large, cut in half. When tossing with oil, add a dash or two of soy sauce for extra flavor. Roast for about 20 minutes.
Potatoes: Peel the potatoes and cut them  into thick slices, "fry" shapes, or wedge shapes to roast. Roast for about 20 to 30 minutes. Add some thick half-circles of red onion to the mix for a nice touch.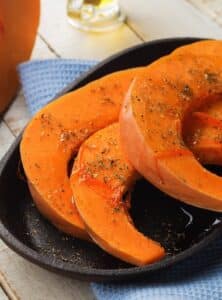 Sugar pumpkin and other hard winter squashes: Follow the general directions in our Vegan Minute video on How to Cut Butternut Squash Easily, which applies to any of the winter squashes. However, bake only until you can just barely pierce through, maybe an inch or so, with a sharp knife. You can cut into chunks as shown in the video, or nice large wedges as shown here. Roast for 20 to 30 minutes
Sweet potatoes: Peel and cut in half lengthwise, then into ½-inch-thick slices, or cut into thick "fry" shapes. Roast for 25 to 30 minutes. Delicious sprinkled lightly with dried rosemary.

Turnips, parsnips, or rutabagas: Peel and slice or cut into "fry" shapes. Roast for 20 to 25 minutes. Seasoning blend such as Spike or Mrs. Dash enhances roasted roots nicely.
Zucchini and yellow summer squash: These are nice roasted in tandem. Cut into ½-inch-thick slices or quarter lengthwise and cut into spears. Roast for 15 to 20 minutes, until touched with golden brown spots.