Slices of tofu are first bathed in a tangy marinade and then coated in a three-seed blend. Instead of being fried, these tofu cutlets are baked to perfection. Recipe by Beverly Bennett, from Chia: Using the Ancient Superfood* by Beverly Lynn Bennett, @2014 Books Alive, Summertown, TN, reprinted by permission. Photo by Andrew Schmidt.
Serves: 4
1 pound firm or extra-firm tofu
2 tablespoons reduced-sodium soy sauce
1 ½ tablespoons nutritional yeast flakes
1 tablespoon minced garlic
1 tablespoon balsamic vinegar
1 tablespoon maple syrup or agave nectar
1 tablespoon spicy brown mustard or Djion mustard
1 tablespoon toasted sesame oil
5 tablespoons raw sesame seeds
5 tablespoons hempseeds
2 ½ tablespoons chia seeds
Squeeze the block of tofu over the sink to remove any excess water. Put the tofu in a colander in the sink, cover with a plate, and put a 28-ounce can on top of the plate. Let the tofu press for 20 minutes (or see Note, following recipe.
Cut the pressed tofu lengthwise into 8 slices. Put the slices in a single layer in an 11 x 7-inch baking pan. Using a fork, pierce each slice of tofu several times along its length. Flip the slices over and pierce the other side.
Put the soy sauce, 1⁄2 tablespoon of the nutritional yeast flakes, garlic, vinegar, maple syrup, mustard, and sesame oil in a small bowl and stir until well combined. Pour the mixture over the tofu and flip each slice to evenly coat all sides. Put the baking pan in the refrigerator and let the tofu marinate for 1 to 4 hours.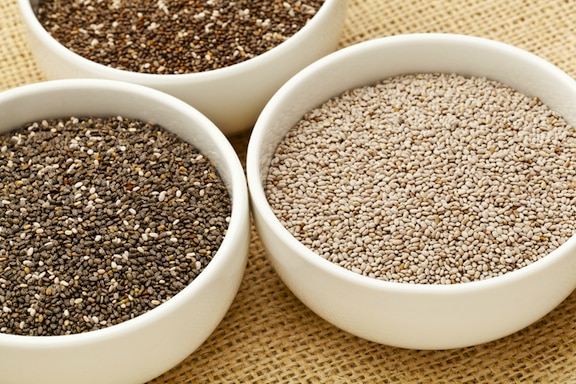 Preheat the oven to 425 degrees F. Line a baking sheet with parchment paper or a silicone baking mat.
Put the remaining tablespoon of nutritional yeast flakes and the sesame seeds, hempseeds, and chia seeds on plate. Stir until well combined.
To coat the tofu, work with 1 piece at a time. Put each piece into the seed mixture, pressing down slightly and flipping it over as needed until evenly coated on all sides. Transfer to the prepared baking sheet. Bake for 20 minutes.
Remove the baking sheet from the oven. Flip over the cutlets with a spatula. Bake for 15 to 20 minutes longer, until the seeds are fragrant and the cutlets are golden brown. Serve hot or cold.
Note: For really well-pressed tofu, you can use a tofu press like EZ Tofu Press or Tofu XPress.
Variation:
Seed-Crusted Tempeh Cutlets: Replace the block of tofu with 2 (8-ounce) packages of tempeh. Cut each package of tempeh into 4 pieces and proceed as directed.
Nutritional Information (when making with tofu): 334 calories; 23.1g fat; 284mg sodium; 274mg potassium; 14.5g carbs; 5.6g fiber; 4.5g sugar; 21.5g protein
* This post contains affiliate links. If the product is purchased by linking through this review, VegKitchen receives a modest commission, which helps maintain our site and helps it to continue growing!