If you use two to three tubs of tofu per week, you are going to love the nifty little kichen tool called Tofu Xpress,* described in this review. Figuring out how to press tofu is a quandary faced by tofu lovers everywhere, who bemoan the wasting of so many paper towels. Tofu Xpress is basically a plexiglass box with a spring-loaded lid that presses excess water out of tofu. It works particularly well with firm and extra-firm varieties that come in tubs. 
At first you might wonder what the big deal is. While using tea towels to blot tofu are more ecological than paper towels, they don't really do a great job. Paper towels work decently enough, but you have to use a lot of them. I'm not a huge kitchen gadget person, but now this handy tool is up there with my few favorites that I use on a regular basis.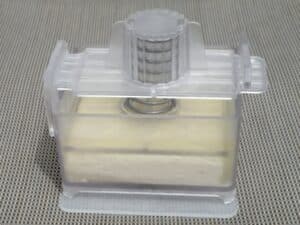 If you know you want to make a dish for dinner using really firm tofu, simply put the whole block of tofu into the Tofu Xpress container and secure the spring-loaded top over it. Place in the fridge and by the time you get home, the water will have risen to the top. Pour it off, take out the tofu, slice and continue on with your recipe. If you have a little more time, you can use the same container to marinate the tofu.
If you forget to set it up ahead of time, a substantial amount of water can be extracted within 30 minutes. Once tofu is this well pressed, it absorbs marinades amazingly well — and you can use the same container to marinate it.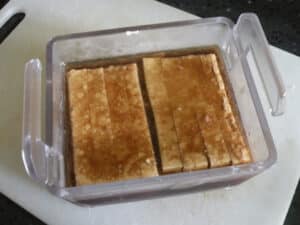 Another neat feature is that the base comes off and doubles as a lid, so you can place the tofu and marinade in the same container, cover, and refrigerate, or just let stand for a half hour to an hour.
I can't imagine going back to the paper towel routine. It might seem a bit pricey, but if I count the rolls of paper towels I've used for the purpose over the decades, I'm sure it will pay for itself in due time—and it's a fitting addition to a green kitchen.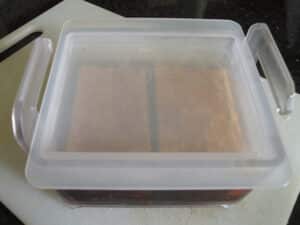 Tofu Xpress also carries a light tension spring (which can be ordered separately), making it useful for pressed salads and nut cheeses, and is supposed to be good for silken tofu when you want to firm it up a bit. I've just started to experiment with the light tension spring, and will report back when I can. In the meantime I couldn't wait to share the info on this product, which, once you've tried it, will become indispensable to any regular tofu user.
See other enthusiastic user reviews for Tofu XPress on Amazon.com,* and learn more about Tofu Xpress* on the company site. Tofu Xpress is made in the U.S.A.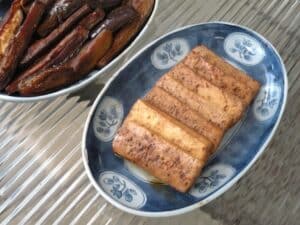 Here are a few recipes made better with the use of Tofu Xpress:
*This post contains affiliate links. If the product is purchased by linking through this review, VegKitchen receives a modest commission, which helps maintain our site and helps it to continue growing!