Some people are born to rock 'n' roll. Others are born to ride. I was born to put mashed potatoes on pizza. I've done it so many ways I can't even remember them all, but this was my favorite. Mashed potatoes, carrots, peas, and plenty of savory herbs make an unusually hearty cross between shepherd's pie and pizza. Recipe contributed by Natalie Slater, from Bake and Destroy: Good Food for Bad Vegans; photo by Celine Steen. Reprinted by permission of Page Street Publishing © 2013.
Makes: One 14-inch pizza
1 prepared whole-grain 14-inch pizza crust
"Sauce":
1 pound Yukon Gold potatoes
½ cup finely chopped red onion
2 cloves garlic, minced
Splash of oil, for sautéing
¼ cup plain vegan creamer (soy or coconut) or nondairy milk
2 tablespoons vegan margarine
½ teaspoon dried rosemary
½ teaspoon dried thyme
Topping:
1 carrot, diced
½ cup peas (fresh or frozen)
½ cup chopped cauliflower
½ cup green beans
½ cup sliced mushrooms
2 tablespoons vegan margarine
2 tablespoons all-purpose flour
½ cup vegetable broth
2 tablespoons chopped fresh sage
Salt and freshly ground black pepper
Preheat your oven to 450° F, bake the pizza crust for 3 to 4 minutes, then remove from the oven, leaving the stone inside, and set aside.
Make the "sauce": Peel the potatoes and cut into ½-inch dice. Place in a saucepan and cover with cold water. Cover the pan and over high heat, bring the water to a boil. Then lower the temperature to a simmer and cook the potatoes until you can easily smash them with a fork or tongs, 15 to 20 minutes.
Sauté the onion and garlic with a splash of oil in a small pan over medium heat, until tender, 3 to 5 minutes.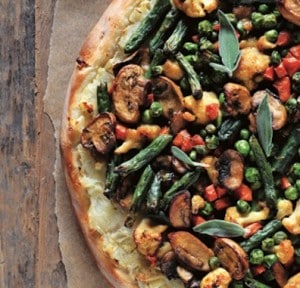 Drain the potatoes and place them in a large bowl with the garlic, onion, soy creamer, margarine, rosemary and thyme. Use a potato masher to mash everything together—some lumps are fine! (You can also use a food processor, but be aware that will result in a gluey mashed potato!)
Make the topping: Steam the carrot, peas, cauliflower and green beans until tender. In a large saucepan over medium heat, combine the steamed veggies, mushrooms, margarine, flour, vegetable broth, sage, and salt and pepper to taste. Cook until a thick sauce forms, about 3 minutes, and set aside.
Spread the potato mixture over the pizza crust and top with the vegetables and salt and pepper to taste.
Bake for 15 to 20 minutes, until everything is warm and toasty. Let stand for a couple of minutes, then cut into 8 wedges to serve.