Leeks, mushrooms, beans, garlic, and watercress are super-nourishing ingredients that add up to a soup that's delicious, too. The watercress gives this soup a springtime flavor, but it can be enjoyed any time of year. Recipe from Super Immunity: The Essential Nutrition Guide for Boosting Your Body's Defenses to Live Longer, Stronger, and Disease Free* by Joel Fuhrman. ©2012, HarperOne, reprinted by permission.
Serves: 4 to 6
2 large leeks, white and pale-green parts only, split lengthwise and separated to wash well and cut into ½-inch slices
3 medium carrots, peeled and chopped
3 cloves garlic, chopped
3 cups shiitake mushrooms, sliced
6 cups no-salt-added or low-sodium vegetable broth
3 cups cooked white beans or 2 (15-ounce) cans low-sodium or no-salt-added white beans, drained
5 cups watercress, tough stems removed
1 teaspoon herbes de Provence
Black pepper to taste
Heat 1⁄8 cup water in a soup pot. Add leeks, carrot, and garlic and water-sauté until tender, about 3 minutes. Add more water as needed to keep everything moist. Add mushrooms and cook an additional 3 minutes, or until mushroom juices are released. Add vegetable broth, beans, watercress, and herbes de Provence and simmer for 15 minutes. Ladle half the soup into a food processor or high-powered blender and puree until smooth. Return soup to pot, heat through as needed, and serve.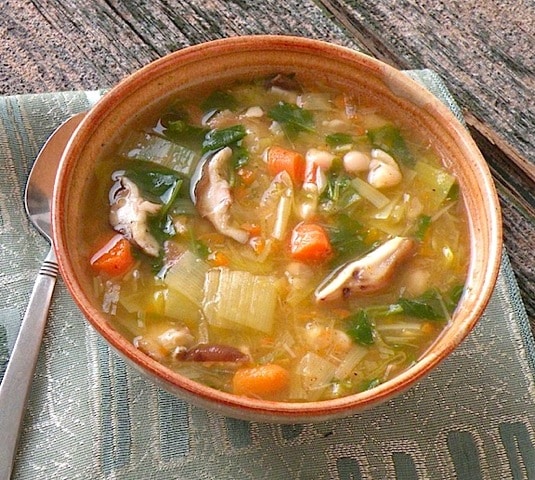 Nutritional Information: 
Per serving: 253 calories; 0.8g fat; 191.5mg sodium; 956.7mg potassium; 52.2g carbs; 10.7g fiber; 8.2g sugar; 12.4g protein
*This post contains affiliate links. If the product is purchased by linking through this review, VegKitchen receives a modest commission, which helps maintain our site and helps it to continue growing!