Here's a simple brown rice dish that incorporates lots of fresh spinach. Using organic baby spinach is convenient, because it's already cleaned and ready to go (though I usually give it a good rinse nonetheless). Scallions, fresh dill, and lemon juice add the finishing touch. Photos by Evan Atlas.
Serves: 4 to 6
1 cup raw brown rice
1 tablespoon extra-virgin olive oil
4 to 6 ounces fresh baby spinach, rinsed
2 to 3 scallions, thinly sliced
¼ cup chopped fresh dill
Juice of ½ to 1 lemon, or 2 to 4 tablespoons bottled lemon juice, to taste
Salt and freshly ground pepper to taste
Combine the rice with 2 ½ cups water in a large saucepan. Bring to a gentle boil, then lower the heat, cover, and simmer gently until the water is absorbed, about 30 minutes.
Meanwhile, chop the spinach finely, either by hand or in a food processor by pulsing on and off with the metal blade.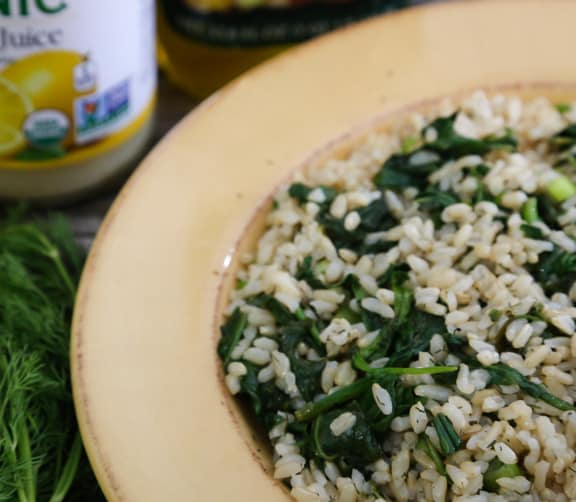 Once the rice is done, add the spinach to the saucepan in batches, stirring in as it wilts down.
Stir the remaining ingredients into the rice and serve at once. For a nice presentation, scoop the spinach rice out of the saucepan with a lightly oiled round half-cup measure and invert onto plates,