Characteristic of some Southeast Asian cuisines is the overlapping of Asian and Indian influences. This is true here in this tasty and pleasantly offbeat noodle dish that is seasoned with both soy sauce and curry. Fine Asian rice noodles are now available in a whole grain variety. Photos by Hannah Kaminsky.
Serves: 4
14- to 16-ounce tub firm or extra-firm tofu
Sauce:
2 tablespoons reduced-sodium soy sauce or tamari

1 teaspoon natural granulated sugar

1 to 2 teaspoons good-quality curry powder

2 teaspoons grated fresh ginger, or to taste

¼ cup vegetable stock, dry white wine, or water
8 ounces fine Asian rice noodles

1 tablespoon safflower or other vegetable oil

1 teaspoon sesame oil

1 large onion, quartered and thinly sliced

2 cloves garlic, minced

1 large carrot, cut into thick, 2-inch-long matchsticks

1 red bell pepper, cut into narrow, 2-inch-long strips

1 green bell pepper, cut to match red pepper

1 cup frozen green peas, thawed
Cut the tofu into ¼-inch-thick slices. Blot between clean tea-towels or several layers of paper towel to remove exces moisture. Cut into narrow strips and set aside until needed.
Combine the ingredients for the sauce in a small bowl, stir together, then set aside until needed.
In a large saucepan or heatproof dish, cover the rice noodles with very hot water. Cover and let soak for 20 minutes or until al dente, then drain. Transfer the noodles to a cutting board and chop them in several directions to shorten.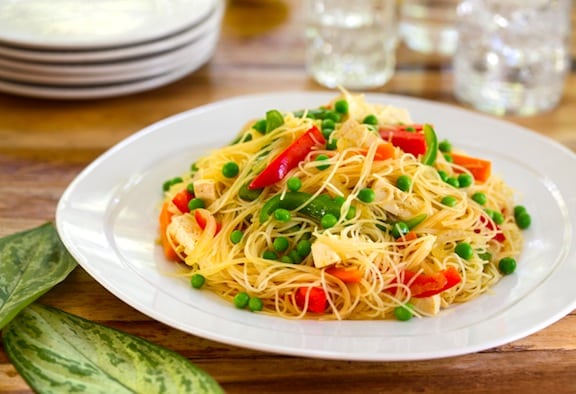 Meanwhile, prepare the vegetables as described before beginning to stir fry.
Heat the two oils in a wok or stir-fry pan. Add the onion, garlic, and carrot and stir fry over medium-high heat for 4 minutes.
Add the bell peppers and tofu strips and stir-fry 3 to 4 minutes longer.
Add the peas and sauce. Toss quickly and stir fry just until everything is well heated through. Serve at once, passing around additional soy sauce plus hot seasoning for embellishing individual servings to personal taste.
Nutrition Information:
Per Serving: 234 calories; 5.4g fat; 43.1g carbs; 4.8g fiber; 9.2g sugar; 8g protein; 502.4mg sodium