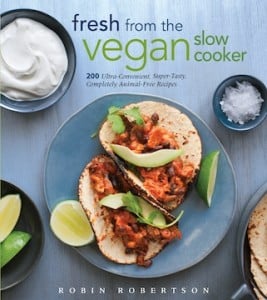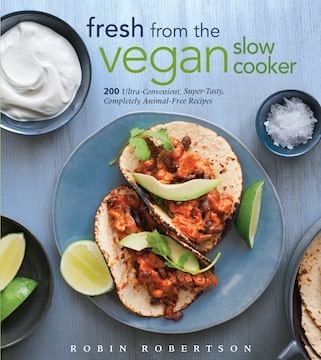 This recipe for Slow-Cooker Vegan Lasagna Primavera was contributed by Robin Robertson, author of Fresh from the Vegan Slow Cooker * (The Harvard Common Press, 2012). One of the things I like most about using a slow cooker is its versatility.  While it is ideal for cooking beans, stews, soups, and chili, it can also be used to cook some things that may surprise you such as breads, cakes, and other desserts.  It's also terrific for cooking casseroles and other recipes you normally associate with oven-baking.  
Why Slow Cookers are the Best
A slow cooker can also be a great help when company's coming, allowing you to keep the soup or main dish warm while you entertain guests. Using a slow cooker also lets you free up other cooking surfaces. This can be especially handy for holiday meals. If you're serving a buffet meal, you can place the slow cooker right on the table. It will keep the food at the proper serving temperature for hours while you enjoy the party. Slow-cooked dishes are also great for potlucks. Just prepare your dish in the slow cooker, bring along the entire unit, and plug it in when you arrive at your destination to keep your dish warm for serving.
One of my favorite "serve a crowd" recipes is this Vegan Lasagna Primavera. Slow-cooked lasagna may sound unconventional, but it tastes great and is convenient to make. Because it contains lots of fresh vegetables and protein-rich tofu, it makes a terrific one-dish meal.
Slow-Cooker Vegan Lasagna Primavera
Serves: 6
Slow Cooker Size: 5- to 6-quart (for best results, use a large oval slow cooker)
Cook Time: 4 hours on Low
Gluten-free Option
Ingredients
8 oz uncooked lasagna noodles (about 8 noodles) (see Note)
2 tsp olive oil (optional)
1 small yellow onion, minced
3 garlic cloves, minced
1 cup broccoli florets or zucchini, chopped
1 medium-size carrot, shredded
8 oz white mushrooms, chopped
1 (10 oz) package frozen chopped spinach, thawed and squeezed dry
salt and freshly ground black pepper
1 lb soft or medium tofu, drained
1 lb firm tofu, drained
1⁄3 cup nutritional yeast
¼ cup fresh flat-leaf parsley, minced
2 tsp dried basil
1 tsp dried oregano
½ cup vegan Parmesan cheese, plus more for sprinkling
1 (24 oz) jar marinara sauce or your favorite tomato sauce for pasta
1 cup vegan mozzarella cheese, shredded (optional)
Instructions
Break the noodles in half and place them in a large baking dish. Pour on enough boiling water to cover and set aside while you prepare the remaining ingredients.
For the best flavor, heat the oil in a large skillet over medium-high heat. Add the onion and sauté until softened, about 5 minutes. Add the garlic, broccoli, carrot, and mushrooms and cook for 1 minute longer. Alternatively, omit the oil and sauté these ingredients in a few tablespoons of water or combine them in a microwave-safe bowl with a little water, cover, and microwave for 2 minutes. Drain off any excess liquid. Stir in the spinach and season to taste with salt and pepper. Set aside.
Crumble all of the tofu into a large bowl. Add the nutritional yeast, parsley, basil, oregano, vegan Parmesan, and salt and pepper to taste. Mix well, then taste to make sure the mixture has enough salt and plenty of pepper.
Drain the noodles.
Lightly oil the insert of the slow cooker or spray it with nonstick cooking spray. Spread a thin layer of marinara sauce into the bottom of the slow cooker. Arrange a layer of the noodle pieces over the sauce, overlapping slightly as needed. Top the noodles with about one-third of the tofu mixture, followed by one-third of the vegetable mixture, and another layer of noodles. Spread a thin layer of marinara sauce over the noodles and sprinkle with vegan Parmesan. Repeat the layering two more times, ending with a layer of marinara sauce. Sprinkle with vegan Parmesan.
Cover and cook on Low for 3 ½ hours.
Scatter the vegan mozzarella (if using) all over the top of the lasagna. Cover and cook for 30 minutes longer (whether or not you add the mozzarella).
Remove the lid, turn off the cooker, and let the lasagna stand for about 15 minutes before serving.
Note: To make gluten-free, use gluten-free lasagna noodles.
More
Recipe © 2012 by Robin Robertson and used by permission of The Harvard Common Press.
*This post contains affiliate links. If the product is purchased by linking through this review, VegKitchen receives a modest commission, which helps maintain our site and helps it to continue growing!