If ever there was a "fun" vegetable, it would be spaghetti squash. Here's a tasty way to serve it, with a lightly curried tomato-coconut sauce, plus peas and almonds. I enjoy serving it to anyone who has never tried it, as everyone seems amused by its spaghetti-like appearance. Photos by Evan Atlas.
Serves: 6
1 large spaghetti squash
1 tablespoon olive oil
1 medium red onion, halved and sliced
2 medium tomatoes, diced
1 teaspoon grated fresh ginger
1 teaspoon good-quality curry powder, or more to taste
¾ cup light coconut milk
Salt and freshly ground pepper to taste
¼ cup chopped fresh parsley or cilantro
1 cup frozen green peas, completely thawed
⅓ cup slivered toasted almonds
Preheat the oven to 375 degrees F.
Cut the spaghetti squash in half lengthwise. Place cut side up, in a casserole dish with ½ inch of water. Cover tightly with foil and bake until easily pierced with a fork, about 40 to 45 minutes. If you don't have a knife sharp enough to cut through the spaghetti squash, just wrap the whole thing in foil and bake for 45 minutes to an hour, or until you can pierce through with a knife.
Remove from the oven. When the squash is cool enough to handle, scrape it lengthwise with a fork to release the spaghetti-like strands. If the outer shell remains fairly firm, you can use it to scoop the squash back into for an attractive way to serve it.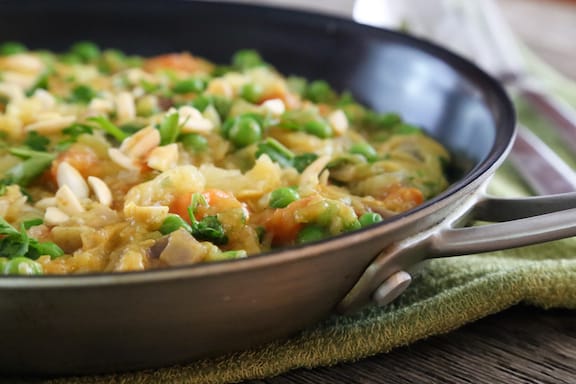 Heat the oil in a large skillet. Add the onion and sauté over medium heat until golden.
Add the tomatoes, ginger, curry powder, and coconut milk, then stir in the squash. Simmer over low heat, covered, for 8 to 10 minutes, stirring occasionally, then season with salt and pepper.
Just before serving, add the peas and parsley and heat through. Take care not to overcook, so that the peas don't lose their bright color. Transfer to a serving container (or stuff back into the squash shells) and scatter the almonds over the top. Serve at once.