The tradition of Spanish tapas is such a fun way to eat—bite-sized morsels of tasty food that just happen to taste great with Spanish wines. These Spanish chickpea fritters are flecked with spinach and when you dip them in a bold romesco sauce, you can't go wrong. Recipe and photo from Big Vegan: More than 350 Recipes, No Meat/No Dairy All Delicious* by Robin Asbell, reprinted by permission.
Serves: 4
1 cup chickpea flour
½ teaspoon salt
½ teaspoon ground cumin
1 cup chopped fresh spinach
3 garlic cloves, slivered
1⁄8 teaspoon baking soda
¾ cup canned chickpeas, drained
2 small scallions, chopped
1 cup extra-virgin olive oil
¾ cup Romesco Sauce (see recipe below)
Preheat the oven to 200° F. (for keeping the fritters warm if you will not be eating them immediately). Set out a large, cast-iron frying pan and a baking sheet/tray lined with three layers of paper towels/absorbent paper for draining them.
In a large bowl, whisk together the chickpea flour, salt,and cumin, then add ¾ cup hot water a little at a time, and stir to make a smooth paste. It should be about as thick as pancake batter. Let stand for 1 hour to hydrate the flour.
Stir the spinach, garlic, and baking soda into the batter, then stir in the chickpeas and scallions.
Pour the oil into the frying pan and turn the heat up to medium-high. Heat until a drop of batter sizzles in it (about 350°F). When the oil is hot, stir the batter and ladle scant ¼ cup portions into the hot oil.
When the oil starts to sizzle again, lower the heat to medium. Cook until the fritters are bubbling and browned, about 3 minutes per side. Drain on the paper towels/absorbent paper. Serve hot with the romesco sauce for dipping.
Romesco Sauce
Romesco is the perfect topper for all sorts of Spanish-flavored items, from tapas like roasted potatoes to Spanish Tortilla. It's a great change from tomato-based sauces, with sweet peppers and almonds that nourish your very essence.
Makes: 1½ cups
3 tablespoon extra-virgin olive oil, plus extra as needed
½ cup slivered almonds
Three 1-inch slices white baguette
2 garlic cloves, peeled
2 large roasted red peppers, peeled
1 tablespoon chopped fresh parsley
2 teaspoon paprika
2 tablespoons sherry vinegar
½ teaspoon salt
In a large sauté pan, heat the oil over medium heat, then add the almonds and baguette pieces. Stir, cooking until the nuts are golden and the bread is toasted, about 5 minutes.
In a blender or food processor, mince the almonds, bread, and garlic. Add the peppers, parsley, and paprika and process to make a paste. Add the vinegar and salt and process, then drizzle in more oil 1 tablespoon at a time to make it the desired consistency. If you are cutting back on oil, stir in water to thin it.
Robin Asbell is a cookbook author, culinary instructor, speaker, and chef. Visit her at her web site, Robin Asbell.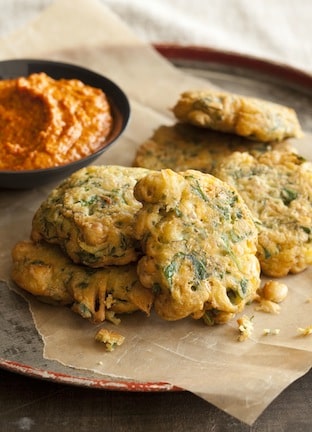 --
*This post contains affiliate links. If the product is purchased by linking through this review, VegKitchen receives a modest commission, which helps maintain our site and helps it to continue growing!