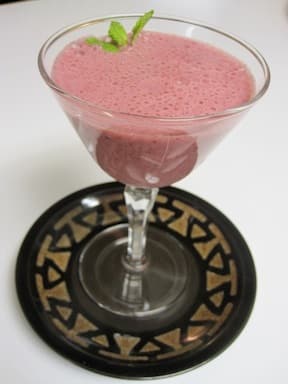 A knock-your-socks-off festive holiday beverage, this unique take-off on eggnog lights up with a tangy edge and an inviting powder puff pink color thanks to the season's bountiful cranberry harvest. The nog is quickly assembled in the blender, but you may want to plan ahead for multiple batches when serving a crowd. Recipe and photo contributed by Zel Allen, from Vegans for the Holidays.*
Makes: about 3 ½ cups or 5 punch-cup servings
1 ½ cups fresh cranberries
2 cups vanilla soy milk
¾ cup maple syrup
2 teaspoons ground cinnamon
1 teaspoon vanilla extract
½ teaspoon ground allspice
¼ teaspoon ground nutmeg
¼ teaspoon ground cloves
⅛ teaspoon xanthan gum or guar gum
Dash nutmeg
Cinnamon sticks
Rinse the cranberries in a strainer under running water and put them into the blender.
Add the remaining ingredients and process on high speed for 1 minute, or until the cranberries are completely broken down and the nog becomes creamy and thick. There may still be tiny flecks of cranberries visible even after blending thoroughly.
Pour the nog into a pitcher and chill until ready to serve. Covered and refrigerated, the Spiced Cranberry Nog will keep for 2 to 3 days.
To serve, fill small punch cups with nog, sprinkle each serving with a dash of nutmeg, and stand a cinnamon stick into each cup.
Visit Zel Allen at Vegetarians in Paradise.
*This post contains affiliate links. If the product is purchased by linking through this review, VegKitchen receives a modest commission, which helps maintain our site and helps it to continue growing!