A feast of color and texture, this salad of baby spinach, embellished with other colorful veggies, is quick to prepare and a pleasure to serve. Serve it in larger portions as a main-dish salad, or in smaller portions as a substantial side salad. Delicious served with a pureed vegetable soup and some fresh bread. Photos by Rachael Braun.
Serves: 4 to 6
6- to 8-ounce jar marinated artichoke hearts

1 cup thinly sliced red cabbage

½ cup oil-cured black olives, such as Kalamata

15- to 16-ounce can chickpeas, drained and rinsed




(or about 1 ½ cups cooked)

1 cup cherry tomatoes, cut in half, or other small tomato, quartered

½ cup grated carrots or halved baby carrots

1 medium green or yellow bell pepper, cut into narrow strips

2 to 3 big handfuls baby spinach

2 to 3 tablespoons sunflower seeds

1 to 2 tablespoons hemp seeds, optional

2 tablespoons extra virgin olive oil

Lemon juice, to taste

Salt and freshly ground pepper to taste
Combine all the ingredients in a serving bowl and toss well. Serve at once.
Variations:
Substitute arugula and/or mixed baby greens for all or part of the spinach.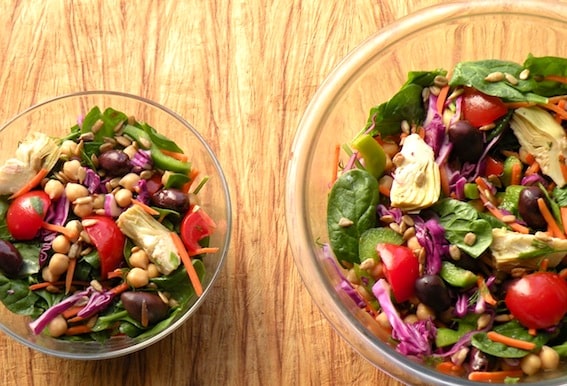 Nutritional Information: 
Per serving: 218 calories; 13.9g fat; 605.8mg sodium; 193.5mg potassium; 23.2g carbs; 4.3g fiber; 3.3g sugar; 4.7g protein