Split peas cook down with pieces of potato and aromatic vegetables to create a thick and hearty, stick-to-your-ribs soup that's excellent served with saltine crackers or slices of bread. Green split peas are rich in protein, complex carbohydrates, several vitamins and minerals, and beneficial dietary fiber, all while being extremely low in fat and sodium. This makes them a great choice if you're trying to eat more healthy and nutritious meals. Reprinted with permission from The Complete Idiot's Guide® to Vegan Slow-cooking* by Beverly Bennett (Alpha Books, 2012).
Makes: 10 to 11 cups
1 pound dried split peas, sorted and rinsed
3 cups (4 or 5 medium) red-skinned potatoes, cut into 1-inch cubes
1 1⁄2 cups (1 large) yellow onion, diced
1 1⁄2 cups (2 large) carrots, diced
1 1⁄2 cups (2 or 3 large stalks) celery, including  leaves, diced
1 tablespoon minced garlic
1 bay leaf
1 teaspoon dried basil
1 teaspoon dried oregano
1 teaspoon dried thyme
1 teaspoon chili powder
9 cups water
1⁄3 cup chopped fresh parsley
2 tablespoon nutritional yeast flakes
1 tablespoon fresh lemon juice
1 teaspoon sea salt
1⁄2 teaspoon lemon pepper
1⁄2 teaspoon freshly ground black pepper
In a medium or large slow cooker, combine split peas, red-skinned potatoes, yellow onion, carrots, celery, garlic, bay leaf, basil, oregano, thyme, and chili powder. Pour in water.
Cover and cook on high for 5 or 6 hours, on low for 7 or 8 hours, or until split peas are tender and broken down. Stir soup after 3 hours cooking time to prevent split peas from sticking to the bottom of the slow cooker.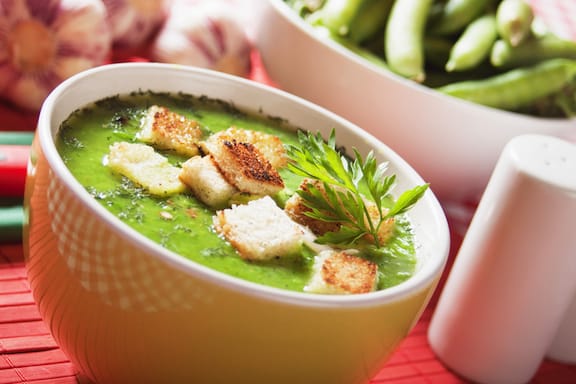 Stir in parsley, nutritional yeast flakes, lemon juice, sea salt, lemon pepper, and black pepper, and cook for 15 minutes.
Remove and discard bay leaf. Taste and adjust seasonings as desired, and serve hot.
Variation: For Curried Split Pea and Parsnip Soup, replace the red-skinned potatoes with 3 cups (3 or 4 large) parsnips, peeled and cut into 1-inch cubes, and replace the basil, oregano, and chili powder with 1 tablespoon curry powder.
*This post contains affiliate links. If the product is purchased by linking through this review, VegKitchen receives a modest commission, which helps maintain our site and helps it to continue growing!