Sweet fresh peas, leeks, and leafy greens come together in this lavish green pea soup. This spring sweet pea soup can be made in a blink of an eye with readily available seasonal ingredients. Your palate will enjoy the tenderness of the peas and sweet potatoes, followed by the lingering aroma of garlic and leek sautéed in basil infused oil. Serve with an array of colorful raw vegetables for a healthy meal. If you're feeling ambitious, make gluten-free Spicy Cilantro Crackers to accompany the soup. Recipe and photo contributed by Melissa Bridge from Healthy Life Rhythm.
2 tablespoons basil oil (see Note)

1 clove garlic, chopped

1 medium leek, white and palest green parts, chopped and well rinsed

1 small sweet potato, peeled and finely chopped

3 cups sweet peas (use fresh in season; frozen otherwise)

2 big handfuls leafy greens (spinach, kale, watercress, etc.)

2 cups vegetable broth or water

1 cup coconut or almond milk

1 teaspoon agave nectar

Salt and freshly ground pepper to taste

Crushed pepper flakes (for garnish)
Heat the oil in a small soup pot add the garlic and leeks. cook over medium-low heat until softened.
Add the chopped sweet potato and sauté for another another minute.
Add the sweet peas and the leafy greens of choice and sauté a minute or so longer.
Pour in the stock and simmer for 5 minutes until the sweet potatoes and peas are tender.
Stir in the coconut or almond milk, and the agave. Transfer about ¾ of the soup to a blender, and blend until smooth. Transfer back to the soup pot. Or, you can just insert a hand blender into the soup and process, leaving some texture.
Season with salt and pepper. Check the consistency – If too thick add more liquid (broth, coconut milk, or almond milk); alternatively simmer for a little longer.
Serve at once; garnish each serving with pepper flakes. This is also good served chilled.
Note: If you can't find basil oil, use extra-virgin olive oil and add a few basil leaves when adding the leafy greens.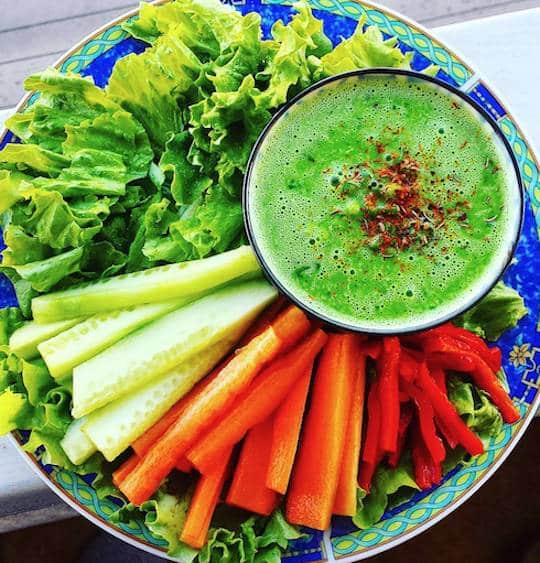 Here are more light and lively spring soups.