Anyone can grow sprouts at home. You don't need a garden or soil; you hardly even need any space. You just need a simple tutorial on how to sprout beans or seeds in your kitchen, and that's just what you'll find here. The best spot is near a sink since you do need to water. Sprouts can be grown from almost any kind of bean or special sprouting seed.You can buy sprouting seeds at natural foods stores or by mail. Two good sources are Sproutman and Sproutpeople. Tip: This is a fun project to do with kids!
What you need
Beans or seeds (dried peas, chickpeas, lentils, soybeans, mung beans, kidney beans, alfalfa seeds, radish seeds, sunflower seeds, whole wheat or rye kernels)
1-quart jar
mesh such as cheesecloth
canning jar ring or heavy rubber band
filtered water
shallow bowl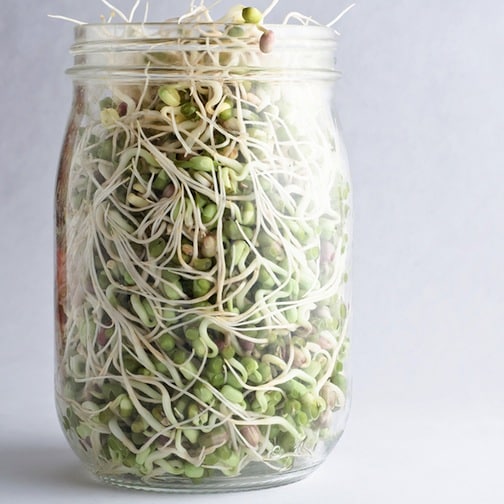 What to do
1  Put ¼ cup of beans or 2 tablespoons of small sprouting seeds in the jar. Fill the jar to the middle with water. Let this sit on the counter or table for 6 to 12 hours.
2  Cover the mouth of the jar with the mesh. Hold it down with the jar ring or rubber band. Pour the water out carefully, so you don't lose any of the seeds.
3  For the next few days, rinse the seeds through the cover with cool water. Then pour the water out. Do it a second time right away. Shake the jar so the seeds spread out and have room to grow. Do this several times a day. The idea is to keep the seeds damp-but not wet-and to give them plenty of air. The more often sprouts are rinsed, the better they will be.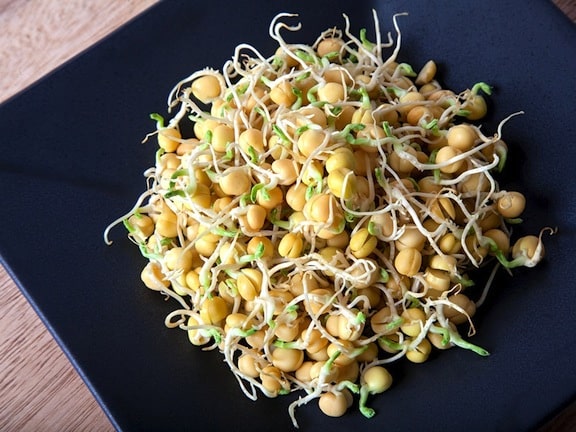 4  In 3 to 5 days, when you see tiny tails appear from the seeds, the sprouts are just about done. If you want, you can leave the sprout jar out on the counter for a few hours-just until the tips of the sprouts are a little bit green.
5  When the sprouts are ready, put them in the refrigerator in the sprout jar or in a container that allows some air to get to them. Make sure they are well drained before you store them, so they don't become soggy and start to rot.
6  Eat the sprouts in the next few days. Start another crop right away, so you always have a small crop. Now you know how to sprout beans and seeds at home!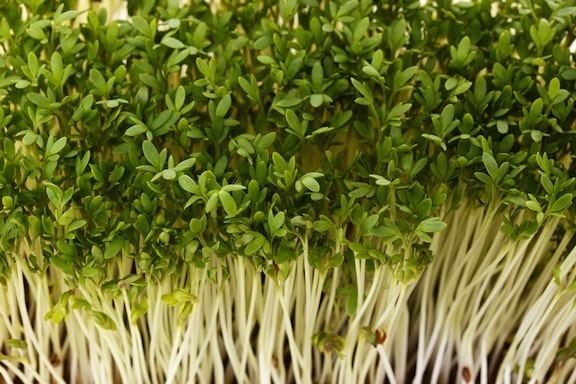 Excerpted from The ABC's of Fruits and Vegetables and Beyond.* To find out more about this book, visit the Goldbecks' web site, Healthy Highways.
--
*This post contains affiliate links. If the product is purchased by linking through this review, VegKitchen receives a modest commission, which helps maintain our site and helps it to continue growing!