Napa cabbage combines nicely with darker leafy greens, adding a lighter texture and flavor as well as visual interest. This dish comes very close to being downright addictive. It's an amped-up variation of Stir-Fried Chard with Napa Cabbage from Wild About Greens,* with tofu added, and the flexibility of using whichever kinds of greens are most abundant in your garden or at the farm market. Serve with (or over) a simple noodle or grain dish and a bright, colorful salad.
Serves: 4 to 6
14-to 16-ounce tub extra-firm tofu
2 tablespoons olive or other vegetable oil (or use ¼ cup broth
if you don't like to use oil)
2 tablespoons reduced-sodium soy sauce or tamari
10 to 12 ounces chard, kale, collard greens, or any combination of
dark leafy greens, stemmed and cut into ribbons
½ medium head napa cabbage, cut into ribbons
3 to 4 shallots, finely chopped
2 to 4 cloves garlic, minced
1 medium leek, white part only, chopped and well washed, optional
Salt and freshly ground black pepper to taste
Dried hot red pepper flakes to taste
1 tablespoon sesame seeds
Cut the tofu into ½-inch-thick slices. Blot well between clean tea-towels or several layers of paper towel (or use a tofu press), and cut into ½-inch thick strips.
Slowly heat half of the oil and soy sauce together in a stir-fry pan or wide skillet, stirring together as they heat. Add the tofu and stir quickly to coat with the liquid. Sauté over medium-high heat until golden-brown and crisp on most sides, about 10 minutes. Remove from the pan to a plate.
Meanwhile, prepare the greens as directed.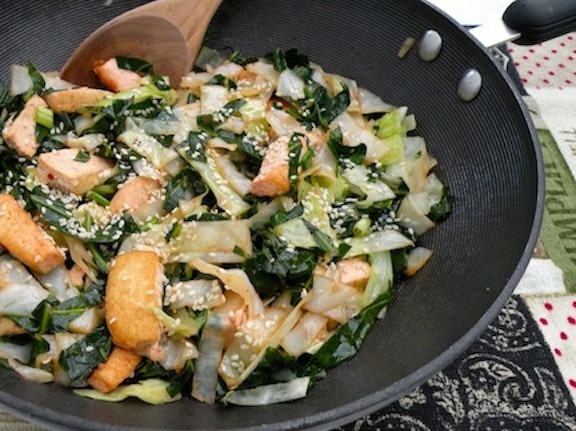 Heat the remaining oil in the same pan. Add the shallots, garlic, and optional leek and sauté over medium-low heat until all are golden.
Stir the chard in quickly to coat with the oil, then turn the heat up to high. Stir-fry a minutes or so, then add the napa cabbage. Continue to stir-fry until both are tender-crisp, about 2 to 3 minutes.
Season with salt, pepper, and dried hot red pepper flakes. Sprinkle with sesame seeds and serve at once.
*This post contains affiliate links. If the product is purchased by linking through this review, VegKitchen receives a modest commission, which helps maintain our site and helps it to continue growing!