This easy stir-fry highlights fresh, quick-cooking spring greens, combined with tofu. See the note below for suggestions on which leafy greens to use; you can vary it each time. My favorite is baby bok choy!
Serves: 4
14- to 16-ounce tub firm or extra-firm tofu
2 tablespoons olive oil
1 medium onion, quartered and thinly sliced
1 medium red or yellow bell pepper, or half of each
2 to 3 varieties of tender spring greens
(about 10 to 12 ounces total), larger leaves and
usable stalks coarsely chopped (see note)
1 to 2 teaspoons grated fresh or jarred ginger
3 tablespoons reduced-sodium soy sauce or teriyaki sauce, or to taste
¼ cup or more chopped toasted cashews
or slivered almonds for topping, optional
Cut the tofu into ½-inch-thick slices. Blot well between clean tea-towels or several layers of paper towel, then cut into ½-inch dice.
Heat half of the oil in a stir-fry pan or wide skillet. Add the tofu and stir-fry over medium-high heat until golden on most sides. Remove to a plate.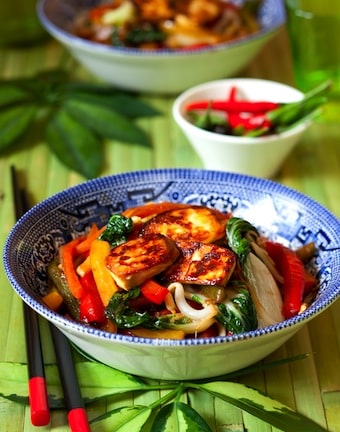 Heat the remaining oil in the same skillet. Add the onion and sauté over medium heat until translucent. Add the bell pepper and continue to sauté until the onion is golden. Add the greens and ginger and stir-fry briefly, just until leaves are wilted.
Stir in the tofu dice, season to taste with soy sauce, and serve at once. Pass around toasted nuts for topping each serving, if you'd like.
Note: Use one or two Asian greens such as mizuna, tatsoi, or bok choy (or any other Asian greens available to you); or try a combination of spinach with arugula or watercress.
Nutritional Information:
Per Serving (made with mizuna & bok choy): 199.6 calories; 14g fat; 453.6mg sodium; 302.3mg potassium; 8.2g carbs; 1.7g sugar; 13.7g protein
Here are more: