One of your kid's favorite fruits is hiding a dirty secret. Of all the fresh fruits and vegetables available for sale in the United States, sweet, sun-kissed strawberries are the most likely to be contaminated with pesticide residues, according to the Environmental Working Group's 2016 Shopper's Guide to Pesticides in Produce. Contributed by Megan Boyle. Reprinted by permission of The Environmental Working Group (EWG).
This year, for the first time strawberries top EWG's Dirty Dozen list of produce with the highest amount of pesticide, even after you've washed them. Other dirty produce includes peaches, nectarines and apples – previously No. 1 for five years running. Here's the full list.
EWG analyzed data from the U.S. Department of Agriculture, whose tests found nearly 150 different pesticides on thousands of produce samples from 2014, the most recent year available. Nearly three in four fruit and vegetable samples contained residue from at least one pesticide.
But the results aren't all bad. EWG's Clean Fifteen list names the produce with the lowest amount of pesticide residues. Avocados lead the pack, with less than one percent showing any traces. Sweet corn, pineapples, cabbage, frozen sweet peas and onions rank among the clean fruits and veggies as well. Here's the full list.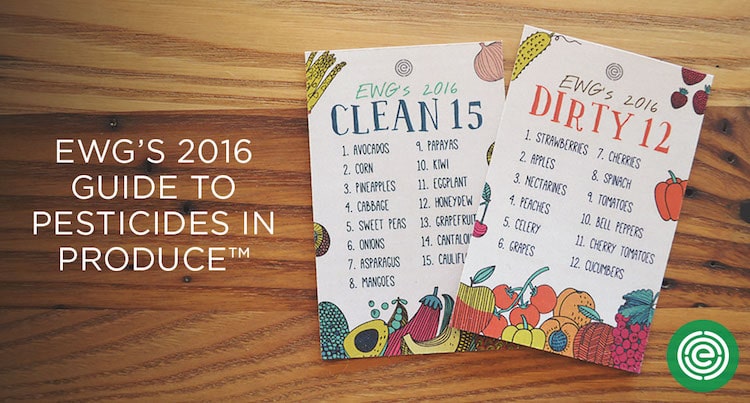 EWG's 2016 Shopper's Guide to Pesticides in Produce aims to help parents make healthy shopping choices. Here are our top tips for putting this information into action:
To limit pesticide exposure, buy organic produce whenever you can. But if your options or budget are limited, focus on choosing organic versions of the Dirty Dozen to get the biggest benefit for your family.

Always wash fruits and veggies before eating, whether they're "clean" or "dirty," organic or conventional. Rubbing produce under running water removes not only pesticide residue, but also dirt and germs from handling.

Learn more at EWG's

2016 Shopper's Guide to Pesticides in Produce.