The addition of the sweet potato and toasted pine nuts makes this simple salad an exceptional side dish or a hearty lunch. Because the natural flavors blend so well, there's little need for exotic seasonings. A basket of whole grain bread makes the ideal accompaniment. Contributed by Zel Allen, reprinted from The Nut Gourmet.*
Serves: 2 to 3
1 medium to large sweet potato, peeled and sliced
into ½-inch-thick rounds
1 medium sweet red apple, cored and diced
1 ripe pear, cored and diced
1 large celery stalk, diced
½ cup toasted pine nuts or chopped walnuts
¼ cup raisins, optional
2 to 3 tablespoons vegan mayonnaise
1 to 2 tablespoons chopped fresh chives
Steam the sweet potato for 7 to 8 minutes, until soft. Remove from the steamer and cool. Cut into bite-size pieces and put in a medium bowl.
Add the apple, pear, celery, nuts, optional raisins, and mayonnaise, and toss well to distribute the mayonnaise evenly. Garnish with the chives and serve.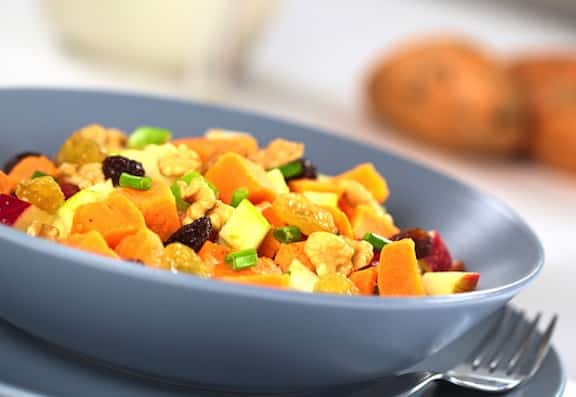 Zel and Reuben Allen host the popular, long-running webzine Vegetarians in Paradise. 
Explore more of VegKitchen's:
*This post contains affiliate links. If the product is purchased by linking through this review, VegKitchen receives a modest commission, which helps maintain our site and helps it to continue growing!