Though you won't find this on domestic restaurant menus as often as you would traditional green papaya salad, the basic ingredients for this southern Thai composed salad are more readily available to the home cook. Central to this gorgeous composition is a mound of rice, which is surrounded by a variety of veggies plus one fruit — usually pineapple or green apple. A feast of flavors, textures and colors, what really pulls it together is the toasted coconut.
Once you've got the rice cooked and cooled, this dish comes together quickly. Though this version makes use of common ingredients, we present options for using more authentic ones if they're available to you — Thai basil in place of ordinary basil, and galangal in place of ginger.
Serves: 4
Dressing
¼ cup natural reduced-sodium soy sauce or tamari
¼ cup lime juice
2 teaspoons grated fresh ginger or galangal
2 tablespoons natural granulated sugar (coconut sugar is good)
2 shallot cloves, minced, or 2 tablespoons minced scallion (white part)
¼ cup minced fresh cilantro
8 to 10 leaves fresh basil or Thai basil, thinly sliced
Salad
2 cups cooked whole-grain rice (any variety of brown rice,
or an exotic rice blend), cooled to room temperature
1 cup fresh mung bean sprouts, or green sprouts such as sweet pea shoots
1 cup coarsely shredded carrots
1 cup shredded green or red cabbage, or a combination
1 cup diced pineapple or papaya, or 1 medium diced green apple
1 cup thinly sliced cucumber, cut into half-circles
Garnishes:
Lime wedges
2 thinly sliced scallions, green parts only
¼ cup thinly sliced lemongrass, optional
½ cup shredded coconut, toasted on a dry skillet
Combine the ingredients for the dressing in a small serving bowl and set aside to allow the sugar to dissolve.
Lightly oil a round soup bowl. Pack the rice into it, then invert onto the middle of a platter to release, forming a nice mound.
Surround the rice with the sprouts, carrots, cabbage, pineapple or apple, and cucumber in separate small mounds.
Garnish the platter lime wedges, sliced scallion, and optional lemongrass.
Just before serving, place the toasted coconut in its own small serving bowl, and whisk the dressing together.
To serve, have everyone take about ½ cup of rice, and arrange a little of the other components over or next to it. Pass around the dressing and coconut for embellishing individual portions.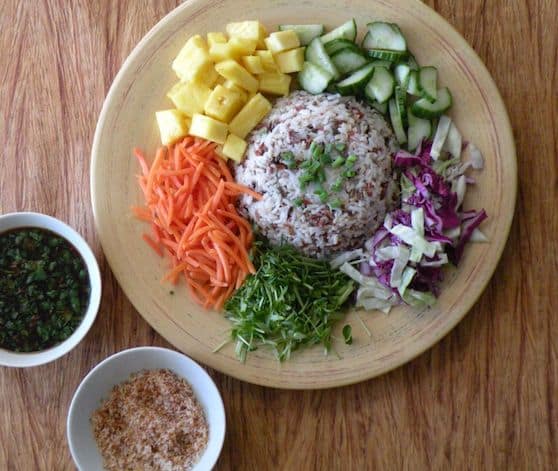 Originally published in the Sept. 2014 issue of Vegetarian Times.