Chickpeas and miniature pasta shapes in a richly flavored tomato broth add up to a soup that comes together in no time, yet tastes as if it has been simmered for hours.
Serves: 6
1 tablespoon extra virgin olive oil

2 to 3 cloves garlic, minced

1 cup tiny pasta such as ditalini, tiny bows, or mini shells,




preferably whole grain (GF varieties are available, too)

28-ounce can crushed tomatoes

15- to 16-ounce can chickpeas, drained and rinsed

2 teaspoons paprika

1 tablespoon salt-free seasoning blend, such as Frontier




or Mrs. Dash

¼ cup sliced sun-dried tomatoes, optional

¼ to ½ cup sliced basil leaves, as desired

¼ cup minced fresh parsley

2 to 3 scallions, thinly sliced

Salt and freshly ground pepper to taste
Heat the oil in a soup pot. Add the garlic and sauté over low heat until golden.
Add 4 cups water. Bring to a rapid simmer, then stir in the pasta. Cook until just al dente.
Add the tomatoes, chickpeas, paprika, seasoning blend, and optional sun-dried tomatoes. Return to a simmer, then cover and simmer gently for 8 minutes.
Add remaining ingredients. If the soup is too dense, add a cup or so of water. Bring to a simmer once again, then remove from the heat. Season with salt and pepper, then serve.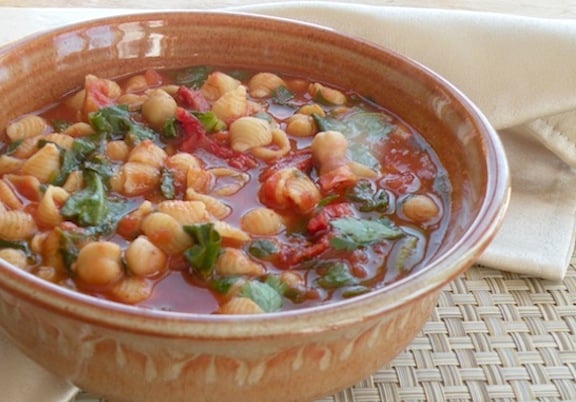 Nutrition Information:
Per serving: 180 calories; 8g fat; 210mg sodium; 24g carbs; 7g fiber; 5g protein