"How do you get your protein?" is a question asked of those following plant-based diets (whether vegetarian or vegan) that just won't go away. It's often dismissed as unimportant, but it is possible that any sort of poorly planned regimen might be sub-optimal for your health. The myth is that vegan diets can't and don't provide adequate protein is tenacious. For more on the subject, see Protein for Plant-Based Diets. 
There's plenty of evidence that a varied, whole foods diet that provides sufficient calories, has little chance of falling short in protein. With the exception of sugars and oils, many foods have at least some protein. Whole grains, legumes, minimally processed soy foods, and nuts and seeds all offer high-quality protein. Many common vegetables also have small amounts of protein, so if you eat plenty of them, they add up. Here are some of the best protein sources among plant foods.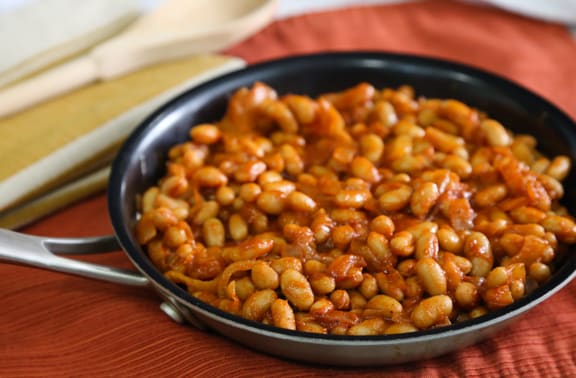 Beans and legumes (cooked, ½ cup serving)
Remember, beans and legumes are so blessedly low in calories and fat, that if you need more protein and have the capacity, a 1-cup serving isn't unreasonable — so you can double the protein count from these sources below.
Chickpeas = 7g
Black beans = 8g
Pinto beans = 6g
Lentils, brown = 6 to 8g
Lentils, red = 13g
Split peas (green or yellow) = 8 to 10g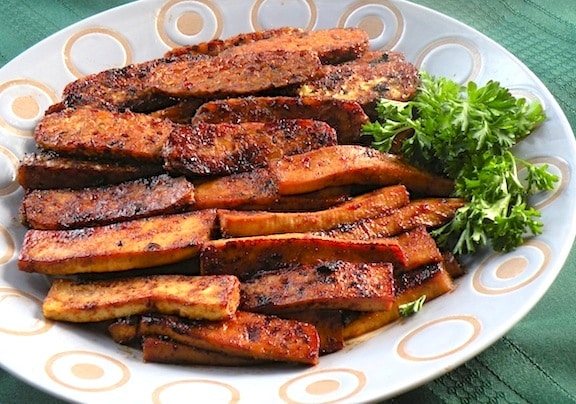 Tofu, tempeh, and seitan
Seitan  - 2 ounces = 14g / 4 ounces = 28g
Tempeh (4 ounces) = 20 to 21g (Note: Though tempeh is a terrific source of protein, in some dishes, more like 2 ounces is a serving size, due to its intense flavor and texture)
Tofu, firm (4 ounces) = 10g
Tofu, extra-firm (4 ounces) = 8g
Tofu, baked (Soy Boy, 2 ounces) = 10g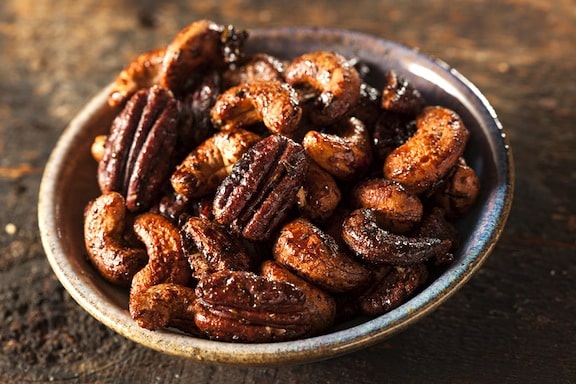 Nuts (¼ cup serving) and Nut Butters (2-tablespoon serving)
Almonds = 8g
Cashews =  5g
Peanuts = 7g
Pistachios = 6g
Walnuts =  4g
Peanut butter = 8g
Cashew butter = 6g
Almond butter = 8g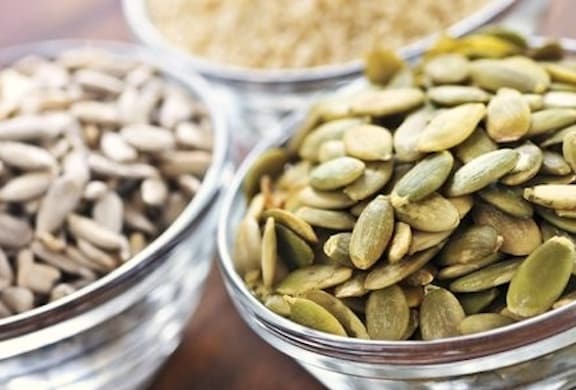 Seeds
Chia seeds = 4 g
Flax seeds (2 tablespoons) = 3.8g
Hemp seeds, also known as hemp hearts (2 tablespoons) = 6g
Sunflower seeds (2 tablespoons) = 3.5g
Pumpkin seeds (¼ cup) = 8g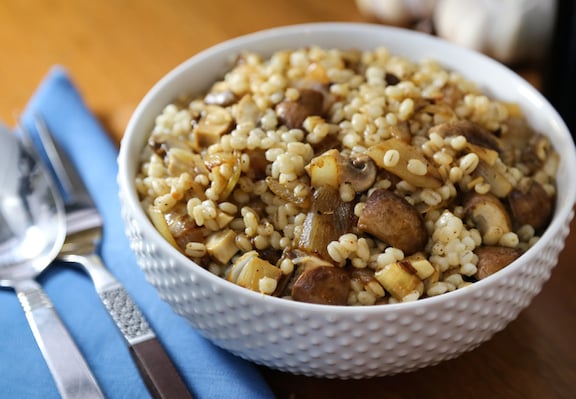 Grains (½ cup cooked servings)
As with legumes, whole grains are low in fat and high in fiber. If you need more, up to a 1 cup serving for those of you with heartier appetites or higher protein needs is a reasonable quantity.
Barley = 8g
Brown rice = 3g
Millet = 3g
Oatmeal (old-fashioned) cooked = 3g (check this out)
Oats, steel cut = 5g
Quinoa =  4 to 4.5g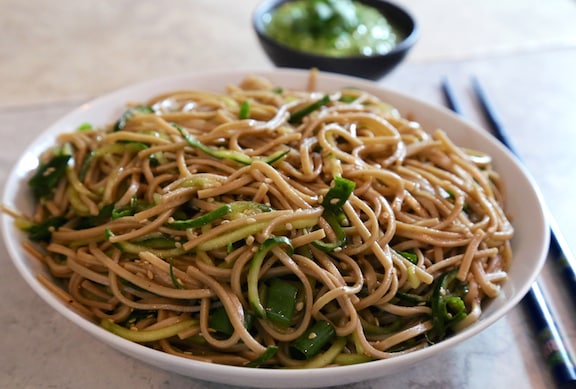 Pastas (1 cup cooked serving)
Quinoa pasta = 4g
Spelt pasta = 12g
Soba noodles (2 ounce serving) =  7 to 8g
Whole wheat pasta = 7g
Ordinary duram wheat pasta = 7g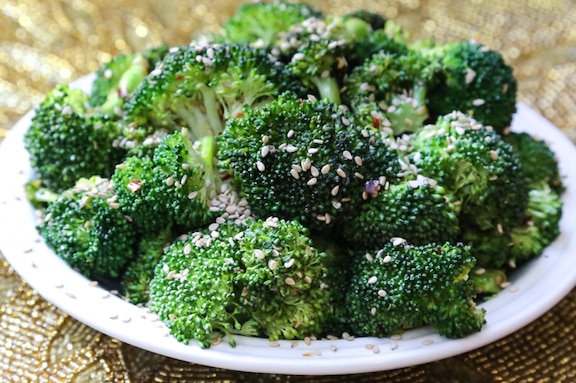 Vegetables
Asparagus (1 cup) = 4 g
Broccoli (1 cup cooked florets) = 2 to 3g
Brussels sprouts (1 cup cooked) = 4g
Kale (1 cup packed) = 2g
Spinach (½ cup wilted, packed) = 3g
Sweet potato (1 medium) - 2. 25g
Other vegetables and fruits, including butternut squash, green peas, blueberries, medjool dates, and others, have from 1g to 2g protein per serving. So it does all add up!
More ...
Even ordinary foods like bread (whole wheat, of course), add to your day's total protein needs. A slice of whole grain bread has 2.5g to 4g protein, so a two-slice sandwich gives you 5 to 8 grams, before you even add the filling. Even a medium banana has about 1.5g protein! So a simple peanut butter and banana sandwich on whole grain bread provides nearly a third of the daily protein requirement of an average-size woman. Another good source is nutritional yeast such as Red Star, which provides 8g per 1 ½ tablespoons as well as being a great source of Vitamin B12
Excerpted and adapted from Plant Power: Transform Your Kitchen, Plate, and Life with More than 150 Fresh and Flavorful Vegan Recipes by Nava Atlas ©2014. Published by HarperOne, reprinted by permission. Photo at top  by Hannah Kaminsky.