The kind of miso soup that's served in Japanese restaurants is so tasty and warming, and quite easy to replicate at home. It takes just minutes to make. Look for kombu (the sea vegetable that gives the soup its traditional character) in natural foods stores. Note that once the miso is stirred into water, it should not be boiled. Otherwise, its beneficial enzymes will be destroyed.
Serves: 4 to 6
32-ounce container low-sodium vegetable broth
6 pieces kombu (sea vegetable), each about 3 by 5 inches
12.3-ounce container extra-firm silken tofu
2 to 4 tablespoons miso, to taste
2 to 3 scallions, green parts only, thinly sliced
Freshly ground pepper to taste
Combine the broth with the kombu in a small soup pot and bring to a rapid simmer.
Stir in the tofu and cook until the broth returns to a rapid simmer again, then turn the heat down to low.
Dissolve the desired amount of miso in just enough warm water to make it pourable. The more miso you use, the more pungent and salty the soup will be, so start with less if you're not familiar with miso, and add until the soup is salty/pungent to your liking. Stir into the broth.
Add a cup or so of water if you'd like a less dense soup and heat through, but don't allow the broth to boil. Taste to see if you'd like more miso in the soup, and if so, dissolve in warm water before adding, as above. Stir in the scallions and season with pepper. Serve at once, making sure that each serving contains at least one piece of kombu.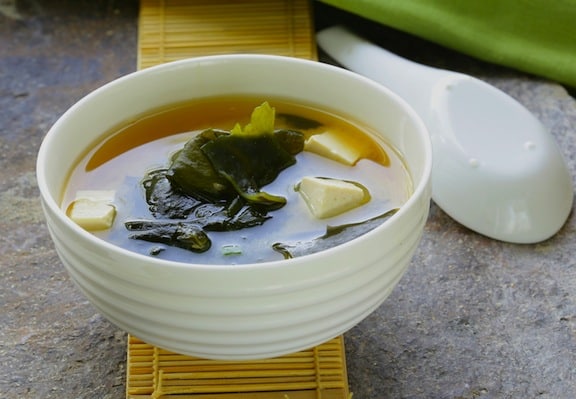 Nutrition information
Calories: 77;  Total fat: 4g;  Protein: 7g;  Fiber: 1.5g; Carbs: 5g; Sodium: 369mg