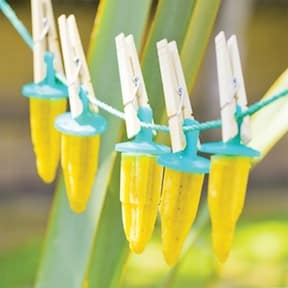 These ice pops feature oranges, kiwis, and mangoes, plus coconut water, which is chock-full of electrolytes, calcium, potassium, and magnesium. Recipe and photo from Ice Pop Joy* by Anni Daulter (Sellers Publishing, © 2012), reprinted by permission.
Juice of 2 oranges (approximately ⅔ cup juice)
3 kiwis, peeled and chopped
2 mangoes, peeled and chopped
8.5-ounce container coconut water (see note)
¼ cup silken tofu
3 tablespoons coconut sugar
Combine orange juice, kiwis, mangoes, coconut water, tofu, and coconut sugar in your blender, and puree until smooth.
Pour mixture into chosen pop molds and put sticks into place. Freeze pops until solid.
Note: The author of this recipe likes O.N.E. Coconut Water with a Splash of Passion Fruit.
*This post contains affiliate links. If the product is purchased by linking through this review, VegKitchen receives a modest commission, which helps maintain our site and helps it to continue growing!