These little gems have ALL the flavor without the fatty ingredients we have indulged in the past. The two examples that I will touch on (because the other one is kinda obvious) is replacing dairy ingredients with nuts and incorporating the veggies and spices. Normally when people think of twice baked potatoes they think of creamy potatoes and smoky bacon flavors. How do you achieve these traditional flavors while adhering to a completely veggie lifestyle? Easy!
You make a creamy cashew cream in place of the dairy and use smoky spices on dry toasted green onions instead of bacon. I have found that it is the flavors and textures I crave not the actual ingredients i.e. milk or bacon. What do you think of when you think of sour cream? You think of the flavor and how it makes things creamy… not the actually ingredient–sour cream. When one thinks of bacon you think of the smoky flavor, you do not think of meat per say. I hope you enjoy this recipe as much as my family does and here's to the warmer weather parties! Recipes and photos contributed by Joelle Amiot from her blog JarOHoney.
Serves: 6
12 small organic golden potatoes
(pick ones that are small enough to wrap your hand around)
2 teaspoons cold pressed organic olive oil
6 large whole peeled organic garlic gloves
½ cup thin sliced raw organic green onions (both white and green part, mix)
1 medium whole organic smoked black cardamom pod,
fresh grind fine (I use an old coffee grinder)
¼ teaspoon fresh ground pink salt
½ cup raw organic cashews
¼ cup filtered water
2 teaspoons organic raw cider vinegar
½ cup filtered water
Preheat your oven to 425 degrees F. Wash your potatoes well. Use a melon baller to make first full scoop cut in the center of the flatter side of your potato. Hollow out the center but do not pierce outer skin and leave enough to allow to hold up (about ½ inch  all around inside). Use a small paring knife to evenly trim opening, reserve all the trimmings and pieces. Place the hollowed out potatoes cut side up in a baking dish.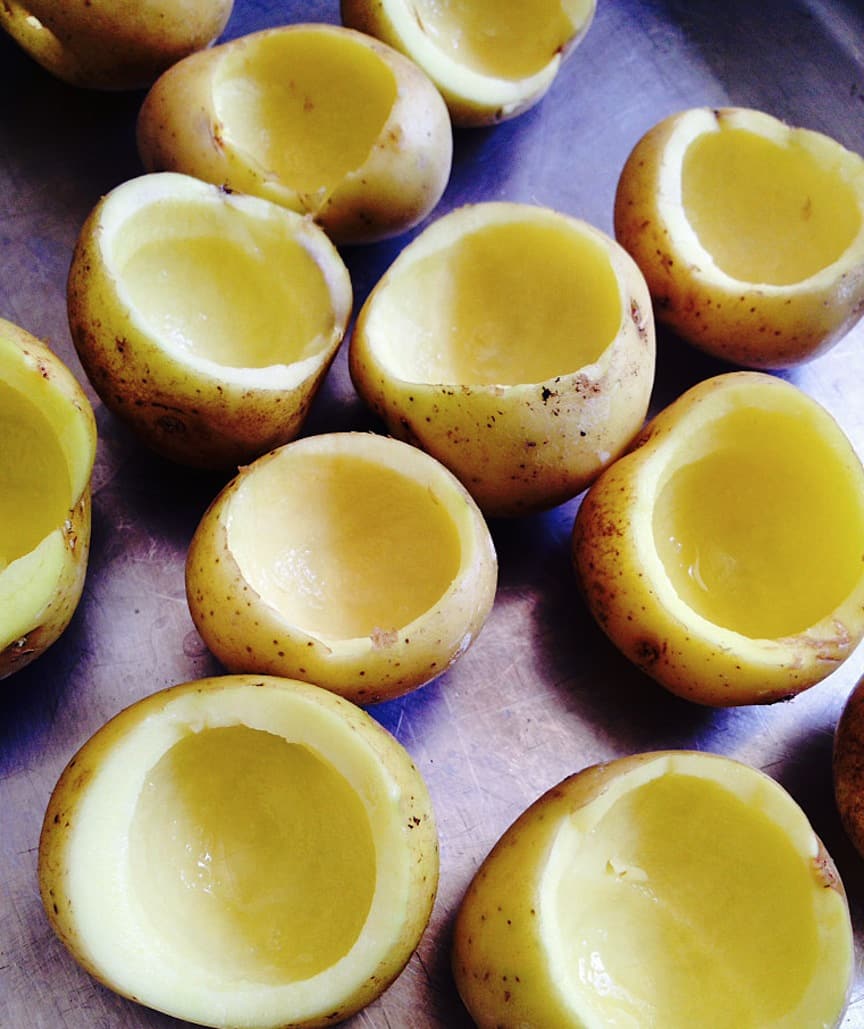 Cut the larger melon ball pieces in half and toss with 1 teaspoon oil. Brush the hollowed out potatoes with other teaspoon of oil— place pieces and trimmings along with whole garlic cloves into a foil pouch with 1 tablespoon water and seal tightly. Place this sealed pouch in the pan with the hollowed out potatoes. Add ¼ cup water to pan's bottom and cover tightly with tinfoil. Bake for 40 minutes.
In a small dry pan on low heat, put in the fresh ground cardamom and ¼ cup green onions while stirring constantly cook until dark brown and semi dry. Allow to cool and separate, reserve. Reserve the other ¼ cup of fresh onions until later.
In a food processor, fine grind the cashews. Now slowly add ¼ cup water and the cider vinegar. Blend until smooth and place in a large mixing bowl.
Remove the covered baking pan from oven and uncover (careful of hot steam)– allow to cool for 20 minutes.  Unwrap the potato trimmings and place in the bowl with the cashew cream and whip on medium speed with an electric hand mixer with small amounts of the ½ cup of water at a time until smooth and creamy. Fold in the smoky onions, reserved fresh onion slices and ¼ teaspoon fresh ground salt…place this mix in a piping bag (or recycled disposable plastic bag) with a large decorative pastry tip. Fill baked potato bowls in a swirl and piled high, make swirled mounds with excess if any.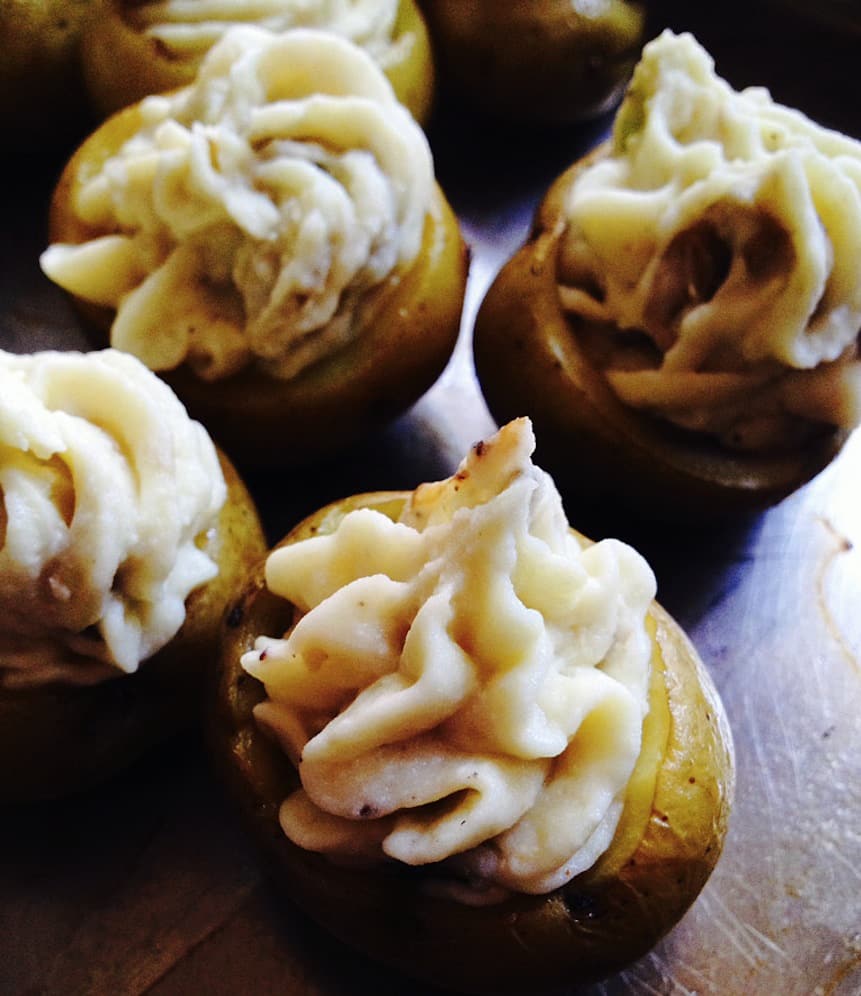 Return to baking pan and place in the oven uncovered and bake until medium golden brown (about 15 minutes) serve hot.
NOTE: This recipe can be done ahead of time– just do not do the second bake until ready to serve (Cover and place in the refrigerator up to 1 day). When you are ready to do the second bake, be sure the potatoes are at room temp before baking second time…
Chef's Tip: when choosing your potatoes, try to pick ones that are all the same size and with no blemishes, soft or black spots. They should be firm and the skin tight not wrinkled.
Nutritional Information: 325 calories; 7.2g fat; 90.1mg sodium; 1,480mg potassium; 58.4g carbs; 8.7g fiber; 5g sugar; 8g protein