Fresh corn and cooked hominy produce an explosion of contrasts when combined in this salad featuring a deliciously addictive dressing. Every single bite features an eruption of vibrant flavors: sweet and sour, crispy and creamy, fresh and earthy. Nothing compares to the taste of summer corn, buttery and sweet; it's scrumptious eaten directly from the cob or scraped into soups, puddings, relishes, and fritters.
Fresh, in-season corn is particularly luscious when used raw in salads; its honeylike flavor is further enhanced by citrusy vinaigrettes. The nixtamalized corn of the Americas is the hominy of the South. When kernels are soaked in lye water to remove the outer germ, they puff up and soften; their texture changes from crunchy to chewy, and their sweetness is replaced by rustic and nutty flavors. The union of these two forms of corn yields a wonderfully refreshing and colorful salad. Behold summer in a bowl. Recipe from The New Southern-Latino Table: Recipes that Bring Together the Bold and Beloved Flavors of Latin America and the American South.* Copyright © 2011 by Sandra A. Gutierrez. Used by permission of the University of North Carolina Press. Photos by Evan Atlas.
Serves: 4 to 6
4 cups raw corn kernels, scraped off fresh cobs
2 ½ cups cooked whole hominy (or one 20-ounce can,
drained and rinsed; see note)
2 cups quartered grape tomatoes
¼ cup minced, seeded, and deveined jalapeños
¼ cup minced flat-leaf parsley (leaves and tender stems)
Grated zest of 1 lemon
¼ cup lemon juice
¼ cup red wine vinegar
⅓ cup extra-virgin olive oil
2 large garlic cloves, minced
Salt and freshly ground black pepper, to taste
In a large bowl, combine the corn, hominy, tomatoes, jalapeños, and parsley.
In a medium bowl, whisk together the lemon zest, lemon juice, vinegar, oil, and garlic until well combined. Season with salt and pepper. Pour the dressing over the corn mixture and toss to coat.
Let it sit at room temperature for 30 minutes (or refrigerate for up to 8 hours) before serving. Serve chilled or at room temperature.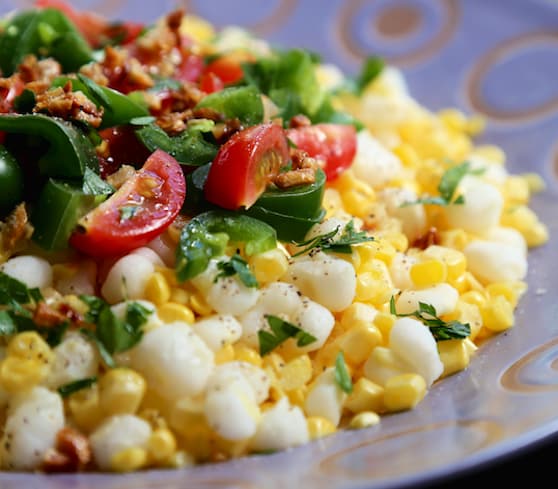 Variation: For another presentation, keep the fresh corn and hominy separate from the other salad ingredients. Divide the dressing between them. Arrange the two corns on a platter, with the remain
Note: Dried hominy can be found in Latin tiendas, where it's called mote. Find canned hominy in most supermarkets.
Sandra Gutierrez is a food writer, recipe developer, and cooking instructor. Visit her at Sandra's Kitchen Studio.
*This post contains affiliate links. If the product is purchased by linking through this review, VegKitchen receives a modest commission, which helps maintain our site and helps it to continue growing!