The same classic American cheese taste you grew up with: mild, firm, and satisfying. These creamy golden-hued vegan American cheese slices are perfect sliced on sandwiches and crackers. Recipe and photo from Vegan Cheese: Simple, Delicious Plant-Based Recipes by Jules Aron, ©2017 by Countryman Press, reprinted by permission.
Makes: An approximately 1-pound block
Prep and cook time: under 30 minutes
Wait time: 2 to 4 hours
Cheese
1 cup raw cashews, soaked, drained, and rinsed

¼ cup fresh lemon juice

¼ cup water, filtered

1 large red bell pepper, chopped

⅓ cup nutritional yeast

2 tablespoons chopped red onion

2 garlic cloves, chopped

1 teaspoon yellow mustard

1 teaspoon sea salt
Agar Gel
½ cup cold water, filtered

4 teaspoons agar powder
Place all the cheese ingredients in a blender. Process until smooth and creamy. Leave the cheese mixture in the blender.
To make the agar gel, whisk the cold water and the agar together in a saucepan. Let it soak for 5 minutes then bring to a boil. Lower the heat and simmer, whisking often, for 5 to 8 minutes, to activate the agar.
Once the agar mixture is ready, quickly transfer it to the cheese mixture in the blender and process until it becomes homogenous. Pour the mixture into a container and cover. Refrigerate until firm and set, at least 2 to 4 hours.
Wrap the cheese in waxed paper and store in a sealed container. Will keep, refrigerated, for 1 to 2 weeks.
Tip: Soaking the cashews in water for 4 to 8 hours makes the puree creamier and easier to process.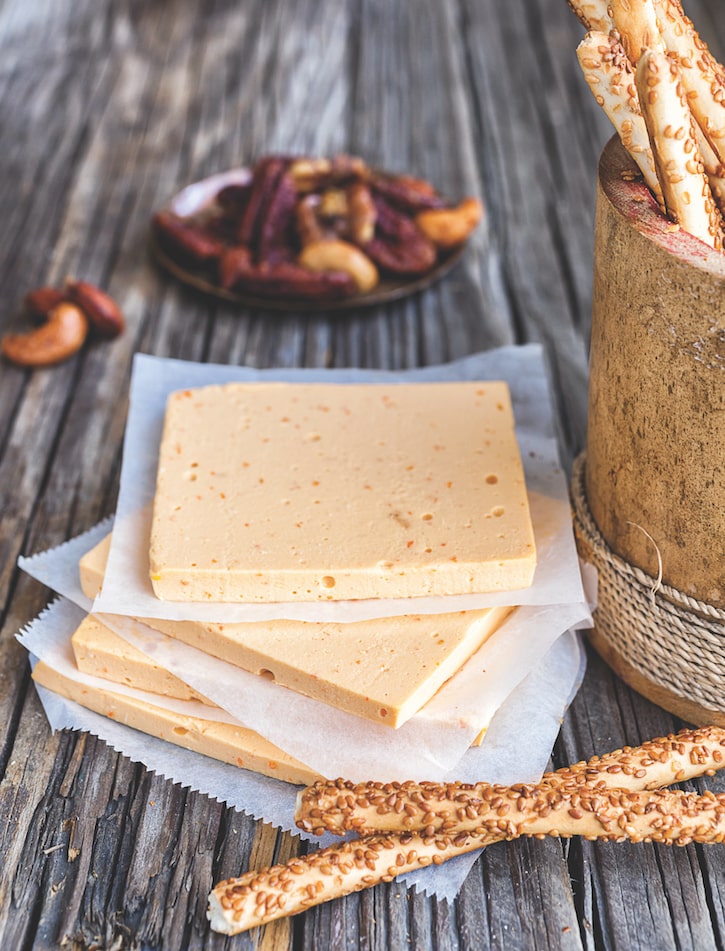 *This post contains affiliate links. If the product is purchased by linking through. VegKitchen receives a modest commission, which helps maintain our site and helps it to continue growing!