These Vegan Chocolate Chip Cookies are extremely simple to make and don't require any strange ingredients. Gooey vegan chocolate combines with a rich cookie dough to make the perfect dessert. Using ingredients you probably already have in your pantry, you can have freshly baked cookies ready in as little as 18 minutes!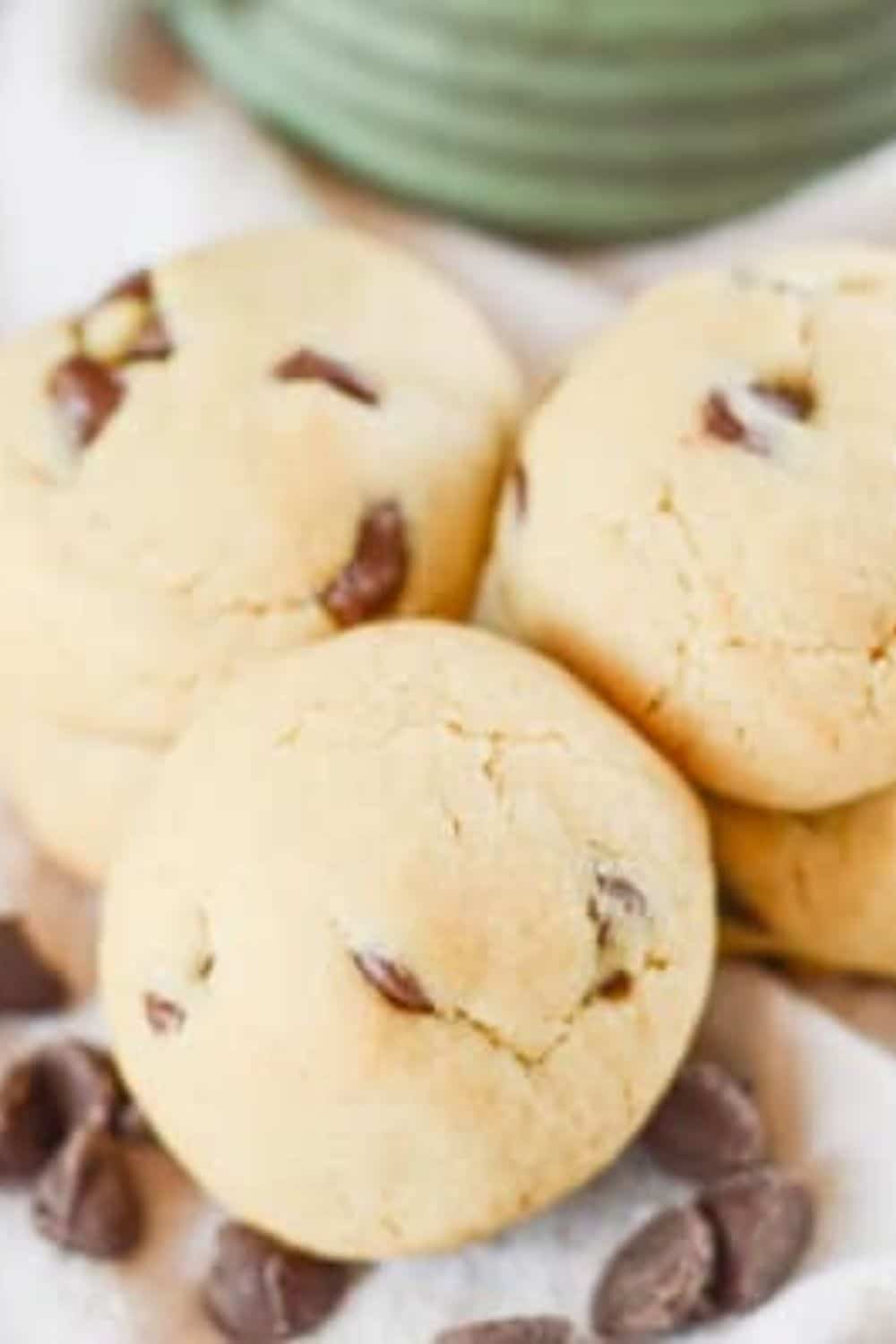 Chocolate chip cookies are a classic dessert recipe that's been around for countless years. It's a staple cookie and every household has their own recipe for.
Despite the plethora of recipes for this famous dessert, I don't think I've run across one I didn't appreciate. I think my favorite are those that have been passed down through generations within a family.
If you're needing a good vegan recipe for your chocolate chip cookie repertoire, this recipe is the one.
It's so easy and doesn't take any odd ingredients that you might not have on hand.
Usually, people hear the word "vegan" and think it's going to be an odd recipe. However, if you never told them these cookies were vegan, they would have no clue.
They taste just like the classic cookie we all know and love!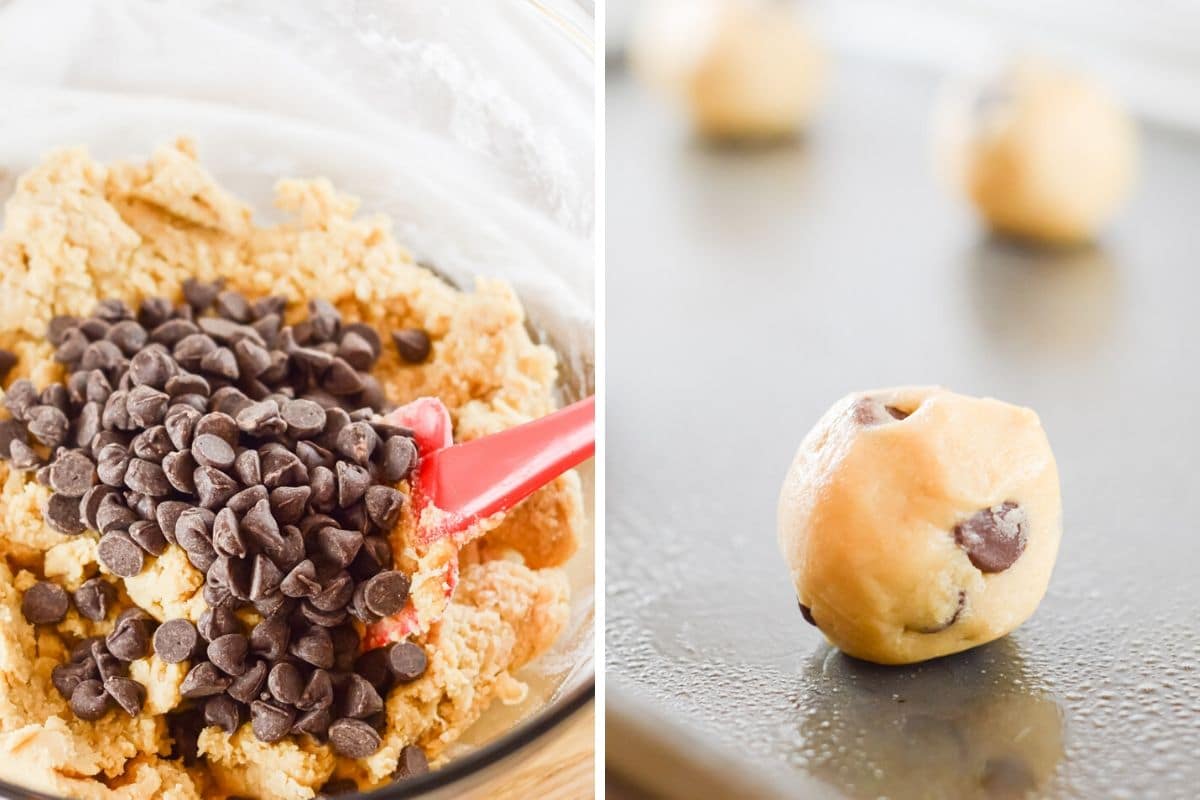 How to Make Vegan Chocolate Chip Cookies
Prep - Preheat the oven to 375 degrees before greasing a cookie sheet and set it aside.
Mix dry ingredients - In a large bowl, combine all the dry ingredients and mix well.
Finish the dough - In a separate small bowl, cream together the butter and white sugar. Add the rest of the remaining ingredients except the chocolate chips to the butter mixture and stir well. Combine both the wet and dry mixtures and mix until well combined. Fold in the chocolate chips.
Bake - Roll the dough into 1-inch balls and place about 12 on your prepared baking sheet. Cook for 8 minutes then allow to sit on the pan for a couple of minutes before baking the next batch.
Scroll down for the complete printable recipe with measurements!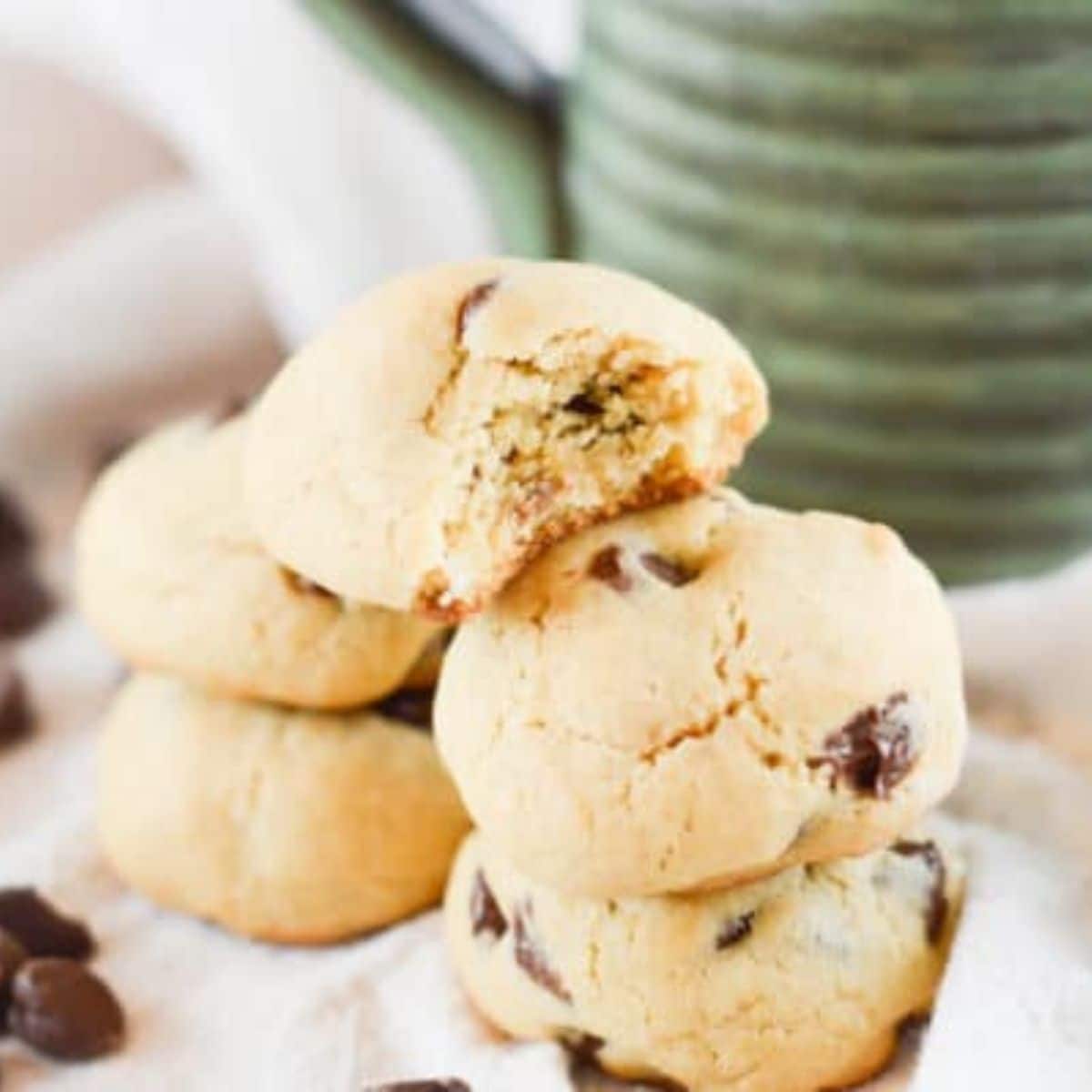 Tips and Variations
Vegan Butter - There are many vegan margarine brands available these days. For this recipe, I used the Earth Balance Brand, which comes in sticks or a tub. Either one works just fine. If you can't find vegan butter, you cana substitute coconut oil.
Applesauce Substitute - If you prefer to not use applesauce, you can always use a flax egg or chia eggs. For a flax egg or for a chia egg, place one tablespoon of flax or chia seeds in a small dish and add 2.5-3 tablespoons water. Stir and let the mixture rest for 5 minutes before adding to the recipe. This replaces exactly one egg in a recipe.
For more easy vegan substitutes, be sure to snag a free copy of the vegan substitution cheat sheet!
Vegan Chocolate Chips - Be sure to use dark chocolate chips, which are naturally vegan. Always check the label for any sneaky milk products that may have been added. Or use a brand labeled as vegan, like this one.
Different Chip Flavors - If you would like to branch out and try other flavors, you can always replace the chocolate chips with white chocolate chips, caramel chips, or butterscotch chips. Or try adding your favorite nuts!
No rising - Don't be alarmed if your cookies don't rise much, they're not supposed to. That's why you can fit so many on a pan. They don't expand much, leaving you room to fit quite a few on the baking sheet.
Storage - You can store these Vegan Chocolate Chip Cookies in an airtight container either in the fridge, in a pantry, on the counter, or even in the freezer. If frozen, they will be good for up to 2 months. Using any other method, they will last for around 5-7 days.
Make it edible - If you want to turn this recipe into an edible cookie dough, simply nix the baking powder and baking soda. You'll also want to stick the flour you're going to use in the recipe in a microwave for about one minute. This makes sure it's safe to consume. Be sure the microwave is on high. (You can find our full edible vegan cookie dough recipe here.)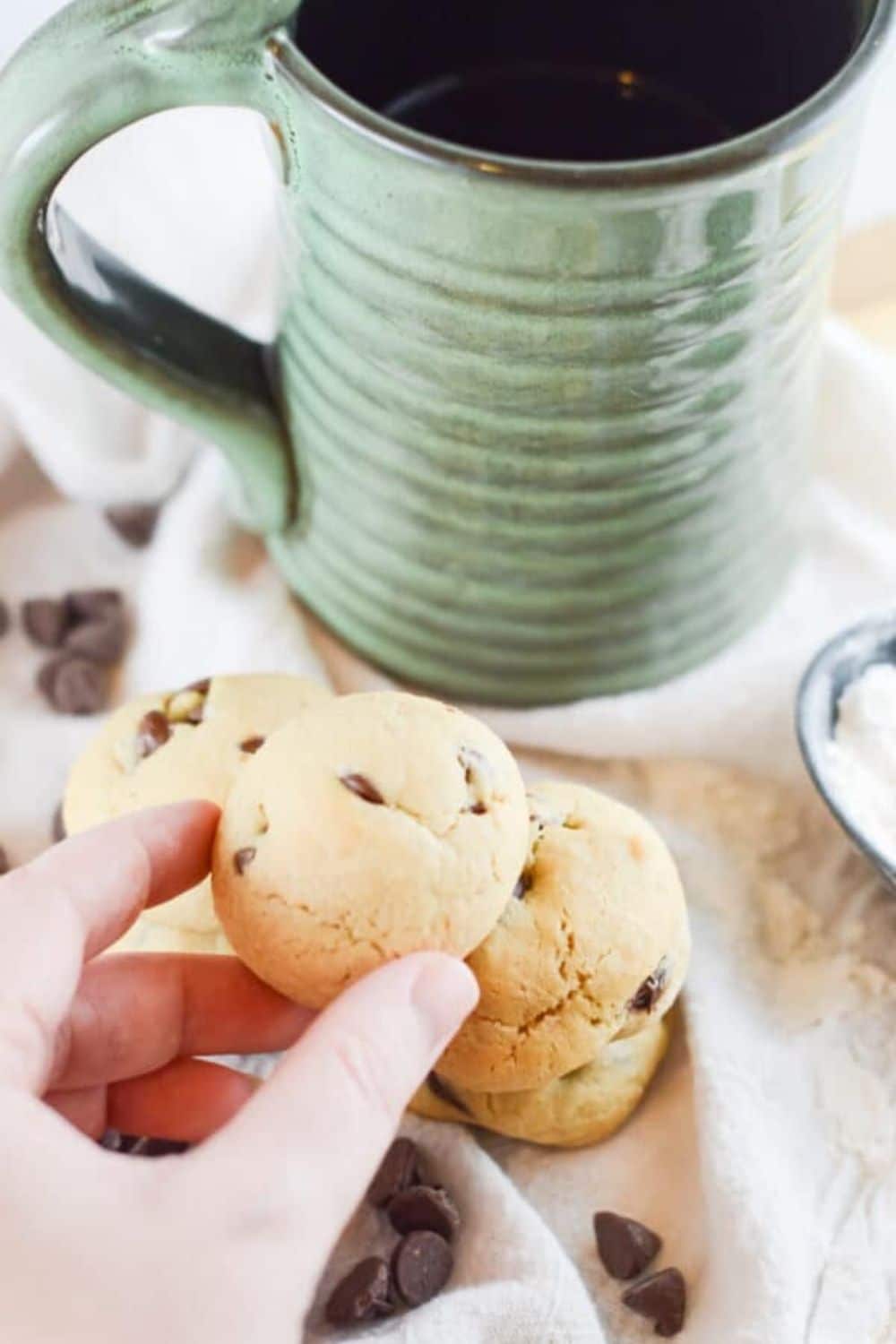 Common Questions About Vegan Chocolate Chip Cookies
What Makes a Cookie Hard or Soft?
The quickest way to make a cookie hard is to overcook it. This happens often with cookies as people don't want to pull them out of the oven until they look fully done.
However, cookies finish cooking on the pan even after being pulled out of the oven.
Because of this, many cookies, including these Vegan Chocolate Chip Cookies should be pulled out right before they look finished.
If you loved this recipe, be sure to check out this list of the best vegan cookies.
Please let me know if you decided to give these Vegan Chocolate Chip Cookies a try, in the comments below!
More Vegan Cookie Recipes You Might Like: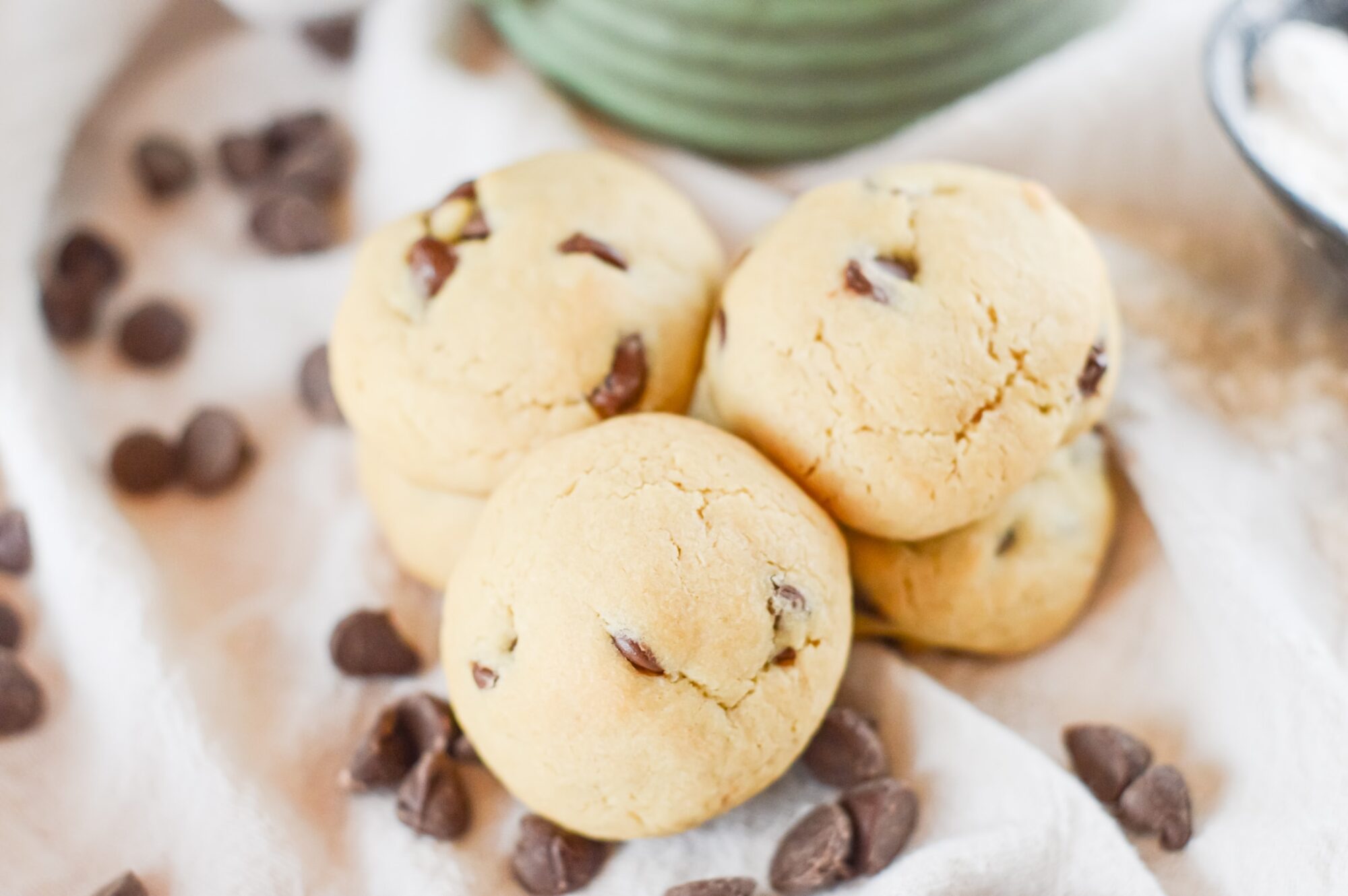 Recipe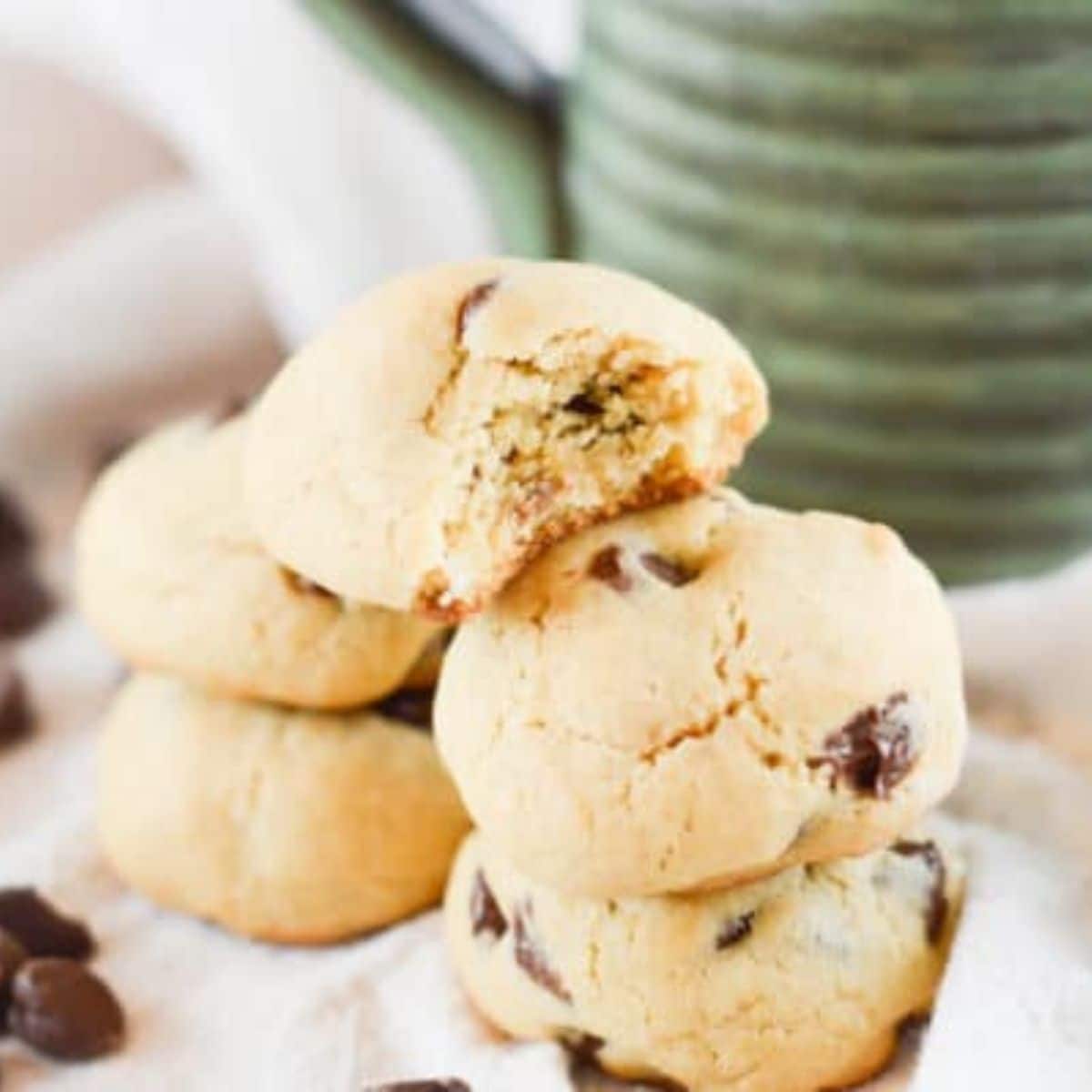 Vegan Chocolate Chip Cookies
These vegan chocolate chip cookies are every bit as delicious as the original. They're soft, chocolatey, and ready in under 20 minutes!
Print
Pin
Rate
Email
Instructions
Preheat the oven to 375 degrees and grease a baking sheet.

In a medium bowl, combine all the dry ingredients and mix well.

In a separate bowl, cream together the sugar and vegan butter. Add in the rest of the ingredients except the chocolate chips and mix well.

Add the wet mixture to the flour mixture and mix well. This may take a couple of minutes to really come together nicely.

Fold in the chocolate chips.

Roll dough into 1-inch balls and place on the baking sheet. I fit about 12 balls on my sheet since these don't expand like other cookie recipes might.

Bake for 8 minutes then remove from the oven and leave on the sheet for about five minutes before moving on to the next batch.
Nutrition
Calories:
117
kcal
|
Carbohydrates:
18
g
|
Protein:
1
g
|
Fat:
4
g
|
Saturated Fat:
2
g
|
Cholesterol:
1
mg
|
Sodium:
178
mg
|
Potassium:
33
mg
|
Fiber:
1
g
|
Sugar:
12
g
|
Vitamin A:
185
IU
|
Calcium:
18
mg
|
Iron:
1
mg
Vegan-ize any recipe!
Grab our free vegan cheat sheet, packed with my favorite easy substitutions to make any recipe vegan.