This ultra creamy homemade Vegan Eggnog is made with raw cashews, coconut milk, nutmeg, cinnamon, and allspice. This egg-less delight is light and healthy, but still rich and creamy, and filled with festive spice!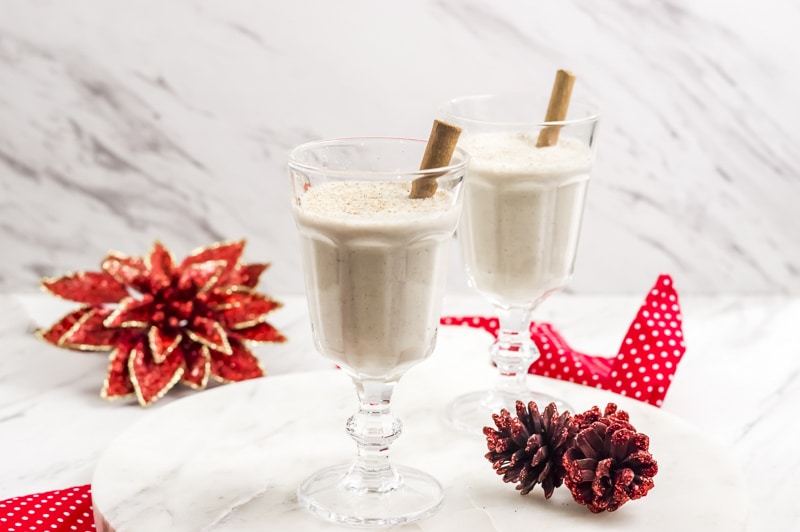 Let's admit it, most traditional eggnog recipes are trying to kill us.
Well, okay. That's a bit dramatic.
But traditional eggnog is a dairy-rich beverage laden with milk, heavy cream, sugar, and egg yolks. This is probably why we drink eggnog only at Christmas time. 😉
Healthy-ish Vegan Eggnog Recipe
I've reinvented this classic holiday drink, and skipped all the eggs and dairy called for in traditional recipes.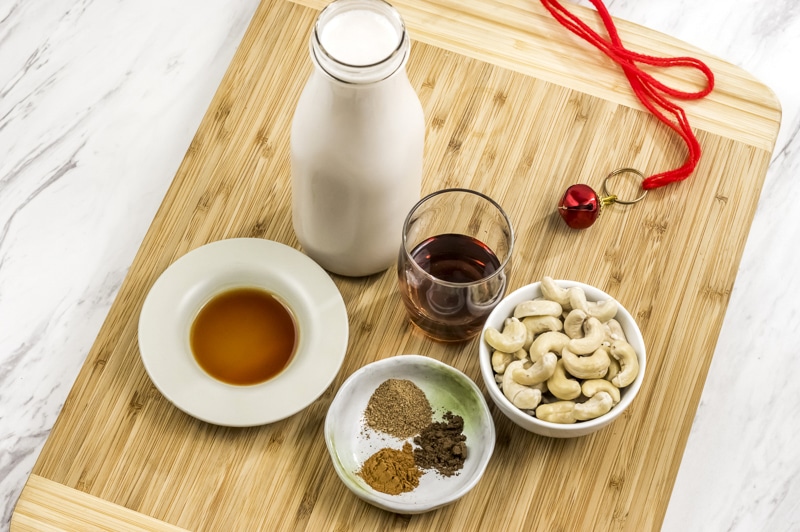 This vegan eggnog is naturally sweetened with pure maple syrup! (If you want to get really fancy, try it with this bourbon-barrel aged maple syrup.)
Raw cashews take the place of eggs in this vegan recipe. And it's so quick and easy, you can make it in a blender in just minutes!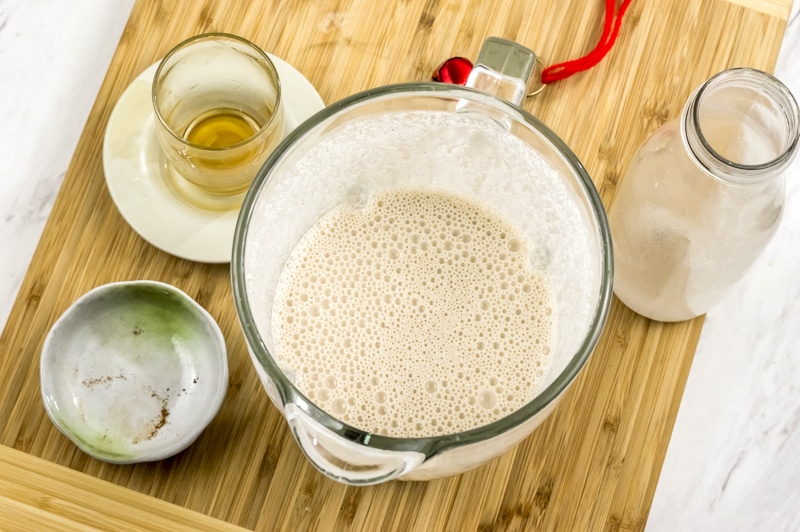 You can drink this non-alcoholic eggnog as it is, or you can make a boozy version. It is the holidays, after all.
Just add some bourbon, brandy, rum, or whiskey to spike your eggnog. I prefer brandy in mine, for the nice depth of flavor.
How to Make Vegan Eggnog
You won't believe how simple this is!
Start off by soaking your cashews overnight. A little trick - you can also cheat by soaking them in boiling water for 30 minutes instead.
Then drain the cashews and combine them with maple syrup, vanilla, cinnamon, allspice nutmeg, and coconut milk - and blend!
That's it. Just let the vegan eggnog chill in the fridge until it's nice and cold.
Tips for Perfect Eggless Eggnog
Tip #1: I love coconut milk in this vegan eggnog, because it adds a great creamy texture and extra flavor. (This is the brand I use.) But you can use other plant milks like almond milk, rice milk, soy milk or oat milk if you prefer.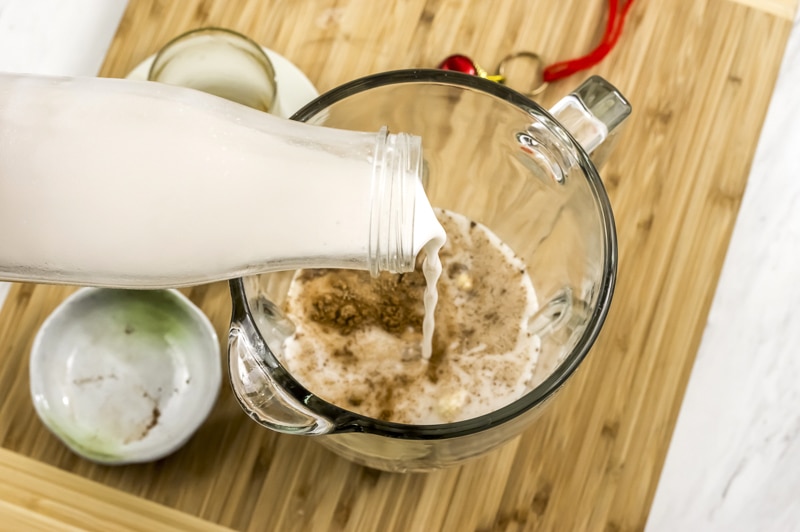 Tip #2: You can experiment with other nuts as well. Cashews are my go-to for making creamy vegan sauces (like this alfredo), because they get so nice and creamy in the blender.
But a friend of mine makes her vegan eggnog with hazelnuts - soaked overnight first - and that is totally delicious too.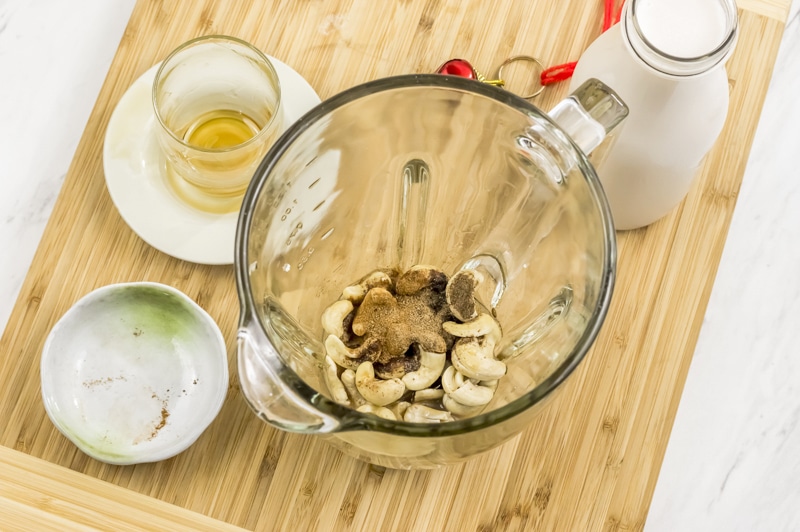 Tip #3: Maple syrup is my go-to sweetener for this recipe. In like to use a fancy, flavored syrup to give it a little oomph. This one is my current fave!
But if you're not into syrup, you can try other vegan-friendly sweeteners like agave nectar, brown rice syrup or barley malt syrup. (Grab my free vegan substitution cheat sheet for ideas.)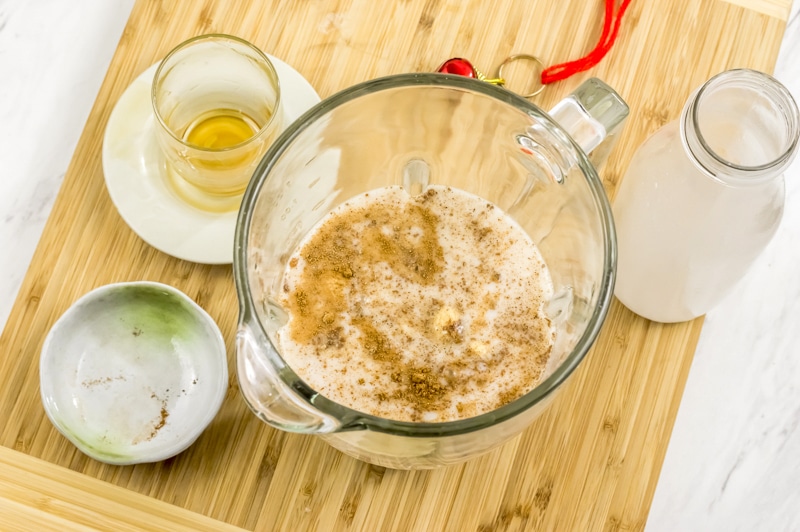 How to Thicken Vegan Eggnog
One thing that makes traditional eggnog so appealing is its rich and creamy texture.
The traditional recipes are thickened with eggs and while this vegan version is creamy enough, you can adjust the consistency to your liking.
Add more coconut milk (or any plant milk) if you want it a bit lighter. To thicken it more, you can add a thickening mixture of 3 tablespoons cornstarch or arrowroot powder (or any thickening agent) and ¼ cup almond milk or just plain water.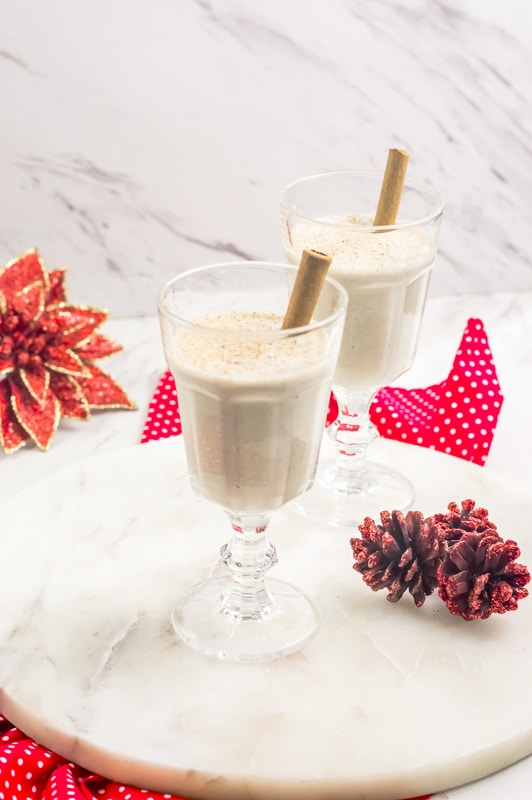 Mix this slurry with the other ingredients in a large saucepan set over medium-high heat. Mix until smooth for about 4–5 minutes or until the mixture begins to thicken. Remove from heat and allow to cool.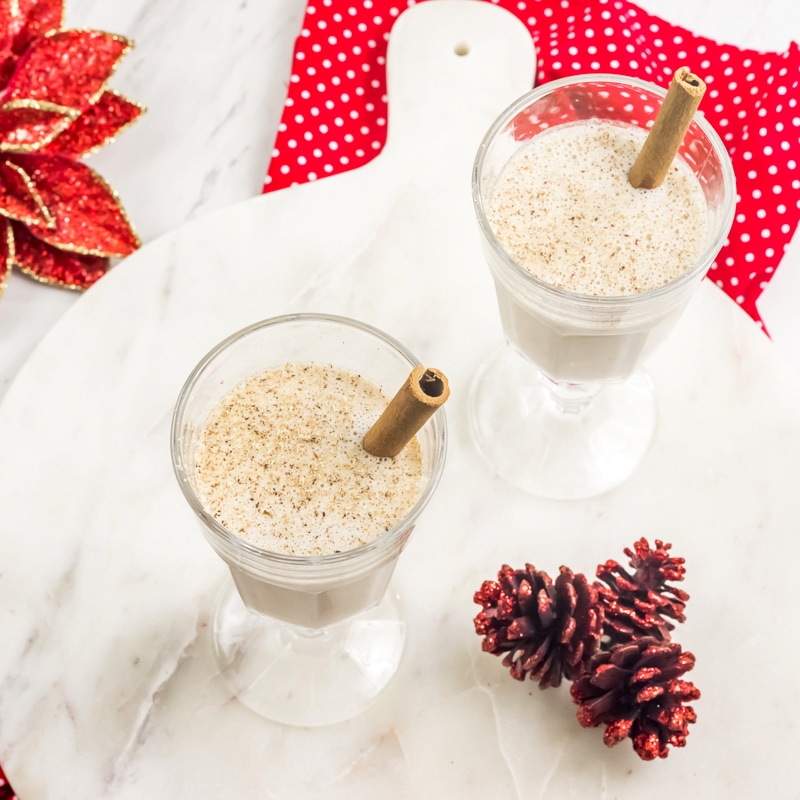 This homemade vegan eggnog is awesomely delicious and healthier, it's gonna be your favorite holiday drink!
More Holiday Recipes
If you love this vegan eggnog, be sure to check out these other delicious ideas:
Recipe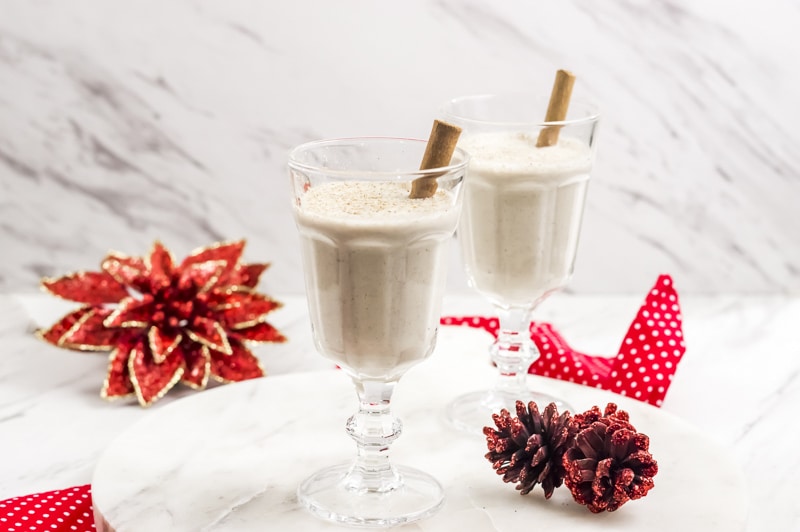 Vegan Eggnog Homemade Dairy-free, Egg-free
This ultra-creamy vegan eggnog is made with raw cashews, coconut milk, nutmeg, cinnamon, allspice and everything nice! This eggless delight is light and healthy but still rich and creamy. You're not gonna miss that little festive taste!
Print
Pin
Rate
Email
Instructions
Soak the cashews in water, overnight. Or soak them in boiling water for 1 hour.

Combine the cashews, maple syrup, vanilla extract, cinnamon, all spice, nutmeg and the coconut milk in a blender. Blend until smooth.

Let it chill in the fridge for 2 hours.

Serve with a sprinkle of freshly grated nutmeg (ground nutmeg works too) and a cinnamon stick.
Nutrition
Calories:
371
kcal
|
Carbohydrates:
22
g
|
Protein:
5
g
|
Fat:
31
g
|
Saturated Fat:
22
g
|
Sodium:
18
mg
|
Potassium:
400
mg
|
Sugar:
13
g
|
Vitamin C:
1.2
mg
|
Calcium:
48
mg
|
Iron:
4.8
mg
Vegan-ize any recipe!
Grab our free vegan cheat sheet, packed with my favorite easy substitutions to make any recipe vegan.