Once winter weather sets in, there's nothing like a hearty bowl of lentil soup or stew to get the chill out of your bones. There are several varieties of lentils, most commonly the greenish brown (or brownish-green) type, which keep their shape in soups and stews, and tiny red lentils, that melt into a thick, nourishing base. Lentils are nourishing, high in protein, and very inexpensive, so make them a regular in your pantry shelves. Lentil soups can often serve as a meal's centerpiece, completed only with fresh bread and a colorful salad. Here are 10 lentil soups and stews that will keep you warm all winter.
In Curried Red Lentil, Pumpkin, and Cauliflower Soup (shown at top) pumpkin or butternut squash puree adds to the orange-y goodness of this soup — and cauliflower and spinach contribute to its overall veggie-packed deliciousness.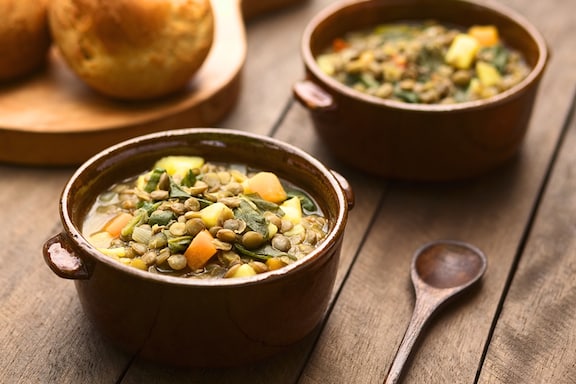 Hearty Lentil and Potato Soup with Leafy Greens highlights a trio of compatible ingredients in a mildly curried broth. This is a wonderful soup to come home to on a cold late fall or winter day, so make it on a quiet Sunday and enjoy it when you come home from work the next day.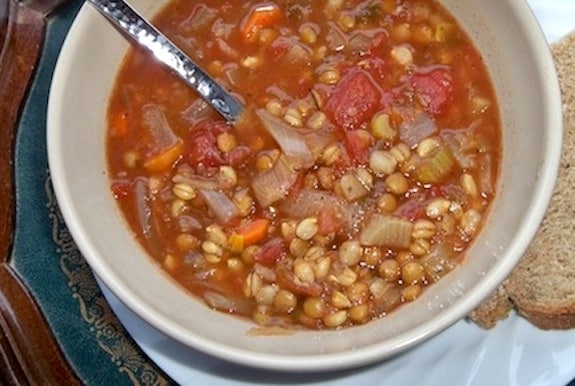 Tomato, Lentil, and Barley Soup might just become your cold-weather go-to. Leftovers of this soup are great to take to work or school in a container; and it freezes well, too.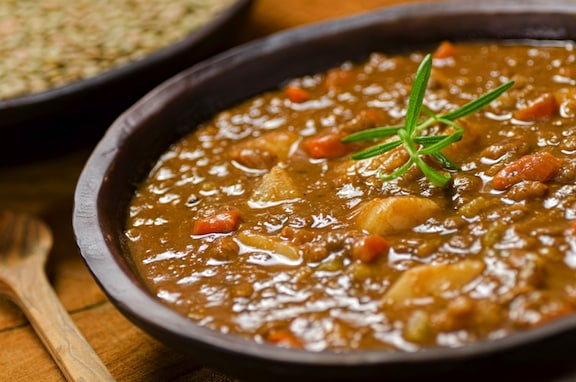 The earthy flavor of these protein-packed legumes shines in this basic Hearty Lentil Soup. Make sure to see the variations listed below the recipe.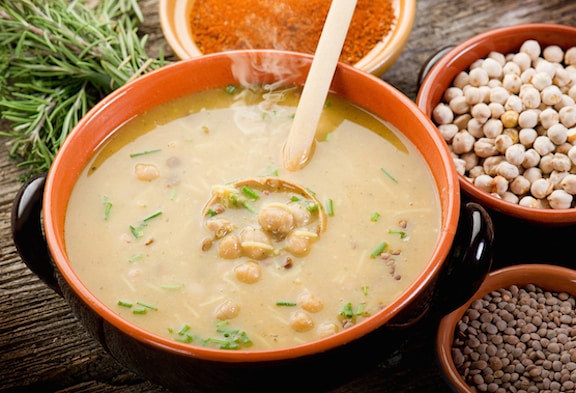 This flavor-packed interpretation of Harira, or Moroccan Lentil and Garbanzo Soup, combines two tasty and high-protein legumes. It can be enjoyed any time of year when you want a way to warm up, fast!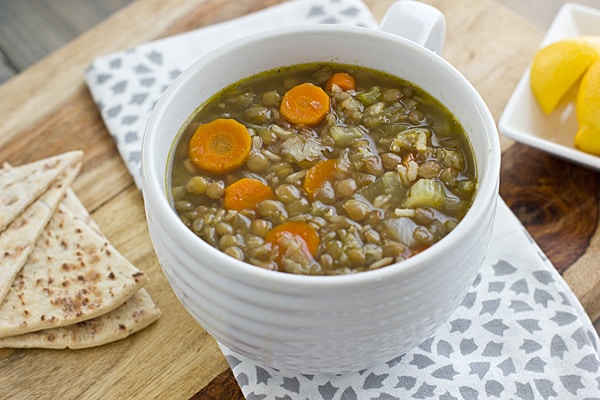 From Oh My Veggies, here's Middle Eastern Lentil and Rice Soup, a classic combo that will keep you full for hours.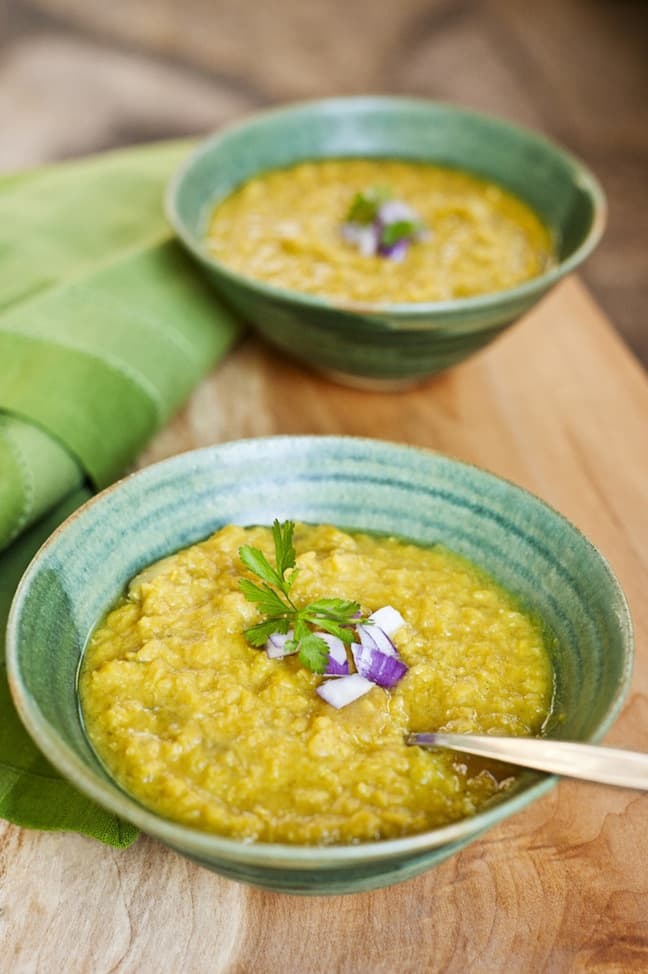 Leslie Cerier's Coconut Curried Red Lentil Soup with Spinach has a beautiful orange color. Feel free to use any greens you like such as spinach, collards, kale, or mustard greens.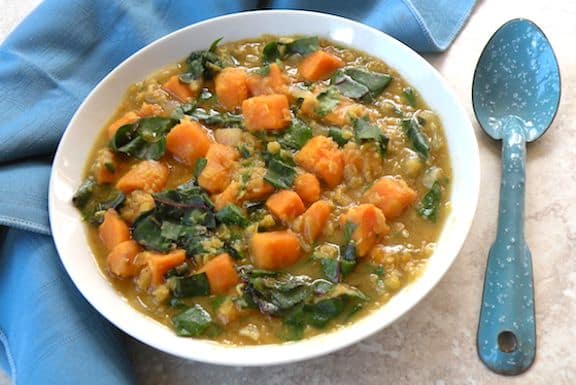 Curried Red Lentil Soup with Sweet Potatoes and Greens is both nourishing and sublimely satisfying. This thick soup features red lentils with sweet potatoes and seasonal greens.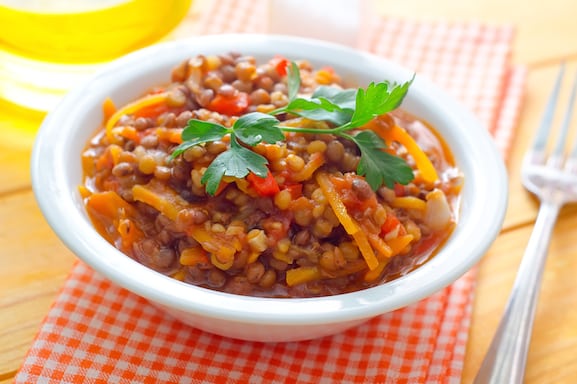 Smoky Lentil and Sweet Potato Chili is deliciously offbeat, especially with the addition of sweet potato. Smoky spices, intended for grilling, are readily available in the spice section of supermarkets, and add a bold but not overly hot flavor to the stew.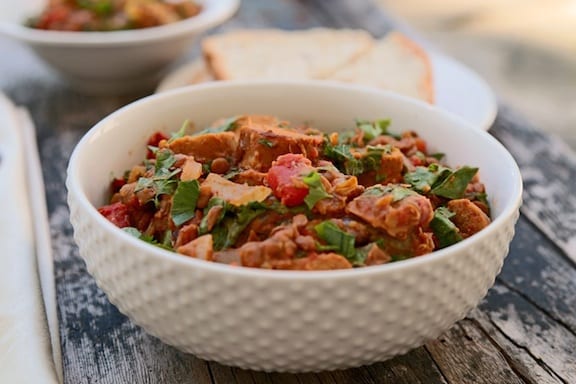 Well-flavored vegan sausages make a bold statement in this easy Stewed Lentils with Vegan Sausage. If you can find beluga lentils, they give this dish extra visual appeal.