Meals based on low-fat, inexpensive ingredients like this nourishing tomato, lentil, and barley soup are always welcome. Serve this main-dish soup with fresh bread or cornbread and a colorful green salad to complete an easy meal. Leftovers of this soup are great to take to work or school in a container; and it freezes well, too. Photos by Laurie Fahrner, who writes the blog Mehitable Days. Recipe adapted from Vegan Soups and Hearty Stews for All Seasons. 

Serves: 8
1 tablespoon olive oil
1 large onion, chopped
2 to 3 cloves garlic, minced
8 ounces raw brown or green lentils, rinsed
¾ cup raw pearl barley, rinsed (you can also use any kind of
brown rice variety; or use quinoa for a quicker soup)
2 large celery stalks, diced
2 medium carrots, peeled and sliced
1 cup shredded white cabbage
28-ounce can salt-free diced tomatoes, undrained
¼ cup dry red wine, optional
1 to 2 tablespoons apple cider vinegar, to taste
¼ cup chopped fresh parsley
2 teaspoons salt-free seasoning blend such as
Frontier or Mrs. Dash, or more, to taste
2 teaspoons sweet paprika (or use smoked paprika for a spicier flavor)
Salt and freshly ground pepper to taste
Chopped fresh parsley and/or dill to taste, optional
Heat the oil in a soup pot. Add the onions and sauté over medium-low heat until translucent. Add the garlic and continue to sauté until both are golden.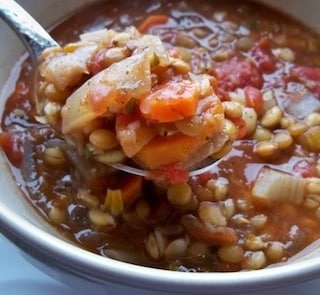 Add all the remaining ingredients (except the salt and pepper and optional fresh herbs) plus 6 cups water. Bring to a gentle boil, then lower the heat. Cover and simmer gently for  about 45 to 55 minutes, or until the lentils, barley, and vegetables are tender. Stir occasionally and add more water if the soup becomes too thick.
Season with salt and pepper. If using fresh parsley or dill, stir in as much as you'd like. If time allows, let the soup stand off the heat for an hour or so, then heat through before serving. This soup thickens as it stands; add water as needed and adjust the seasonings.
Nutrition information
Per serving:  Calories: 250;  Total fat: 3g;  Protein: 13g;  Fiber: 16g;  Carbs: 46g; Sodium: 45mg