In VeganSoups and Hearty Stews for All Seasons, Nava Atlas ladles out more than 120 satisfying, imaginative soups and stews—including 20 new recipes. Arranged in seasonal chapters, these bountiful bowlfuls are now completely vegan. Low in fat and rich in flavor, these soups and stews highlight the best of each season's produce.
You'll find exciting global offerings, light brothy soups, comforting cold-weather stews, and no-cook soups for warm evenings. Fall soups include Moroccan Lentil and Chickpea Soup, Orange-Butternut Squash Soup, and Southwestern Fresh Corn Stew. Winter features Brazilian Black Bean Stew, Sweet-and-Sour Cabbage and Bread Stew, and Four-Grain Tomato Soup.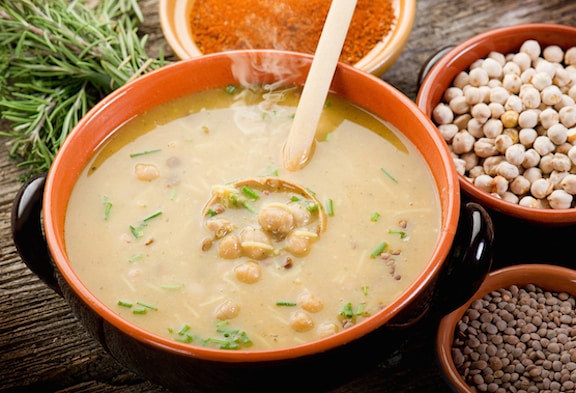 Spring offers up Puree of Asparagus with Soba Noodles, Curried Cashew-Vegetable Soup, and Leek and Mushrooom Bisque. Among the summer soups you'll find are Tomato-Mango Coconut Cooler, Cream of Green Pea and Cucumber Soup, and Minted Peach Soup.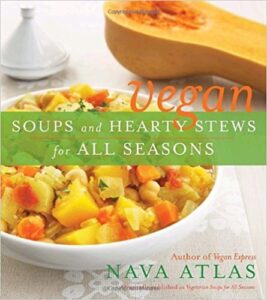 Buy on Vegan Soups and Hearty Stews for All Seasons on Amazon
A section of accompaniments to make while soups are simmering adds a special final touch to this collection. Here the cook will find tempting quick breads, muffins, scones, and more, perfect to serve with a bowl of soup or stew. From hearty stews to refreshing desserts, Vegan Soups and Hearty Stews for All Seasons is your premier source for delicious, healthful soups all year round. Published by Broadway Books.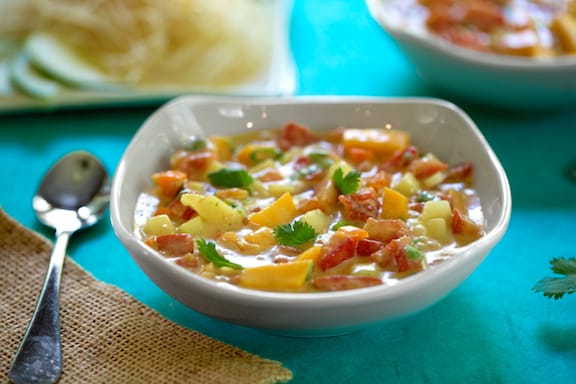 Reviewer raves for Vegan Soups and Hearty Stews for All Seasons
With a vegan makeover and 20 new recipes, the best vegetarian soup cookbook just got better! Arranged by season and loaded with variety, Nava's recipes are sure to please soup lovers everywhere. Complemented by a chapter of tempting accompaniments and Nava's own delightful illustrations, this treasury of delectable recipes is as welcoming as a simmering pot of homemade soup. — Robin Robertson, author of Vegan Planet and Fresh from the Vegetarian Slow Cooker
Nava Atlas offers an impressive repertoire of soups that will amaze and inspire even veteran soup makers. — Nikki Goldbeck, Certified Dietian-Nutritionist and co-author of American Wholefoods Cuisine and The Healthiest Diet in the World
Delightfully unorthodox...suitable for novices and experienced cooks; both will welcome Atlas's innovation and appreciate her straightforward directions. Even those whose shelves are overflowing with cookbooks will do well to find room for this little volume. — Vegetarian Times (review of the original edition)
Nava Atlas has solutions for maintaining sophisticated flavors in the dishes she creates and still manages to keep the ingredients healthy. — Cooking Light
Atlas, as in her previous cookbooks, does her own charming illustrations. Chickpea and Tahini soup, Cool Ratatouille, and Vanilla Fruit Cup Soup prove that vegetarian is never, ever dull. — Burlington Free Press
The smell of soup simmering on a stove brings back appetites, and Soups for all Seasons by Nava Atlas offers a collection of savory soups to suit every taste, any time of year. The meatless soups are low in fat, rich in fiber, and highlighted with the right herbs and spices. — Health Foods Business
*This post contains affiliate links. If the product is purchased by linking through this review, VegKitchen receives a modest commission, which helps maintain our site and helps it to continue growing!