On VegKitchen's popular page featuring apple cider vinegar and weight loss, many readers are seeing the results of adding ACV to their daily regimen, not only for the possibility of losing pounds, but improving energy and well-being. In this e-book featuring simple recipes for ACV drinks for health and energy, you'll also learn about a number of other health benefits of ACV, many backed by research.
The biggest complaint about ACV? Many don't enjoy its flavor when mixed with plain water. Fortunately, there are lots of ways to make apple cider vinegar drink recipes that are not only tolerable, but actually quite tasty!
A great way to learn to love ACV!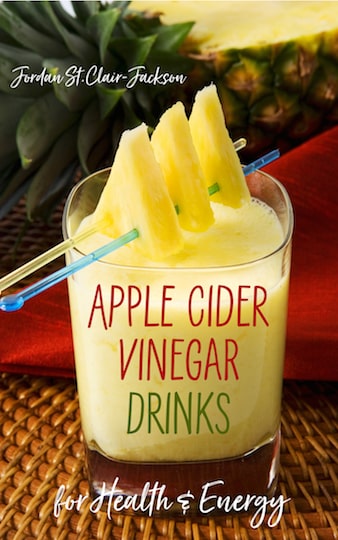 Apple Cider Vinegar Drinks for Health & Energy

Enjoy the Benefits of ACV with Tonics, Mocktails, and Smoothies
with 25 Easy Recipes

Now available for Kindle (can be read on any device)
ACV might be a bit of an acquired taste, but if you use it regularly and reap its benefits, you likely will eventually acquire it! Apple Cider Vinegar Drinks for Health and Energy, one in the series of Best of VegKitchen e-books offers 25 easy recipes for beverages containing other healthful ingredients. The goal — to keep you motivated to enjoy ACV drinks on a regular basis.
In this concise and useful collection, we start with a brief look at the health benefits of apple cider vinegar. A fantastic probiotic, including ACV in your daily diet helps speed up digestion, improve gut flora, combat heartburn and acid reflux, stabilize blood sugar, suppress body fat accumulation, and much more. We steer clear of wild claims and provide a list of links to credible sources.
The heart of this book is the ACV drinks themselves. And here's what you'll find:
Tonics
Simple ACV Sparkling Cider


Apple Cider ACV Ginger Ale

The One Tonic: Turmeric, Ginger, Lemon, Rooibos Tea & ACV

Mint Ginger ACV Switchel

Basic ACV Tea

Ginger-Lemon ACV Tea

Refreshing Green Lemonade

ACV-Orange Firewater

Nondairy Turmeric Milk with ACV
Fruity Drinks and Mocktails
Strawberry-Watermelon Slush

ACV Strawberry-Cucumber Daquiri

Grapefruit-ACV Mocktail

Cranberry-ACV Mocktail

Pineapple-ACV Colada

Hot Apple Cider with ACV

Virgin Mary-ACV Mocktail

ACV Frozen Mixed Berry Fizz

ACV Lime Virgin Mint Julep
Smoothies (and a word about juices)
Using ACV in your homemade juices

Spinach-Apple Smoothie

Juicy Pineapple-Cucumber Smoothie

Berry Bliss Smoothie

Piña Colada Green Smoothie

Orange-Mango Smoothie

Cantaloupe Creamsicle Smoothie

Mango Lassi
It's nice to know that there's an enjoyable way to reap the benefits of ACV!
____
*This post contains affiliate links. If the product is purchased by linking through this review, VegKitchen receives a modest commission, which helps maintain our site and helps it to continue growing!