Finger Foods, Warm Hors D'Oeuvre, Dips,
and Spreads for Everyday or Special Occasions
by Jordan St. Clair-Jackson | From the Best of VegKitchen.com series
Available now as a Kindle edition on Amazon.com
Vegan and vegetarian cookbooks rarely present many appetizer recipes. On the other hand, the rare ones that do focus on the subject offer up recipes that are way too complicated. Who needs an appetizer that takes longer to make than an entire meal? That takes a lot of the fun out of it.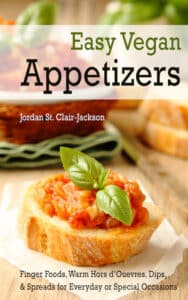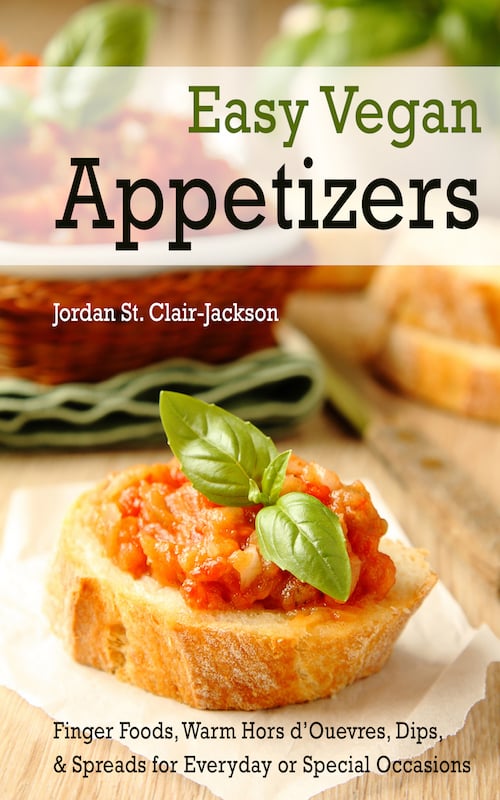 In this concise collection, VegKitchen.com presents a wide array of delicious vegan appetizers that we hope you'll find useful and appealing — as well as easy. Each of the 30 delicious recipes in this book is accompanied by a photo.
Warm and cool vegan appetizers, finger foods, dips, spreads, and salsas are here for your plant-based pleasure. Best of all, these tasty bites can be enjoyed guilt-free, since they're not loaded with fat and white starches. Some are mainly based on healthy vegetables! Here's just some of what's in this book:
Warm appetizers: Tortilla Pizzas, Rosemary Roasted Mushrooms, Scallion Pancakes, Tempeh Fries, Spicy and Garlicky Green Beans, Hoisin-Glazed Eggplant
Cool bites and crunchy snacks: Skillet Spiced Chickpeas, Smoky Vegan Cheddar Cheez, Deviled Tomatoes, Olive Bar Medley with Tofu "Feta"
Dips, Spreads, and Salsas: Avocado-Tahini Dip or Spread, Olive and Sun-Dried Tomato Tapenade, Easiest Hot Bean Dip, Tomato-Mango Salsa
--
*This post contains affiliate links. If the product is purchased by linking through this review, VegKitchen receives a modest commission, which helps maintain our site and helps it to continue growing!