Sometimes it can be tough to come up with exciting vegan recipes. You might have a few go-to recipes you've stuck to since you became a vegan. But why not branch out and see what the vegan world has to offer? And these are the best vegan cookbooks for expanding your vegan repertoire.
The Homemade Vegan Pantry by Miyoko Schinner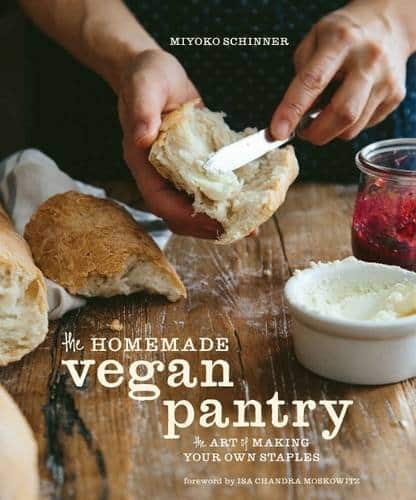 One of the toughest things about going vegan is replacing all those daily food items that you can't rely on anymore. Things like butter, mayonnaise, and cheese are all things that most new vegans miss sorely. Luckily, chef Miyoko Schinner has created a guide in The Homemade Vegan Pantry to replace just about everything in your pantry with a delicious vegan alternative.
So you can ditch all the highly processed food and stock up your pantry with homemade, healthy, wholesome versions of the stuff you love.
Sample recipes include how to make:
Vegan yogurt, butter, mayo, bacon, cheese, mustards, dressings, pancake mix, crackers, pasta sauces, and cookies.
Teff Love by Kittee Berns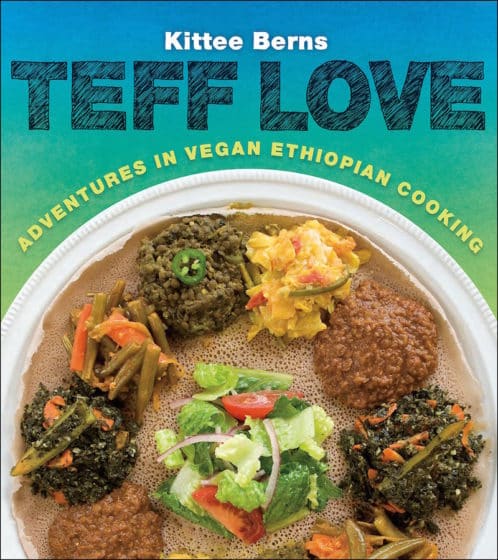 Ethiopian cuisine does veggies like no one else and Teff Love is a vegan cookbook that reveals the secrets to making delicious veganized Ethiopian food. The book shows you how to source and select fresh ingredients to make authentic Ethiopian dishes that are surprisingly easy to cook.
See, it turns out there are three staples to Ethiopian food: a berbere spice blend, injera (fermented sourdough bread), and ye qimem zeyet (a clarified butter reproduced here in vegan form).
With those three ingredients, Kittee Berns shows you a whole world of exotic African recipes that will impress your friends and delight your senses.
Sample recipes include:
Teff Sourdough Crêpes and spicy stews, and fresh lentil-based sauces.
Vegan a la Mode by Hannah Kaminsky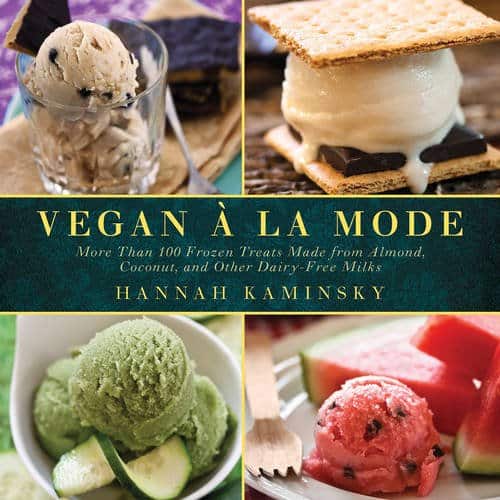 Dairy is one of the toughest things to replace in a vegan diet and at no time is this sad fact more evident than on the day a fresh-faced young vegan realizes they can no longer eat ice cream. Maybe you even had this experience yourself one day long ago.
But guess what, younger you? It turns out you don't need a cow to make ice cream.
Hannah Kaminsky probably has one of the top vegan cookbooks when it comes to getting creative with your ingredients with Vegan a la Mode. She manages to turn coconuts, almonds, and blueberries into delicious ice cream sandwiches, hot fudge sauce, and inventive ice-cream flavors like peanut butter bombshell, birthday cake, Turkish coffee, pistachio praline, blueberry–balsamic, rose petal, chocolate-cabernet, and mango colada.
Sample recipes include:
Midnight munchies ice cream, moose tracks ice cream, naked frozen yogurt, and toffee crunch ice cream.
Vegan Chocolate by Fran Costigan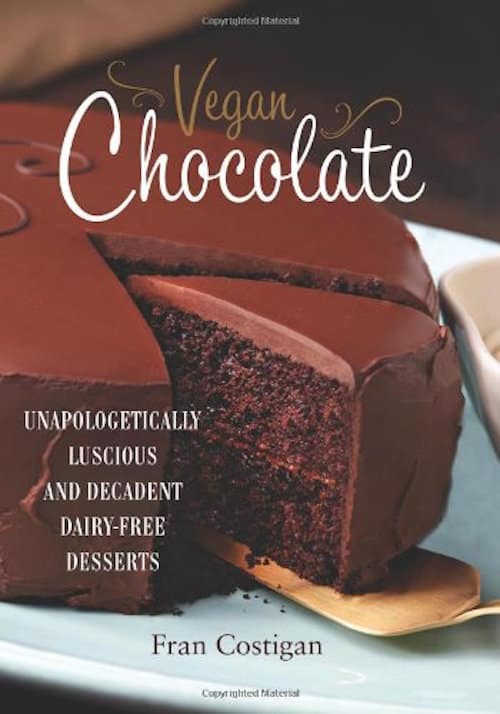 And speaking of dessert, baking-guru Fran Costigan is here to open up the boundaries on vegan sweets with Vegan Chocolate, a vegan cookbook that shows you don't have to give up as much as you thought to eat vegan.
Her work in the kitchen has allowed Costigan to recreate everything from chocolate cake to chocolate moon pies. And her book would be one of the best vegan cookbooks just because it delivers on its promise to show you how to make vegan chocolate, which are two words that I never dreamed I'd read next to each other.
Sample recipes include:
Bittersweet Chocolate Truffles, a Brooklyn Blackout Layer Cake, a Sacher Torte, and even chocolate Moon Pies
Vegan Holiday Kitchen by Nava Atlas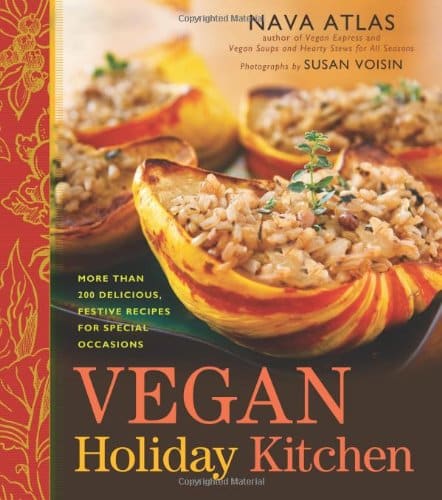 Being vegan is tough around the holidays sometimes. Especially when you start missing all the great holiday foods you love. And it takes a lot of creativity to make festive dishes to keep all your relatives happy about ditching meat. That's why Vegan Holiday Kitchen is one of the top vegan cookbooks out there. See Carrot Cranberry Cake (top).
Renowned vegan author Nava Atlas presents this guide to making exciting and visually spectacular vegan entrees, appetizers, and even desserts for all your holiday needs.
Sample recipes include:
Coconut Butternut Squash Soup, Green Chili Corn Bread, Hearty Vegetable Pot Pie, delicate Ravioli with Sweet Potatoes and Sage, and Cashew Chocolate Mousse Pie
Vegan Tamales Unwrapped: A Step-by-Step Guide to Savory and Sweet Tamales b

y Dora Stone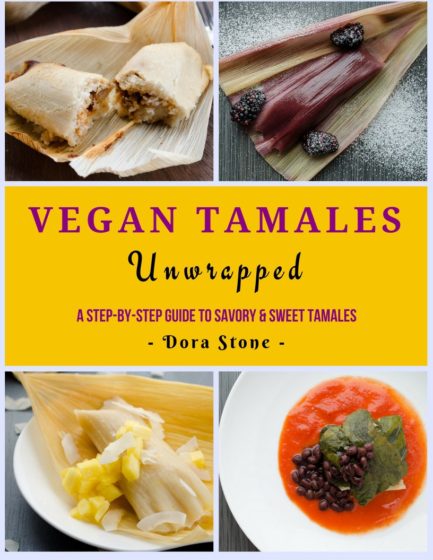 Vegan Tamales Unwrapped is a book by Mexican-American chef Dora Stone and covers how to make traditional Mexican cuisine in vegan form.
This book covers one of the most delicious dishes in the diverse spectrum of Mexican cuisine: tamales. You might think of tamales as usually having meat. But it turns out that you can adapt them to include delicious vegan ingredients. And the great thing is that this book shows you how.
So if you're a fan of Mexican food, Vegan Tamales Unwrapped is one of the top vegan cookbooks. Pick it up and find out how you make awesome vegan Mexican dishes. And I asked Dora for some tips on vegan tamales. As she pointed out, "The most important thing when making tamales is to never do it alone. It is a very simple process but can be time-consuming. The best way to make tamales is with friends." So, make sure you invite your friends over afterward for a tamaliza, or tamale making party.
Sample recipes include:
Red Chile Jackfruit Tamales, Mushroom in Mole Tamales, Potato Adobo Tamales, Chocolate Tamales, Strawberry Tamales, and Lime Tamales
 Easy Vegan Appetizers by Jordon St. Clair-Jackson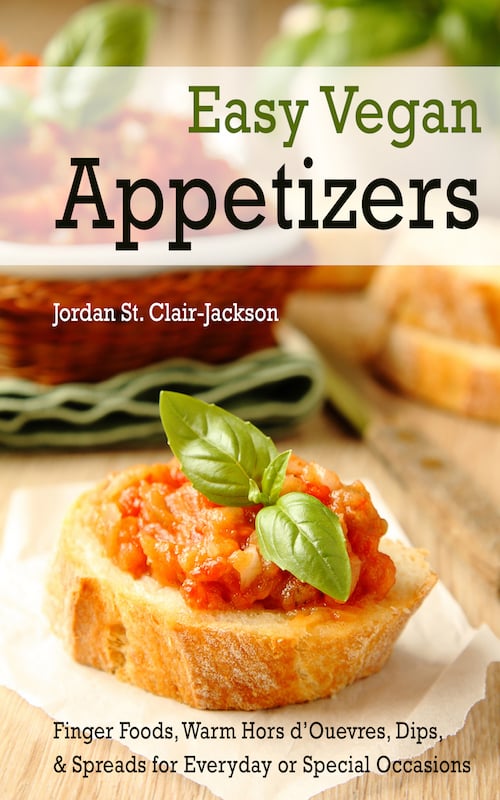 Even top vegan cookbooks rarely offer great options for appetizers. Luckily, VegKitchen.com has this collection of awesome, bite-sized vegan recipes.
Each of the thirty recipes for warm appetizers, cool dips, and delicious spreads is accompanied by a mouth-watering photo. And every one of them is a delicious vegan offering to get your palate started. But while many of your usual appetizer options are loaded with fat and processed grain, this book can be enjoyed guilt-free because all the recipes are great for you as well as great-tasting.
Sample recipes include:
Tortilla Pizzas, Rosemary Roasted Mushrooms, Scallion Pancakes, Tempeh Fries, Spicy and Garlicky Green Beans, Hoisin-Glazed Eggplant
Wild About Greens by Nava Atlas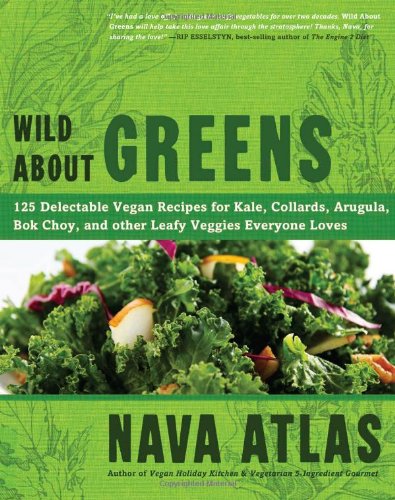 Leafy greens are some of the best things on the planet to work into your diet. But it's often hard to come up with creative ways to incorporate greens into your dishes.
Nava Atlas has created over one hundred recipes for inspiration in creating amazing green dishes that make it easy to get the greens you need. And it's one of the top vegan cookbooks because it focuses entirely on making one of the most under-appreciated vegan ingredients take center stage in your meals.
Sample recipes include:
Mediterranean greens with pine nuts and raisins, Italian-style braised chard with tomatoes, wine and mustard-braised Asian greens, Indian-style mustard greens with spinach, and avocado-tahini dressing. 
Veganomicon by Isa Chandra Moscowitz and Terry Hope Romero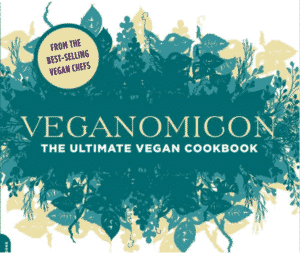 Isa Moskowitz and Terry Romero promise to deliver the ultimate vegan cookbook with Veganomicon. And it's a serious contender for the title. It has more than 250 vegan recipes with options for every diet including soy-free or gluten-free.
It also has some quick recipes for when you need to whip up a great vegan meal without a lot of time. So as far as sheer versatility for every cooking situation goes, Veganomicon is one of the best vegan cookbooks.
Sample recipes include:
Autumn Latkes, Samosa Stuffed Baked Potatoes, Grilled Yuca Tortillas, Baby Bok Choy with Crispy Shallots, Chile-Cornmeal Crusted Tofu Po' Boy,  Roasted Eggplant and Spinach Muffuletta
But no matter which book you end up going with, there are tons of great options out there to help you with vegan cooking. And it's important to remember that cooking your own meals is a huge part of going vegan.
And as Dora Stone told me, "Another thing that has really helped was to try to plan ahead. I plan my meals weekly, but when it most seems to help is when I have a trip or outing with the kids and I am prepared with vegan snacks and small meals. When I am not prepared I can end up hungry because there are no vegan options available."
So make sure that you pick up some new great recipes so that you can make your meals ahead and never go hungry.
--
*This post contains affiliate links. If the product is purchased by linking through this review, VegKitchen receives a modest commission, which helps maintain our site and helps it to continue growing!