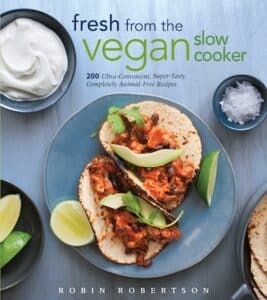 200 Ultra-Convenient, Super-Tasty, Completely Animal-Free Recipes
Fresh from the Vegan Slow-Cooker provides practical guidance on how to work with different models of slow-cookers, taking into account the sizes of various machines, the variety of settings they offer, and the quirks and personalities of each device.
She addresses any lingering skepticism readers may have about whether slow-cookers can have delicious, meat-free applications, and she shows how to take into account the water content of vegetables and the absorptive qualities of grains when vegan slow-cooking.
Fresh from the Vegan Slow-Cooker includes eleven recipe chapters, four of which focus on main courses. There are homey and comforting foods in the American and European style, such as a Rustic Pot Pie Topped with Chive Biscuits and a Ziti with Mushroom and Bell Pepper Ragu, and there are lots of East Asian, South and Southeast Asian, and Mexican/Latin dishes, too.
Beyond the mains, there are chapters devoted to snacks and appetizers, desserts, breads and breakfasts, and even one on drinks. The many soy-free and gluten-free recipes are clearly identified. Altogether, the collection offers readers loads of ways to expand their vegan repertoire and to get maximum value from their investment in a slow-cooker.
Buy Fresh from the Vegan Slow Cooker from Amazon
Sample recipe from Fresh from the Vegan Slow Cooker on VegKitchen:
--
*This post contains affiliate links. If the product is purchased by linking through this review, VegKitchen receives a modest commission, which helps maintain our site and helps it to continue growing!