Layer on the Southwestern flavors in this playful vegan Mexican pizza. It starts with refried beans (in place of red sauce), followed by salsa, corn and nondairy cheese. Serve with a colorful green salad and garlic-sautéed greens. This recipe doubles easily. Adapted from Vegan Express.
Makes: 6 slices
One 12- to 14-inch good-quality pizza crust, 

or 

Basic Pizza Dough
1 cup (about half of a 16-ounce can) vegan refried beans,
(I like Annie's organic refried beans with green chili in the
BPA-free can) or homemade Refried Beans
1 cup mild or medium-hot salsa, your favorite variety
1 cup grated cheddar or Jack-style nondairy cheese
½ to ¾ cup frozen organic corn kernels, thawed
1 to 2 scallions, sliced
1 fresh hot chili pepper, seeded and sliced, optional
Preheat the oven to 425 degrees F.
Place the crust on a pan. Spread it with the refried beans (thin canned refried beans with a tiny bit of water if need be, to make them more spreadable, depending on the brand), then the salsa.
Sprinkle with the cheese and corn kernels, followed by the scallions and optional chili pepper.
Bake until the cheese is bubbly, about 8 to 10 minutes. Remove from the oven, let stand for 2 to 3 minutes, and cut into 6 wedges to serve.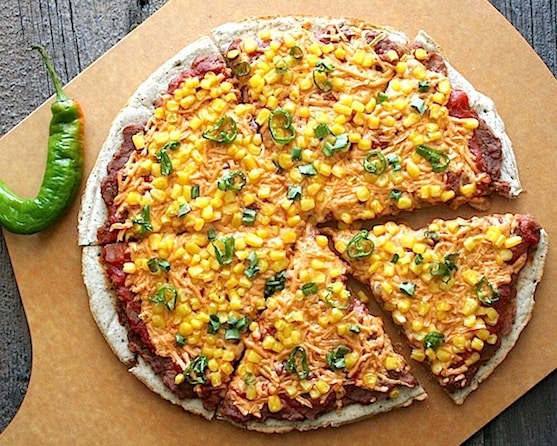 --