In this vegan adaptation of pasta Bolognese, a classic Italian specialty, the tomato sauce is made meat-free with high-protein quinoa and flavored with wine, garlic, bell pepper, and seasonings. Simple and hearty, this is a perfect weeknight meal served with a colorful salad. Photos by Hannah Kaminsky.
Serves: 6
1 tablespoon extra-virgin olive oil
1 medium onion, chopped
2 to 3 cloves garlic, minced
1 medium green bell pepper, finely diced
1 large celery stalk, finely diced
½ cup quinoa
⅓ cup dry red wine
14- to 16-ounce can diced tomatoes
14- to 16-ounce can tomato sauce
1 teaspoon dried oregano
1 teaspoon dried basil
½ teaspoon natural granulated sugar
10 to 12 ounces short, chunky pasta, preferably whole grain
Salt and freshly ground pepper
Raw Vegan Cashew Parmesan-Style Cheez, optional
Heat the oil in a large saucepan. Add the onion and sauté over medium heat until it is translucent. Add the garlic, bell pepper, and celery and continue to sauté until the mixture is golden. Add small amounts of water if necessary to keep the bottom of the saucepan moist.
Add the quinoa, wine, tomatoes, tomato sauce, seasonings, and 1 cup water. Bring to a simmer, then simmer gently, covered, for 30 to 40 minutes, stirring occasionally, until the quinoa is tender and infused with the tomato-y flavors.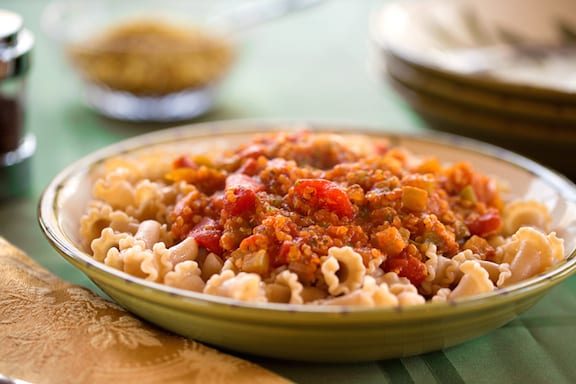 About halfway into the cooking time for the sauce, cook the pasta in plenty of rapidly simmering water until al dente, then drain.
When both the pasta and sauce are done, combine them in a large serving bowl and toss together. Season to taste with salt and pepper. Serve at once, passing around the Raw Vegan Parmesan-Style Cheez if desired.