This hearty vegan fresh tomato soup with tortellini or ravioli is filling far served with a fresh corn on the side. It's a wonderful choice for late summer that are starting to get cool, and is a good way to use up tomatoes that are a bit past the season's peak. Look for vegan tortellini or ravioli in the freezer section of your natural foods store. Serve with fresh corn on the side. Photos by Hannah Kaminsky.
Serves: 6
1 ½ tablespoons extra-virgin olive oil
1 large onion, chopped
2 cloves garlic, minced
2 medium carrots, peeled and sliced
2 celery stalks, diced
15- to 16-ounce can tomato sauce
1 pound fresh flavorful tomatoes, diced
1 small zucchini, sliced
2 teaspoons Italian herb seasoning blend
8- to 10-ounce package ounce frozen vegan tortellini or ravioli
Salt and freshly ground pepper to taste
¼ cup chopped fresh parsley
Thinly sliced fresh basil to taste, optional
Balsamic vinegar, optional
Heat the oil in a soup pot. Add the onion and sauté over medium heat until translucent. Add the garlic, carrots, and celery, and continue to sauté until the onion is golden.
Add the tomato sauce, diced tomatoes, and 3 cups of water. Stir in the seasonings and bring to a simmer, then cover and simmer gently until the vegetables are tender, about 15 to 20 minutes. Stir in the parsley.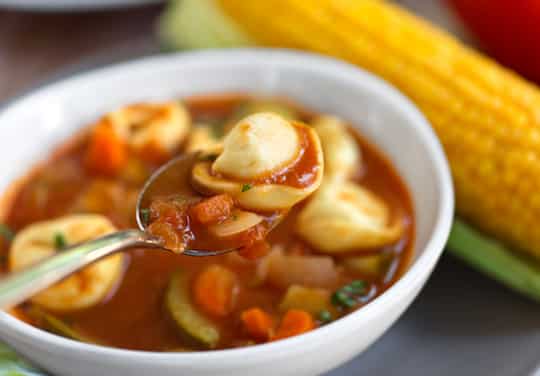 Meanwhile, cook the tortellini or ravioli according to package directions in a separate saucepan.
To serve, ladle out the soup and distribute the ravioli among the individual portions. Top each serving with thinly sliced fresh basil and/or a splash of balsamic vinegar, if desired.