This combination of refried beans, corn, and vegan cheddar cheese in a soft tacos makes for a sensuous experience, meant to be eaten with knife and fork rather than picked up as you would crisp tacos. Serve with baked sweet potatoes or sweet potato fries and a big salad for an easy meal. Photos by Hannah Kaminsky.
Serves: 4 to 6 (1 ½ to 2 soft tacos per serving)
8 soft taco-size (8- to 10-inch) flour tortillas
¼ cup water
½ medium red bell pepper, cut into thin strips
1 cup thawed frozen corn kernels
2 scallions, thinly sliced
1 small hot green chili pepper (like jalapeño), seeded and minced, optional
1 (15–16 oz) can spicy, fat-free refried beans
1 cup vegan cheddar-style cheese, grated
salsa (

homemade

or purchased), for topping
vegan sour cream (

homemade

or purchased), for topping, optional
Wrap the tortillas in aluminum foil and warm in a 350°F oven or toaster oven.
Combine the water and bell pepper strips in a large saucepan and cook, covered, for 2 minutes, Add the corn kernels, scallions, and refried beans. Heat gently until everything is well heated through.
Spread some of the filling on one half of each tortilla, then sprinkle with a small amount of cheese. Fold over and arrange on individual plates. Top with salsa and the optional yogurt. Eat at once with knife and fork.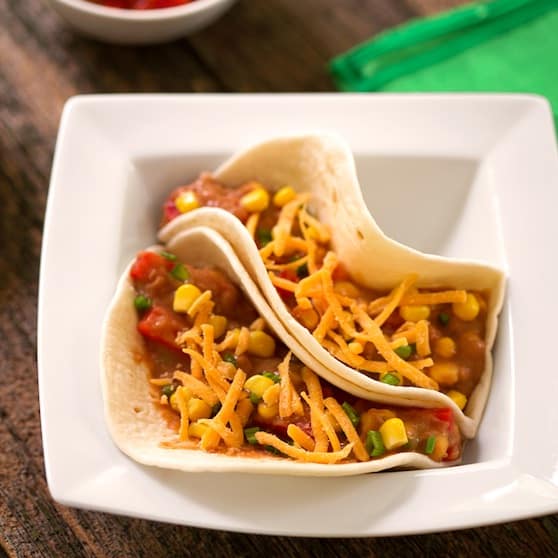 Nutritional Information: 367 calories; 15g fat; 1,032mg sodium; 80mg potassium; 50g carbs; 4.4g dietary fiber; 3g sugar; 7.5g protein