This is a whimsical and slightly tongue-in-cheek—but delicious!--vegan version of a standing rib roast baked in a bundt pan with a Shiitake and Kale Filling and rosemary sprig "bones." Served with a Shiitake Gravy, it is a beautiful holiday or special occasion entree. Recipe and photos contributed by Betsy DiJulio, The Blooming Platter.
For the Shiitake and Kale Filling
2 tablespoons olive oil
5 to 6 ounces shiitake mushrooms, trimmed and finely chopped
5 green onions, thinly sliced
2 cups lightly packed kale, finely chopped
3 garlic cloves, minced
1 teaspoon dried thyme
½ cup dry bread crumbs
½ cup vegetable stock
½ tablespoon sea salt
¼ teaspoon freshly ground black pepper
Heat olive oil in a large cast iron skillet over medium-high. Add mushrooms, green onions, and kale and sauté, stirring frequently, for about 3 to 5 minutes or until all ingredients are tender.
Add thyme and bread crumbs and cook, stirring frequently for about 3 minutes. Add stock and cook another couple of minutes. Filling should be moist but not soupy. Season to taste with salt and pepper.
For the Roast
2 cups vital wheat gluten (I use Bob's Red Mill)
3 garlic cloves, peeled
15.5 ounce can dark red kidney beans, rinsed and drained
1 ½ cups vegetable stock
4 tablespoons olive oil
1 tablespoon soy sauce
1 tablespoon light miso paste
⅓ cup nutritional yeast
2 teaspoon dried thyme
2 teaspoon rubbed sage
½ teaspoon salt
¼ teaspoon pepper
16 each 3-inch fresh rosemary sprigs
Preheat oven to 350 degrees F. Spray a bundt pan with nonstick spray.
In a food processor, blend garlic, beans, stock, 2 tablespoons olive oil, soy sauce, and miso paste until an almost smooth paste forms.
In a large bowl, whisk together wheat gluten, nutritional yeast, thyme, sage, salt and pepper. Make a well in the center, and add bean mixture. Using your fingers begin to knead the dry ingredients into the bean paste just until well incorporated and smooth.
Using about half of the dough, tear off pieces (delete "of dough") and press them into the bottom of the spring form pan, overlapping as you go, to about a ¼-inch thickness, pressing up the sides about 1 ½ inches. Spoon filling evenly over dough to make a "tunnel" of filling encased inside the "roast." Cover with remaining dough, again breaking off pieces and pressing them over the filling and sealing around inside and outside edges.
Brush with remaining 2 tablespoons of olive oil, cover the pan tightly with foil, and bake in a bain marie (hot water bath in a 9-inch cake pan) for 60 minutes. The top should be set but roast may not appear to be completely firm; however, it will continue to cook as it cools. Avoid overbaking.
Cool for about ½ hour (make Gravy while roast cools), loosen around edges, turn out onto serving platter, and cover with foil. Insert rosemary sprigs and serve cut into thin slices, 3 per person, topped with warm Shiitake Gravy. (Note: one-third of the slices will not have rosemary sprigs inserted, but 24 sprigs is too many!)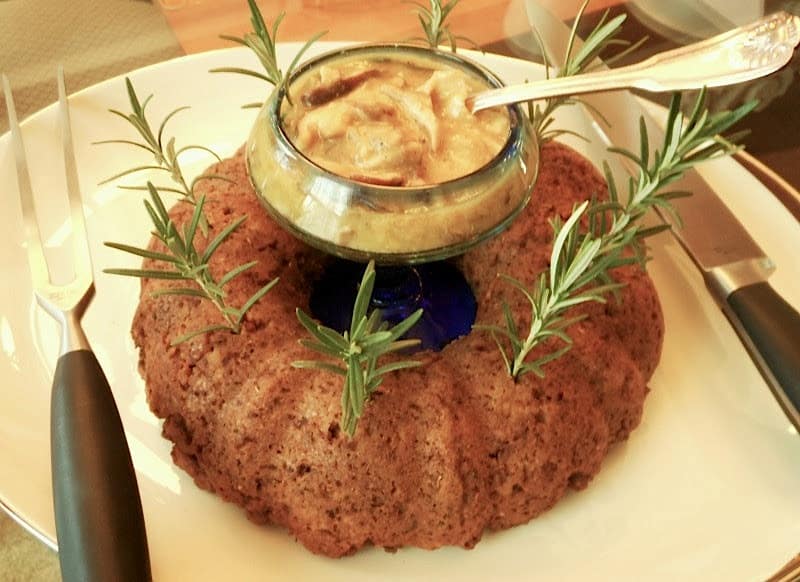 For the Shiitake Gravy
2 tablespoon olive oil
2 shallots, finely chopped
5 to 6 ounces shiitake mushrooms, trimmed and thinly sliced
2 tablespoon nutritional yeast
¼ cup unbleached all purpose flour
¾ cup dry white wine
1.5 cups vegetable stock
½ teaspoon sea salt or to taste
¼ teaspoon freshly ground black pepper or to taste
Heat olive oil in cast iron skillet over medium-high. Add shallots and mushrooms and saute, stirring frequently, for about 3 minutes.
Add nutritional yeast, and flour, and cook, stirring, until flour is well distributed.
Whisk in wine and stock and simmer, stirring occasionally, until all flour is incorporated and gravy is nicely thickened. Season to taste with salt and pepper.
Notes
Present the whole Standing Rib Roast at table, but carve in kitchen. Each narrow division of the bundt pan makes one slice; each wide one, two slices. To reheat, moisten each slice with a teaspoon of vegetable stock and heat, covered, at 350 degrees F. for about 10 minutes or microwave for about 30 seconds until warm.