Making hash is a great way to use whatever vegetables you have left over from the night before. But in the case of this delicious recipe, it seems unfair to consider it just a dish of leftovers. Recipe from Forks Over Knives—The Cookbook: Over 300 Recipes for Plant Based Eating All Through the Year * copyright © Del Sroufe, 2012. Reprinted by permission of the publisher, The Experiment. Photos by Cara Howe.

Serves: 4
1 leek (white part only), finely chopped

1 red bell pepper, seeded and diced

3 cloves garlic, peeled and minced

2 teaspoons minced rosemary

1 large turnip, peeled and diced

1 medium sweet potato, peeled and diced

Zest and juice of 1 orange

Two cups cooked white beans, or one 15-ounce can white beans, drained and rinsed

1 cup chopped kale

Salt and freshly ground black pepper to taste
Place the leek and red pepper in a large saucepan and sauté over medium heat for 8 minutes. Add water 1 to 2 tablespoons at a time to keep the vegetables from sticking to the pan.
Add the garlic and rosemary and cook for another minute. Add the turnip, sweet potato, orange juice and zest, and the beans and cook for 10 minutes, or until the vegetables are tender. Add the kale, season with salt and pepper, and cook until the kale is tender, about 5 minutes.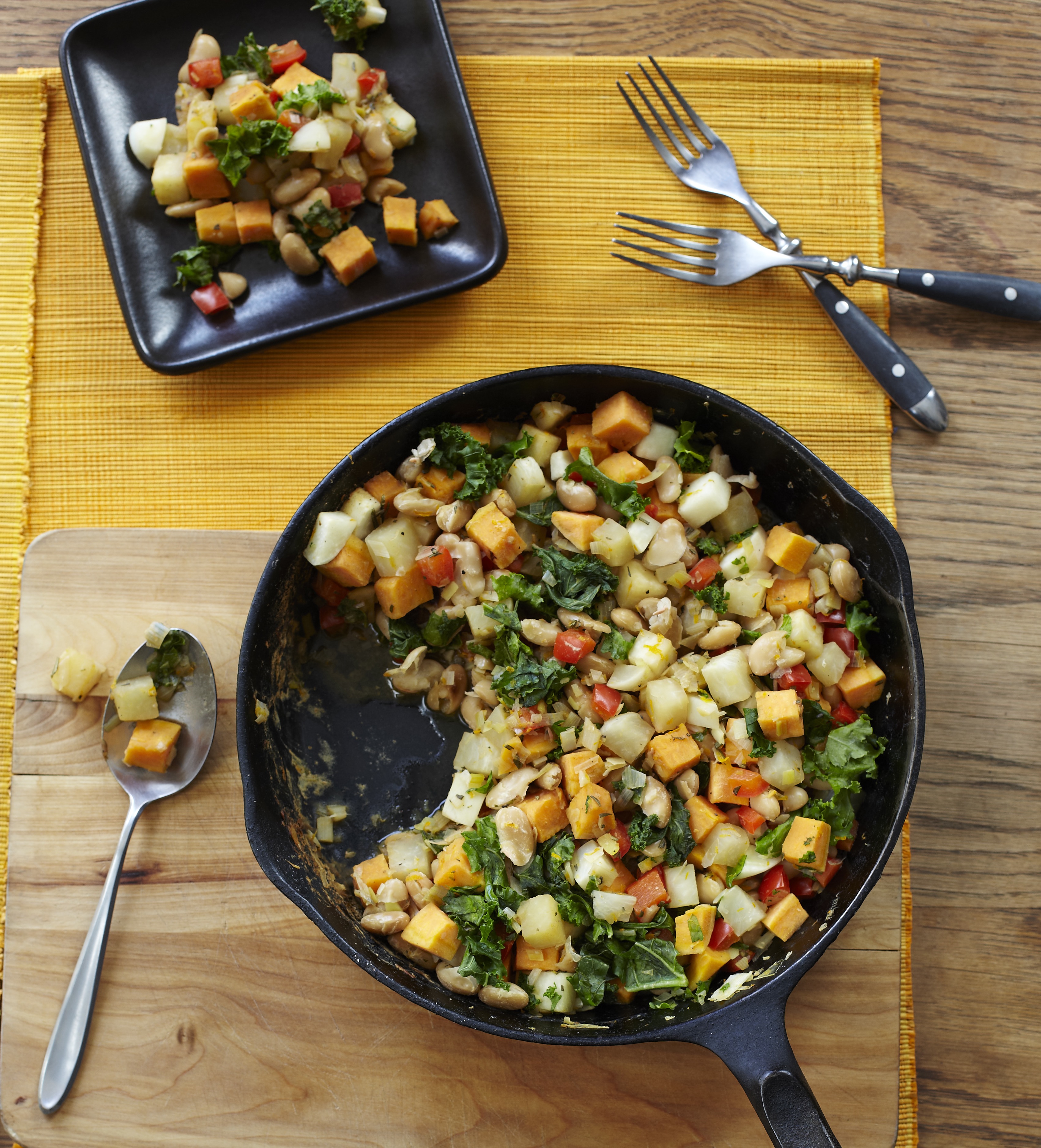 Nutritional Information: 165 calories; 0.6g fat; 42.4mg sodium; 557mg potassium; 35g carbs; 6g fiber; 3g sugar; 7.5g protein
*This post contains affiliate links. If the product is purchased by linking through this review, VegKitchen receives a modest commission, which helps maintain our site and helps it to continue growing!