I'm happy to announce that my friend and colleague Victoria Moran, vegan advocate extraordinaire (and occasional VegKitchen contributor), is one of the 5 female finalists in PETA's "Sexiest Vegan over 50" contest. No matter what you think of PETA (or contests), this is an amazing platform for the winner to spread the word on the benefits of a plant-based, cruelty-free diet.
You can vote going to this page and simply commenting in the comment field toward the bottom of the page — it can be something as simple as, I vote for Victoria Moran.
It's been found that vegans live 6 to 10 years longer than meat-eaters. What's "sexy" is the added vitality and energy embodied by those with a passion for compassion. I can think of no better spokesperson for the animals than Victoria, truly a beautiful person inside and out.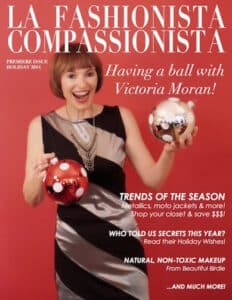 Victoria is wholly dedicated to vegan outreach. She's the author of several well-known books, including Main Street Vegan, the creator of the Main Street Vegan podcast, and runs the wildly popular Main Street Vegan Academy, which offers professional level training to become Vegan Lifestyle Coach & Educator.
To quote Victoria: "My life today, and every day given to me to be on earth, is dedicated to educating others about this simple, revolutionary idea, and helping them live in a way that honors all beings."
We ran an interview with the amazing Mimi Kirk when she became PETA's Sexiest Vegan over 50 a few years ago — at the age of 72! There would be no better spokesperson for the cause than Victoria, and I would so look forward to interviewing her as well.
So vote for Victoria by linking through to this page* and commenting! Voting ends Friday, September 23, and the winner will be announced on Monday, September 26.
* Please note, it's best to vote from a computer where the comment box option is available. Only the email link option shows up on a smart phone, but voting by email appears to be uncertain right now and lots of people who are doing that are having their emails bounce back, probably because more people are participating in this than expected and their server can't handle the traffic.
Photo credits: Top and below, David Rodgers Photography; magazine cover: Chris Pearce