Here's a deliciously offbeat, light Asian-style noodle dish. Bean-threads (also called cellophane or glass noodles), which have a delightful texture, are available in natural foods stores, Asian groceries, and even some well-stocked supermarkets. Tossed into a stir-fry with tomatoes, cabbage, and snow peas, this makes a quick and tasty meal. Photos by Hannah Kaminsky.  
Serves: 4
Two 2-ounce bundles bean-thread (cellophane) noodles

2 tablespoons peanut or light olive oil

1 larges onion, quartered and thinly sliced

2 cloves garlic, minced

2 heaping cups thinly shredded green or napa cabbage

2 heaping cups diced fresh tomatoes

1 to 1 ½ cups snow peas, ends trimmed

8 ounces firm tofu, blotted well and diced 

2 to 3 tablespoons rice vinegar, to taste

Dried hot red pepper flakes to taste

Salt to taste

Chopped peanuts for garnish

Thinly sliced fresh basil leaves for garnish
Cook the noodles according to package directions, then drain. When cool enough to handle, place on a cutting board and cut in several directions to create shorter lengths, or just reach into the colander in which you drain them with kitchen shears, and cut here and there.
Meanwhile, heat the oil in a stir-fry pan or wok. Add the onion and stir-fry over medium heat until translucent.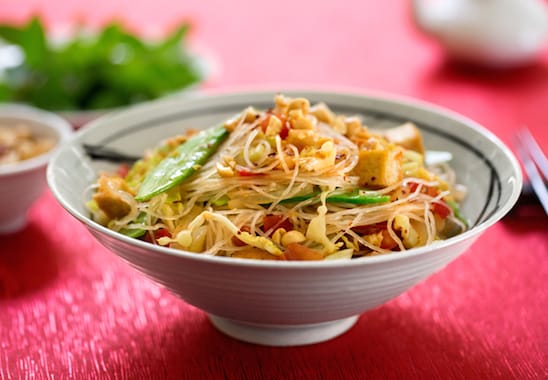 Turn up the heat, add the garlic and cabbage and stir-fry until the cabbage is tender-crisp and lightly browned, about 5 to 7 minutes.
Add the tomatoes and snow peas and continue to stir-fry, stirring frequently, until the tomatoes soften a bit, 2 to 3 minutes.
Stir in the vinegar, tofu, and red pepper flakes, and noodles. Cook, stirring, until everything is well heated through. Serve at once, garnishing each serving with chopped peanuts and the optional basil.