Admittedly rich, this traditional Southern-style peanut soup has an intensely nutty flavor. Served in moderate portions, it's immensely satisfying.
Serves: 6
1 tablespoon olive oil
1 large onion, finely chopped
3 large celery stalks, finely diced
8 to 10 ounces carrots (6 to 8 medium), peeled and thinly sliced
¼ cup dry white wine or water
2 tablespoons unbleached white flour
32-ounce container low-sodium vegetable broth
or 4 cups water with 2 vegetable bouillon cubes
¾ cup natural smooth peanut butter
1 to ½ cups unsweetened rice milk or almond milk
¼ cup finely chopped fresh parsley, plus more for garnish
1 to 2 tablespoons lemon or lime juice, to taste
Cayenne pepper or other hot seasoning, to taste
Salt and freshly ground pepper to taste
Chopped roasted peanuts for garnish, optional
Heat the oil in a large soup pot. Add the onion, and sauté over medium heat until translucent.
Add the celery, carrots, and wine. Cover and cook over medium-low heat, stirring frequently, until the vegetables are soft but not overcooked.
Sprinkle in the flour in with the vegetables, and stir it in until it disappears.
Add the broth or water with bouillon cubes and bring to a rapid simmer. Cover and simmer gently over low heat for 10 minutes.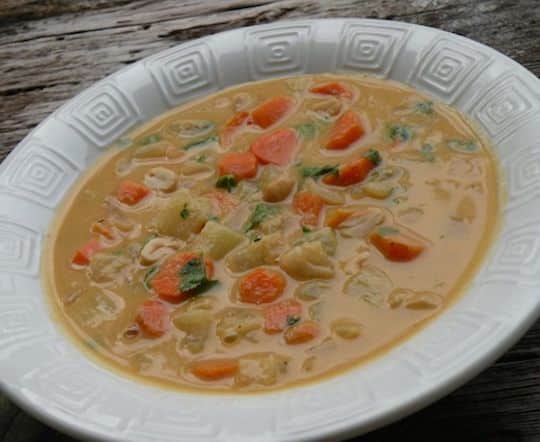 Spoon the peanut butter into the pot and whisk it in briskly until blended with the liquid.
Stir in the rice or almond milk and bring to a gentle simmer once more. Stir in the parsley and lemon or lime juice.
Add enough cayenne or other hot seasoning to give the soup a gentle heat — this isn't meant to be super-spicy (but hey, it's your soup and you can make it as spicy as you'd like!), then season with salt and pepper.
If time allows, let the soup stand off the heat for an hour or so to allow the flavors to blend, then heat through as needed.
Taste to adjust seasonings, then serve. Garnish each serving with some chopped peanuts and parsley if desired.