White beans, kale, fennel and sausage — what a winning combination for a warming stew. This is such welcome dinner to come home to on a cold winter day and it is especially good served with a loaf of crusty bread warmed in the oven. From The Blooming Platter Cookbook* by Betsy DiJulio, by permission of Vegan Heritage Press, © 2011, reprinted by permission. Photos by Evan Atlas
1 tablespoon olive oil
1 yellow onion, cut into ¼-inch dice
1 fennel bulb, cut into ¼-inch dice
Sea salt
3 to 4 cloves garlic, thinly sliced
1 red bell pepper, cut into ¼-inch dice
2 cups ground or 4 links chopped vegan sausage (see Notes)
2 bay leaves
Pinch dried basil
Pinch dried oregano
Pinch smoked or sweet paprika
1 tablespoon dried rubbed sage
4 cups vegetable stock
15.5-ounce can white beans, rinsed and drained
8 ounces kale, any variety, thick part of stems removed, and coarsely chopped
Heat the oil in a large skillet over medium-high heat. Add the onion, fennel, and a pinch of salt, and sauté until golden.
Add the garlic and the red bell pepper and sauté, until softened, 3 minutes.
Add the crumbled or chopped vegan sausage to the skillet. Sauté until the sausage develops a light golden brown crust.
Add the bay leaves, basil, oregano, paprika, and sage and stir well. Stir in the stock and white beans and bring to a simmer. Stir in the kale and cook for 5 minutes or until tender, but still bright green.
Serve the stew hot or allow it to cool. Remove the bay leaves, cover, and refrigerate. Like most stews, this tastes best when reheated and served the next day.
Notes:
I like Lightlife's Gimme Lean® Ground Sausage Style in this stew, but another type of good quality vegan sausage (VegKitchen likes Tofurky and Field Roast) may be used instead. Sautéed tempeh or additional white beans may be used in place of the sausage.
If using tempeh, you will likely want to use a little bit more of each spice called for in the recipe in addition to adding some fennel seeds and perhaps a little thyme.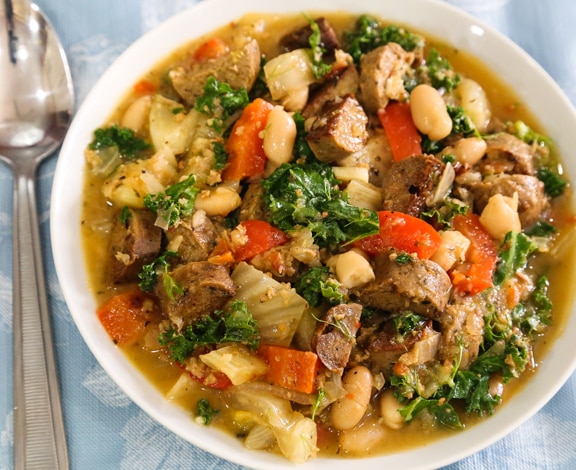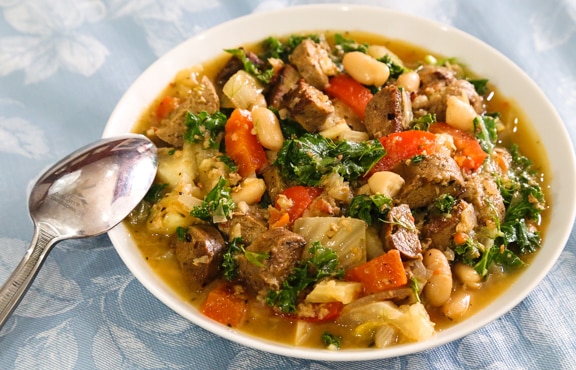 *This post contains affiliate links. If the product is purchased by linking through this review, VegKitchen receives a modest commission, which helps maintain our site and helps it to continue growing!