Dishes in southern India frequently include the use of coconut. You can enjoy this soup recipe on its own or serve it as a South Indian "sambar" or "kootu" over rice. Recipe from Coconut Oil for Health and Beauty* by Cynthia and Laura Holzapfel (Book Publishing Co.), reprinted by permission.
Serves: 4
1 cup yellow split peas
4 cups water
¼ cup coconut oil
1 teaspoon turmeric
½ teaspoon ground ginger
½ teaspoon cumin seeds
1 medium onion, chopped
1 tablespoon chopped fresh garlic
½ cup grated coconut
Simmer the split peas in the water until soft and breaking apart, about 45 minutes. Add more water as needed, should the soup get too thick.
Heat the coconut oil in a separate medium sauté pan, and add the turmeric, ginger, and cumin seeds, stirring until the seeds just begin to pop. Turn the heat down to low and sauté the chopped onion and garlic until lightly brown. Toss in the grated coconut and combine.
Add the sautéed mixture to the split peas, bring to a simmer, and serve.
Variation: Add vegetables such as a sliced carrot or two, a cup or so of sliced mushrooms, or a stalk or two of diced celery to the soup — or any combination of these. Combine them with the peas and water in step one. Add an extra ½ cup of water if using any of these veggies.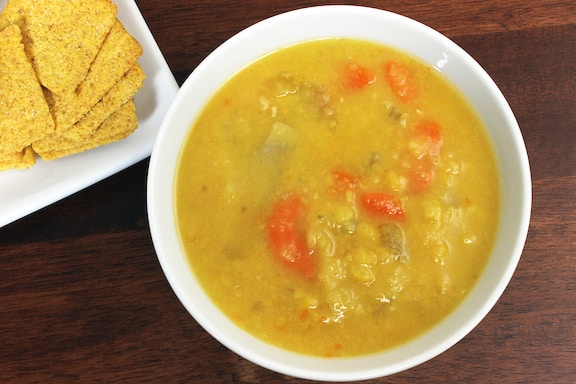 *This post contains affiliate links. If the product is purchased by linking through this review, VegKitchen receives a modest commission, which helps maintain our site and helps it to continue growing!