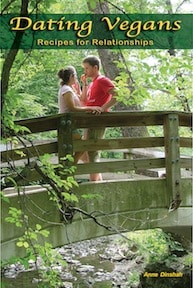 Excerpted from Dating Vegans: Recipes for Relationships* by Anne Dinshah. Published by American Vegan Society, © 2012. Reprinted by permission.
The desirable qualities of people we like to date are those characteristics that make them appealing to us. For a growing number of people, being vegan tops that list. Everyone has the potential to be a vegan; most people just do not know that yet.
I knew I would date many meat-eating men in my research for this book. Although I have dated vegans and nonvegans in the past, I chose to only have interest in non-vegans for this year. I wondered if it would bother me to focus on exploring divergent food interests. I hoped it would not prohibit me from finding someone wonderful. Perhaps it would lead to the right man for me.
Curious to know if "vegan" is in my top ten list of requirements, I brainstormed a list of the qualities I look for in a man I would like to date (I did not include the obvious: single, common interests, approachable, and physical attraction) and then filed it away. I did not look at the list again until I finished writing the manuscript.
Reviewing the list now, I can think of a few additional qualities, such as "good communicator," which are essential to a relationship. Nevertheless, here is the original list of the characteristics I most prefer in a datable man:
intelligent

athletic

healthy

makes good decisions

honest and trustworthy

responsible & accountable

hard-working, with a sense of purpose

energetic

fond of children

witty and humorous

compassionate

organized

fun

confident

good-tempered

vegan
Although "vegan" is the sixteenth quality, it doesn't mean that I want to date someone who is openly antagonistic toward vegans. Although I grew up having the benefit of being vegan, I'm aware that most Americans were raised to eat whatever food their parents served them. Now, as an adult, I am comfortable and confident that being vegan is the right choice for me, the animals, and the planet. Most people have not been exposed to the information about veganism that has been such an integral part of my background. Many people can make strides toward better health, compassionate cooking, and helping the environment. It is important for me to set a positive, friendly example.
If a man is intelligent, athletic, and healthy, it makes reasonable sense that he would like to learn more about his food choices. If eating meals with me exposes him to new options, I have planted vegan seeds, even if our relationship fizzles.
A man who is intelligent has the ability to be an independent thinker and is usually open to learning. Athletic men are not only fit but are also customarily interested in their overall health, particularly exercise and food choices. Intelligence combined with an interest in health lends itself to curiosity about veganism. A man who makes good decisions makes the best choices possible based on the information available to him at the time. True change happens when someone wants to change. I can only help facilitate a path towards veganism by providing information. We can walk the path together during dates.
I asked my vegan male friends what they look for in a woman. Many prefer to date only vegans, but understand the reality that in certain areas of the country that means they would be alone. Many of the qualities that lend themselves to an interest in veganism are high on their lists. Besides the obvious physical attraction, chemistry, and some common interests, most look for women who are intelligent, athletic, and healthy, which parallels my top three. Their lists commonly include compassionate, spiritual, good-humored, and witty. Vegan averages around the fifth quality when not the first quality.
Brainstorming with female vegan friends revealed they look for similar qualities to what vegan men seek; gender does not seem to determine different qualities a vegan looks for in a partner.
Nonvegans typically do not list vegan or nonvegan on their lists of desirable qualities in a partner. If a vegan has lots of terrific qualities, nonvegans are often open to trying some vegan food and discussing solutions. Vegans should not be expected to partake in nonvegan food because they have already made a commitment to their strong beliefs. Compatible options abound when a couple wants to be together.
Anne Dinshah is a lifetime vegan and author of Apples, Bean Dip, and Carrot Cake: Kids! Teach Yourself to Cook*(co-authored with Freya Dinshah), and Healthy Hearty Helpings,* a vegan cookbook for busy people who wish to eat well. She coauthored Maribeth Abrams' cookbook The 4-Ingredient Vegan.* Visit the web site for more information on the American Vegan Society.
*This post contains affiliate links. If the product is purchased by linking through this review, VegKitchen receives a modest commission, which helps maintain our site and helps it to continue growing!