Scones are such a delicious treat. Soft and crumbly and packed with flavor, they make a wonderful breakfast or delicious dessert. Scones are always warm, sweet, and satisfying, but unfortunately they are not always vegan.
So I've rounded up all my favorite vegan scone recipes right here, so you can indulge in this sweet treat guilt-free!
Vegan Scone Recipes
Simple Vegan Scones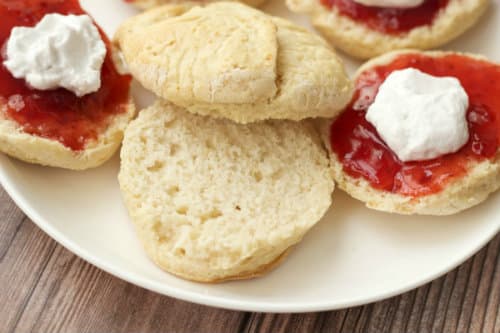 This recipe is a great place to start our list. This is a classic basic scone recipe that makes a great base for experimenting. You can really add any kind of fruit or nuts to customize this recipe to your tastes. You can also top these with all sorts of delicious things. This recipe serves them with strawberry jam and coconut whipped cream.  
Get the recipe HERE.
Cranberry Orange Scones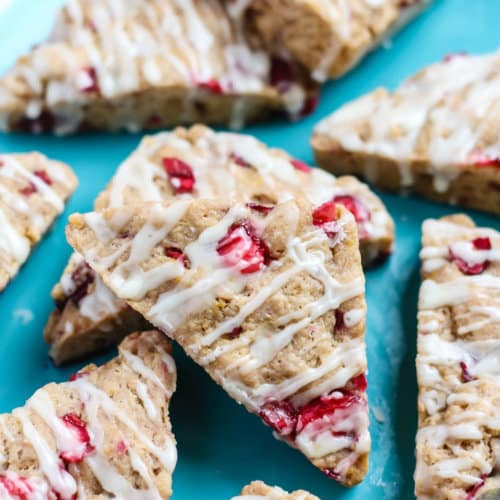 This is a vegan version of the classic cranberry orange scone. These scones are a delicious breakfast pastry that you can enjoy on a cold fall morning. The orange icing glaze makes them extra decadent. You can serve them for a holiday brunch party to wow your guests.
Get the recipe HERE.
Lemon Poppy Seed Scones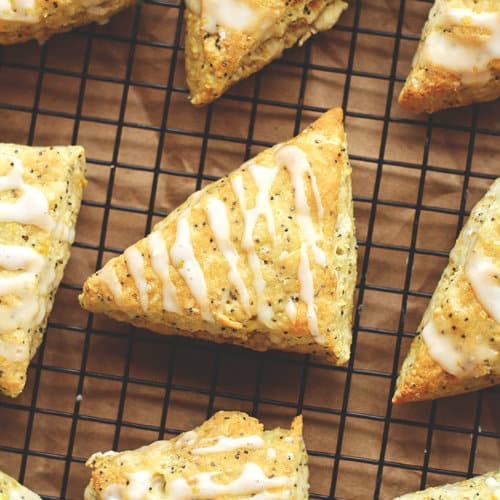 These are another classic scone variety made with no animal based products. These are sweet and bursting with lemon flavor. Great for a breakfast with coffee, or as a dessert. We hope you like these lemon poppyseed scones.
Get the recipe HERE.
Cheddar Chive Scones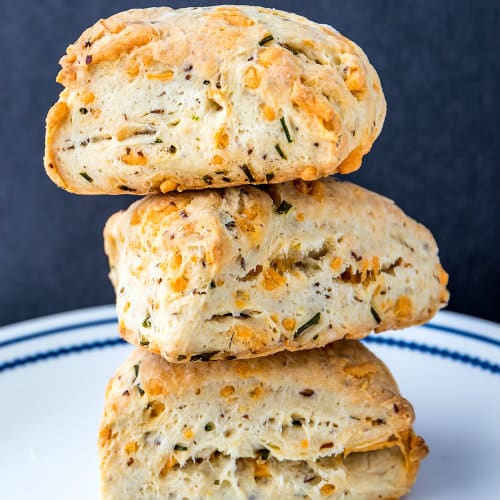 This is a savory scone recipe that would be great with a warm bowl of leek and mushroom soup. These would also make a great vegan alternative to the croissants and rolls that are usually served for the holidays.
Get the recipe HERE.
Cherry Coconut Scones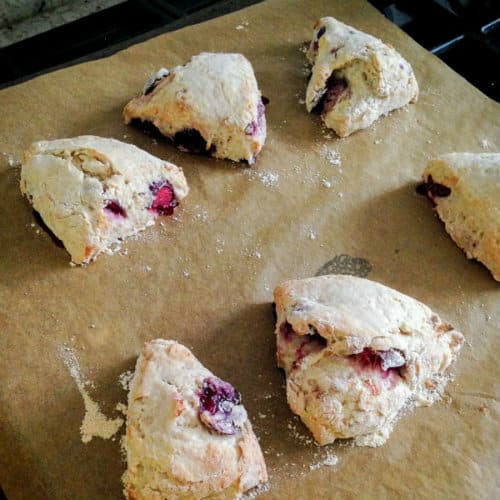 This recipe uses fresh cherries. These vegan scones are perfect for that early summer brunch, Or you can freeze the fresh cherries to make these any time of year. The coconut creates a nice flavor with the fresh cherries. This recipe uses bread flour, so be careful not to kneed it too much or they will get tough.
Get the recipe HERE.
Maple, Pumpkin, Pecan, Oat Scones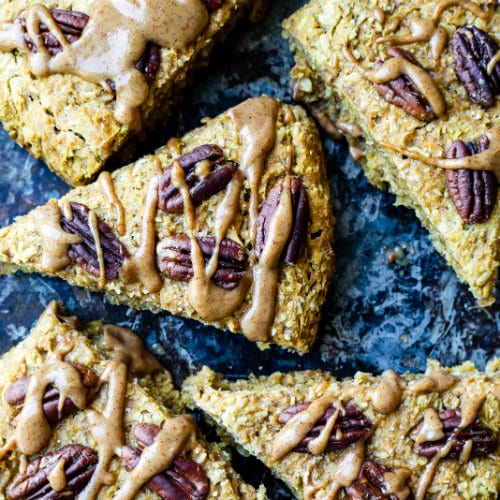 The name is a mouthful, but a mouth full of these fall favorites will be happy. These scones have everything good about fall in one little goody. These are a perfect addition to a holiday party or brunch. We hope you enjoy these!
Get the recipe HERE.
Peach Scones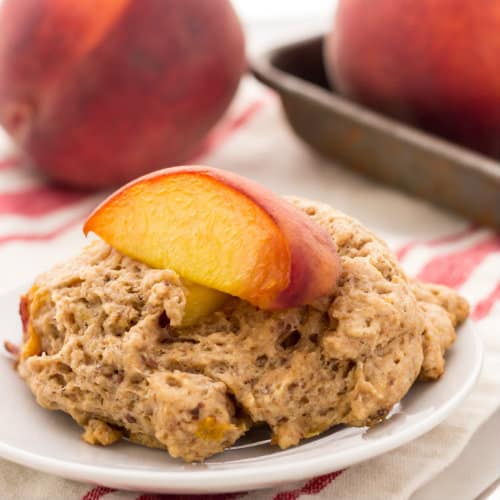 These scones are perfect little vehicles for some delicious peaches. The recipe says that you can use canned, frozen, or fresh, so you can enjoy these beauties any time of the year.
Get the recipe HERE.
Double Chocolate Scones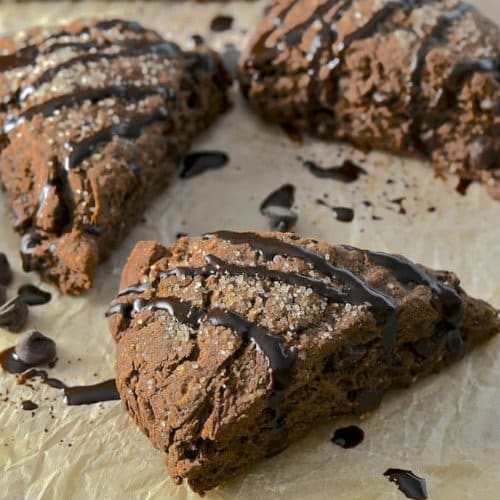 These vegan scones are decadent and rich, and they are great for breakfast or dessert. They have a chocolate dough, chocolate chips, AND chocolate sauce to drizzle over the top. This is the perfect recipe for those Chocoholics out there.
Get the recipe HERE.
Banana Nut Vegan Scones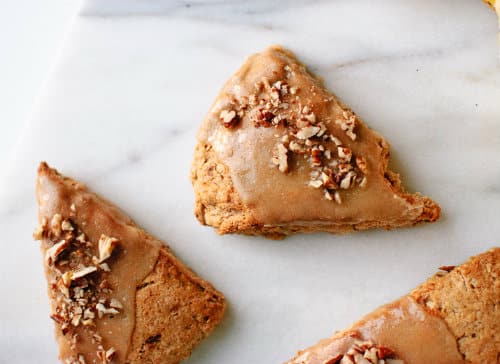 These are like individual banana-nut breads covered in a maple glaze. This sounds like a little triangle of heaven. this is another recipe that can be great for breakfast, brunch, or dessert. You can even have this in the afternoon with a cup of coffee. This is a classic for a reason.
Get the recipe HERE.
Gluten Free Blueberry Scones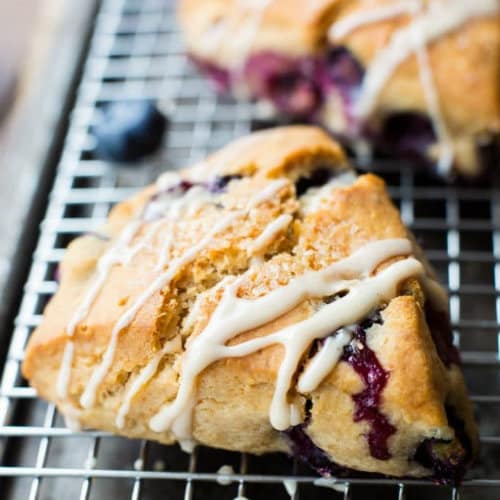 There is no shortage of blueberry scone recipes on the internet. What sets this recipe apart is that it is gluten-free. This is a great choice for anyone with celiac's disease or a gluten intolerance. This is a great choice for a brunch party because you never know who is gluten-free these days.
Get the recipe HERE.
Savory Lemon Fennel Scone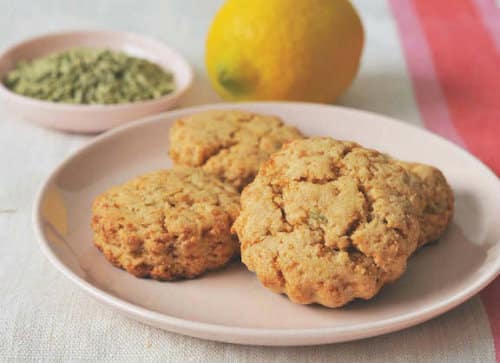 This last recipe is savory instead of sweet. The recipe calls for lemon juice, lemon zest, fennel seeds, and garlic to create an Italian flavor profile. these would be great with pasta, or as a savory biscuit with a tofu scramble. you could leave out the garlic and add sugar to make these into a sweet version too.
Get the recipe HERE.
We hope that you have found some great vegan scones recipes to add to your recipe box. do you have any vegan scones recipes that you would like to share? leave a comment below!